Venezuela president behind crimes against humanity: UN probe
September 17, 2020 | 7:47am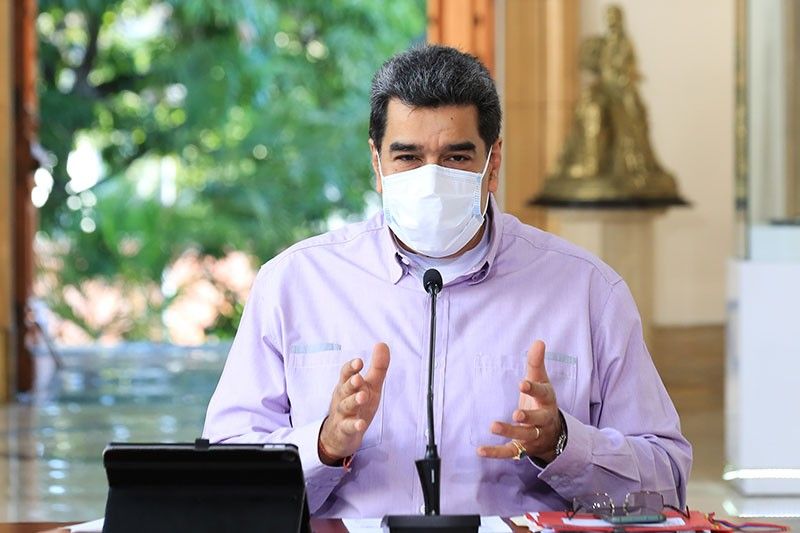 GENEVA, Switzerland — Venezuela's president and top ministers are responsible for probable crimes against humanity, UN investigators said on Wednesday, a report the country's government quickly labeled as "riddled with falsehoods."
In their first report, the team tasked with probing a slew of alleged violations said they had found evidence that state actors, including President Nicolas Maduro, were behind serious crimes such as extrajudicial killings and the systematic use of torture.
Venezuelan Foreign Minister Jorge Arreaza pushed back on Twitter, criticizing the report for being "drawn up remotely without methodological rigor" and "controlled by governments that are subservient to Washington."
He said the document, which was created by an International Fact-Finding Mission initiated by the UN Human Rights Council a year ago, was "riddled with falsehoods."
Mission chairperson Marta Valinas said the report "found reasonable grounds to believe that Venezuelan authorities and security forces have since 2014 planned and executed serious human rights violations."
Some of those violations, "including arbitrary killings and the systematic use of torture, amount to crimes against humanity," said Valinas, whose three-person team was unable to enter Venezuela but relied on remote interviews with victims, witnesses and others, as well as analysis of legal files.
"Far from being isolated acts, these crimes were coordinated and committed pursuant to state policies, with the knowledge or direct support of commanding officers and senior government officials."
The 411-page report identified the Venezuelan officials deemed responsible, citing "reasonable grounds to believe that both the president and the ministers of People's Power for Interior Relations, Justice and Peace, and for Defence, ordered or contributed to the commission of the crimes documented."
International 'legal action'
World powers accuse Maduro of violently cracking down on dissent over Venezuela's economic collapse and on opponents in a political stand-off.
Investigator Francisco Cox told reporters the team had found evidence the president had on some occasions personally informed the national intelligence service (SEBIN) who to place under surveillance and detain.
"We have involvement and contribution to the crime by Mr Maduro, either directly through the chain of command and sometimes circumventing the chain of command and giving the direct order," he said.
The investigators said Venezuelan authorities should conduct "independent, impartial and transparent investigations" into the violations.
But they noted "an erosion of judicial independence," and suggested the International Criminal Court "should also consider legal actions."
The report highlighted soaring numbers of extrajudicial killings, lamenting that the vast majority of such killings by security forces had resulted in no prosecutions.
The mission reviewed some 2,500 incidents since 2014 that led to more than 5,000 killings by security forces.
It probed 140 so-called Operations for People's Liberation, established purportedly to fight crime, but which between 2015 and 2017 resulted in 413 people being killed, shot "sometimes at point blank range".
The report said government officials had repeatedly praised such operations.
'Systematic' torture
"These extrajudicial executions cannot be attributed to a lack of discipline among the security forces," Valinas said.
"The killings appear part of a policy to eliminate unwanted members of society under the cover of combating crime."
The investigators called for Venezuela to dismantle its Special Action Forces (FAES), which along with SEBIN was responsible for well over half of the killings.
UN rights chief Michelle Bachelet had called last year for the forces to be dissolved, but Valinas said they were "still active".
The investigators also decried the "systematic practice of torture" against people detained during anti-government protests or accused of rebellion and coup attempts.
It listed techniques including rape, asphyxiation, beatings, electric shocks and death threats to extract confessions or as punishment.
Cox said investigators had drawn up a list of 45 officials within the two agencies "who should be investigated and prosecuted."
As It Happens
LATEST UPDATE: June 28, 2022 - 11:34am
Venezuelan President Nicolas Maduro accuses Colombia of being behind an "attack" with an explosive-laden drone he said targeted him on Saturday (Sunday, Manila time).
Speaking shortly after state television showed him cut off mid-speech in front of a Caracas military parade by a bang, Maduro says a "flying object exploded in front of me" and blamed the incident on Colombia's President Juan Manuel Santos.
"It was an attack to kill me, they tried to assassinate me today," Maduro says in a state broadcast. "I have no doubt that the name Juan Manuel Santos is behind this attack." — AFP
June 28, 2022 - 11:34am
A US delegation arrived in Venezuela Monday to discuss a "bilateral agenda," extending discussions between Caracas and Washington initiated in March, said Venezuelan President Nicolas Maduro.
National Assembly speaker, Jorge Rodriguez, "is receiving a delegation from the government of the United States, an important delegation that arrived two hours ago in Venezuela," Maduro announced on national public television VTV at around 8:00 pm (0000 GMT).
Rodriguez is also the Venezuelan government's negotiator in talks with the opposition, which have been at a standstill since last October.
Washington had sent a high-level delegation to Caracas in early March, a few days after Russia invaded Ukraine. Several observers said the move was aimed at trying to distance Caracas from one of its main allies, Moscow, and discussing an easing of US sanctions on Venezuelan oil after the invasion caused a spike in global fuel prices.
The White House confirmed the meeting but only said the discussions had focused in particular on American "energy security." Before its rupture with Washington, Venezuela exported almost all of its oil production to the United States.
After those discussions, Caracas released two Americans detained in Venezuela in what was widely seen as a goodwill gesture.
In May, Washington announced it would ease some limited sanctions against Venezuela, including one linked to the oil company Chevron, to promote dialogue between Maduro's government and the opposition. -- AFP
April 1, 2022 - 12:00pm
The International Criminal Court has opened an office in Venezuela as part of an investigation into alleged human rights abuses during anti-government protests in 2017, authorities announced on Thursday.
The ICC opened a formal investigation into the alleged rights violations last November and signed a memorandum of understanding with Venezuelan President Nicolas Maduro which stated that the South American country would take "measures" to ensure the court would be able to work.
"It's a very important step, very significant. This is not for appearance's sake, it is something concrete that will allow me to carry out my responsibilities," said ICC prosecutor Karim Khan alongside Maduro at the presidential palace in Caracas.
"Venezuela will now have this office that will provide us with an effective level of dialogue in real time that is more efficient," said Maduro, who has been in power since 2013. — AFP
November 29, 2021 - 8:05am
President Nicolas Maduro says that EU monitors of Venezuelan local elections were "enemies" and "spies," denying their assertion that last week's voting was marred by irregularities.
"Those who came as enemies, the delegation of spies from the European Union, found not a bit of evidence to criticize the electoral system," Maduro says of the November 21 vote for gubernatorial and mayoral posts.
Candidates that back the Maduro government were declared the winners in the vast majority of the races. — AFP
October 18, 2021 - 10:01am
Venezuela's opposition calls on President Nicolas Maduro's government to resume talks to resolve their differences, after the ruling party withdrew from the latest round that was to begin Sunday in Mexico.
"We urge the other side to resume the sessions in Mexico as soon as possible to produce the necessary agreements," Gerardo Blyde, head of the opposition team, says at a press conference in Mexico City.
The meeting was to run until Wednesday. — AFP
January 24, 2021 - 11:52am
Venezuelan President Nicolas Maduro says he is willing to "turn the page" with the US under President Joe Biden, calling for a "new path" after years of tension with Donald Trump's White House.
"We are willing to walk a new path in our relations with Joe Biden's government based on mutual respect, dialogue, communication and understanding," the leftist leader tells supporters, adding that he "is willing to turn the page" with the new US administration.
Trump's government had slapped multiple economic sanctions on Venezuela, including an oil embargo in place since 2019, in an attempt to overthrow the socialist regime of Maduro, whom the US has labeled a dictator. — AFP