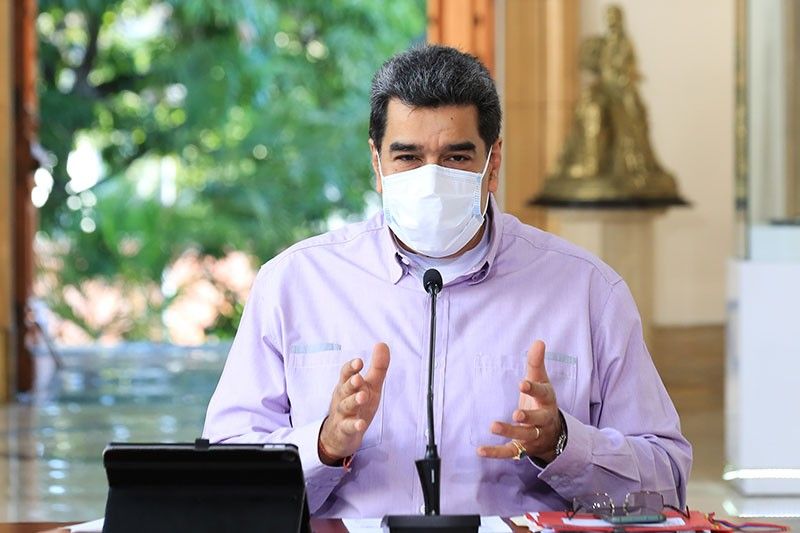 Handout picture released by the Venezuelan Presidency showing Venezuela's President Nicolas Maduro (C) speaking during a televised announcement, at the Miraflores Presidential Palace in Caracas on September 13, 2020.
AFP/Marcelo GARCIA/Venezuelan Presidency
Venezuela president behind crimes against humanity: UN probe
Nina Larson
(Agence France-Presse) - September 17, 2020 - 7:47am
GENEVA, Switzerland — Venezuela's president and top ministers are responsible for probable crimes against humanity, UN investigators said on Wednesday, a report the country's government quickly labeled as "riddled with falsehoods."
In their first report, the team tasked with probing a slew of alleged violations said they had found evidence that state actors, including President Nicolas Maduro, were behind serious crimes such as extrajudicial killings and the systematic use of torture.
Venezuelan Foreign Minister Jorge Arreaza pushed back on Twitter, criticizing the report for being "drawn up remotely without methodological rigor" and "controlled by governments that are subservient to Washington."
He said the document, which was created by an International Fact-Finding Mission initiated by the UN Human Rights Council a year ago, was "riddled with falsehoods."
Mission chairperson Marta Valinas said the report "found reasonable grounds to believe that Venezuelan authorities and security forces have since 2014 planned and executed serious human rights violations."
Some of those violations, "including arbitrary killings and the systematic use of torture, amount to crimes against humanity," said Valinas, whose three-person team was unable to enter Venezuela but relied on remote interviews with victims, witnesses and others, as well as analysis of legal files.
"Far from being isolated acts, these crimes were coordinated and committed pursuant to state policies, with the knowledge or direct support of commanding officers and senior government officials."
The 411-page report identified the Venezuelan officials deemed responsible, citing "reasonable grounds to believe that both the president and the ministers of People's Power for Interior Relations, Justice and Peace, and for Defence, ordered or contributed to the commission of the crimes documented."
International 'legal action'
World powers accuse Maduro of violently cracking down on dissent over Venezuela's economic collapse and on opponents in a political stand-off.
Investigator Francisco Cox told reporters the team had found evidence the president had on some occasions personally informed the national intelligence service (SEBIN) who to place under surveillance and detain.
"We have involvement and contribution to the crime by Mr Maduro, either directly through the chain of command and sometimes circumventing the chain of command and giving the direct order," he said.
The investigators said Venezuelan authorities should conduct "independent, impartial and transparent investigations" into the violations.
But they noted "an erosion of judicial independence," and suggested the International Criminal Court "should also consider legal actions."
The report highlighted soaring numbers of extrajudicial killings, lamenting that the vast majority of such killings by security forces had resulted in no prosecutions.
The mission reviewed some 2,500 incidents since 2014 that led to more than 5,000 killings by security forces.
It probed 140 so-called Operations for People's Liberation, established purportedly to fight crime, but which between 2015 and 2017 resulted in 413 people being killed, shot "sometimes at point blank range".
The report said government officials had repeatedly praised such operations.
'Systematic' torture
"These extrajudicial executions cannot be attributed to a lack of discipline among the security forces," Valinas said.
"The killings appear part of a policy to eliminate unwanted members of society under the cover of combating crime."
The investigators called for Venezuela to dismantle its Special Action Forces (FAES), which along with SEBIN was responsible for well over half of the killings.
UN rights chief Michelle Bachelet had called last year for the forces to be dissolved, but Valinas said they were "still active".
The investigators also decried the "systematic practice of torture" against people detained during anti-government protests or accused of rebellion and coup attempts.
It listed techniques including rape, asphyxiation, beatings, electric shocks and death threats to extract confessions or as punishment.
Cox said investigators had drawn up a list of 45 officials within the two agencies "who should be investigated and prosecuted."
As It Happens
LATEST UPDATE: January 22, 2020 - 7:20am
Venezuelan President Nicolas Maduro accuses Colombia of being behind an "attack" with an explosive-laden drone he said targeted him on Saturday (Sunday, Manila time).
Speaking shortly after state television showed him cut off mid-speech in front of a Caracas military parade by a bang, Maduro says a "flying object exploded in front of me" and blamed the incident on Colombia's President Juan Manuel Santos.
"It was an attack to kill me, they tried to assassinate me today," Maduro says in a state broadcast. "I have no doubt that the name Juan Manuel Santos is behind this attack." — AFP
January 22, 2020 - 7:20am
Venezuela intelligence agents searched Guaido offices, opposition says. -- AFP
January 14, 2020 - 11:34am
When Venezuelan opposition leader Juan Guaido called for street protests at the weekend in a bid to rekindle popular outrage against President Nicolas Maduro, only a few hundred people turned up.
It's a far cry from the tens of thousands he mobilized a year ago after declaring himself interim president and winning recognition from more than 50 countries.
Many, like Jhoan Navarro, would rather turn their attention to the beach these days, glad of a distraction from the seemingly unending political standoff which they say has brought little change to their lives.
Navarro on Sunday made the hour's journey north from Caracas to Camuri Chico beach on the Caribbean coast with his wife and daughter "for a change of air, to clear our minds."
"When I have a problem with my wife we work it out together, but we know that neither Maduro nor Guaido are going to solve our economic problems," said Navarro, bopping to music blaring from the speakers of his car, parked on the edge of the sand. — AFP
January 6, 2020 - 11:12am
The United States on Sunday congratulated opposition leader Juan Guaido on being re- elected Venezuela's national assembly speaker -- despite the vote being hotly disputed and a rival also claiming to have won the post.
"I congratulate Juan Guaido on his re-election as president of the Venezuelan National Assembly and condemn the failed efforts of the former Maduro regime to negate the will of the democratically elected National Assembly," US Secretary of State Mike Pompeo said.
"The United States and 57 other countries continue to regard him as the legitimate leader of the National Assembly and thus the legitimate interim president of Venezuela." — AFP
January 6, 2020 - 7:33am
Juan Guaido was re-elected Venezuela's parliament speaker by opposition lawmakers on Sunday in a session held at a newspaper office after police blocked him from entering the National Assembly legislature.
Earlier in the day, rival lawmaker Luis Parra proclaimed himself the new speaker following a vote in parliament that Guaido was unable to attend.
Guaido received the votes of around 100 legislators, including several forced last year into exile or to take shelter in foreign diplomatic missions due to a crackdown by the regime of President Nicolas Maduro that the opposition has branded "political persecution." -- AFP
November 17, 2019 - 10:46am
Thousands of supporters of Venezuelan opposition leader Juan Guaido took to the streets of Caracas on Saturday, demanding the departure of embattled President Nicolas Maduro, but the turnout was far less than expected.
Guaido had hoped to capitalize on the situation in Bolivia, where leftist leader Evo Morales resigned in the face of accusations of election fraud, to deal a death blow to his own political nemesis.
Opposition demonstrators did answer the call — about 5,000 of them marched, according to AFP's crowd estimate. They carried national flags and banners with slogans such as "Maduro out" and "Follow Bolivia's example." — Agence France-Presse