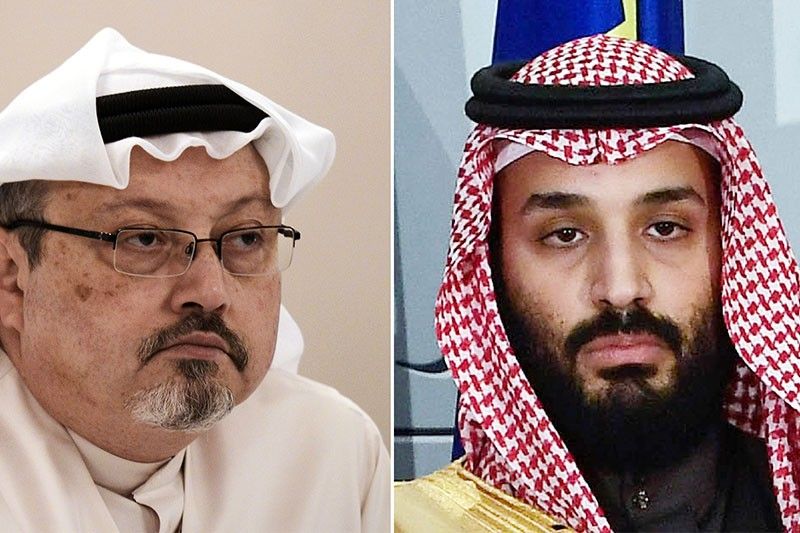 This combination of pictures created on June 20, 2019, shows a file photo taken on December 15, 2014 of Saudi journalist Jamal Khashoggi (L) during a press conference in the Bahraini capital Manama and a file photo taken on April 12, 2018 of Saudi Arabia's crown prince Mohammed bin Salman poses at La Moncloa palace in Madrid. A Saudi court overturned five death sentences over the 2018 murder of journalist Jamal Khashoggi, a killing which sparked an international outcry, and instead jailed eight defendants to between seven and 20 years, state media reported.
AFP/MOHAMMED AL-SHAIKH, OSCAR DEL POZO
Saudi scraps death sentences over Khashoggi murder, jails 8
Anuj Chopra
(Agence France-Presse) - September 8, 2020 - 8:19am
RIYADH, Saudi Arabia — A Saudi court on Monday overturned five death sentences over journalist Jamal Khashoggi's murder, in a final ruling that was condemned by his fiancee and slammed by a UN expert as a "parody of justice".
Eight unnamed defendants were handed jail terms of between seven and 20 years in a verdict that comes after Khashoggi's sons "pardoned" the killers in May, paving the way for a less severe punishment.
The court ruling underscores Saudi efforts to draw a line under the October 2018 murder as the kingdom seeks to reboot its international image ahead of November's G20 summit in Riyadh.
The closed-door trial of 11 suspects ended in December with five unnamed people sentenced to death and three others handed jail terms totalling 24 years over the killing.
But the family's pardon paved the way for Monday's reduced sentences, including clemency for the five people on death row.
"Five convicts were sentenced to 20 years in prison... one person was sentenced to 10 years and two others to seven years," the official Saudi Press Agency reported, citing a spokesman for the public prosecutor.
'Mockery of justice'
None of the defendants were named in what was described as the final court ruling on the murder, which triggered an international outcry and tarnished the global reputation of Crown Prince Mohammed bin Salman.
Hatice Cengiz, the Turkish fiancee of the slain journalist, branded the verdict a "farce".
"The ruling handed down today in Saudi Arabia again makes a complete mockery of justice," Cengiz said on Twitter.
Agnes Callamard, the United Nations special rapporteur on extrajudicial, summary or arbitrary executions, slammed the ruling as "one more act today in this parody of justice".
"These verdicts carry no legal or moral legitimacy," Callamard wrote on Twitter. "They came at the end of a process which was neither fair, nor just, or transparent."
#JamalKhashoggi: 1.The Saudi Prosecutor performed one more act today in this parody of justice. But these verdicts carry no legal or moral legitimacy. They came at the end of a process which was neither fair, nor just, or transparent. https://t.co/nt4n2CqS21

— Agnes Callamard (@AgnesCallamard) September 7, 2020
Khashoggi — a royal family insider turned critic — was killed and dismembered at the kingdom's consulate in Istanbul in October 2018, in a case that tarnished the reputation of the de facto Saudi ruler Prince Mohammed.
A critic of the crown prince, the 59-year-old Khashoggi was strangled and his body cut into pieces by a 15-man Saudi squad inside the consulate, according to Turkish officials. His remains have not been found.
Turkey on Monday said the Saudi court ruling did not meet global expectations.
"We still don't know what happened to Khashoggi's body, who wanted him dead or if there were local collaborators – which casts doubt on the credibility of the legal proceedings," tweeted Fahrettin Altun, communications director at the Turkish presidency.
We still don't know what happened to Khashoggi's body, who wanted him dead or if there were local collaborators – which casts doubt on the credibility of the legal proceedings in KSA.

We urge the Saudi authorities to cooperate with the ongoing murder investigation in Turkey.

— Fahrettin Altun (@fahrettinaltun) September 7, 2020
He urged Saudi authorities to cooperate with Turkey's own investigation into the killing.
Riyadh has described the murder as a "rogue" operation, but both the CIA and a UN special envoy have directly linked Prince Mohammed to the killing, a charge the kingdom vehemently denies.
'Last nail in coffin'
Callamard criticised the fact that "high-level officials" behind the murder have "walked free from the start", and that Prince Mohammed has remained protected against "any kind of meaningful scrutiny".
In December, a Saudi court exonerated two of the crown prince's top aides over the murder — deputy intelligence chief Ahmed al-Assiri and the royal court's media czar Saud al-Qahtani.
Both aides were part of Prince Mohammed's tight-knit inner circle and were formally sacked over the killing.
"Since the beginning, there was never any intent to hold those responsible to account, only repeated attempts to cover it up," Ines Osman, director of the Geneva-based MENA Rights Group, told AFP.
"This verdict is the last nail in the coffin, saying 'the case is now closed'."
Media watchdog Reporters Without Borders also condemned the verdict, with its secretary-general Christophe Deloire telling AFP the opaque trial "did not respect the elementary principles of justice".
The Washington Post reported last year that Khashoggi's children, including his son Salah, had received multi-million-dollar homes and were being paid thousands of dollars per month by the authorities.
Salah rejected the report, denying discussing a financial settlement with Saudi Arabia's authoritarian rulers.
In July, 20 Saudi suspects including Assiri and Qahtani went on trial in absentia in Turkey.
The former top aides were formally charged in March with "instigating the deliberate and monstrous killing, causing torment".
As It Happens
LATEST UPDATE: March 5, 2021 - 3:39pm
Dennis Denora, a Sun.Star reporter and publisher of the Trends and Times community paper, has been shot dead by unidentified killers, according to the Davao chapter of the National Union of Journalists of the Philippines.
Denora was killed near the wet market of Panabo City in Davao Del Norte on Thursday afternoon, NUJP Davao says.
The Davao del Norte Press & Radio-TV Club says in a statement that is is angered and saddened by news of the killing.
"His death awakens the anger and pains of journalists who do their job and yet are being judged by the pistol," the group also says.
March 5, 2021 - 3:39pm
Mandaluyong court issues a release order for Manila Today editor Lady Ann Salem a month after the dismissal of her case.
Salem's legal counsel Krissy Conti tells Philstar.com that they are still confirming with the jail if the journalist can be released within the day. — report from Kristine Joy Patag
March 4, 2021 - 6:36pm
Maria Ressa, chief executive of news website Rappler, testified in court in a case widely seen as retribution for her criticism of Duterte's administration.
Rappler was three years ago branded a "fake news outlet" by Duterte and she has since been the subject of at least 11 investigations into her business.
Ressa has said the cases are payback for her criticism of the president's policies including his war on drugs that has killed thousands of people.
"It hurts to tell the truth nowadays. There are costs to telling the truth," she told reporters after spending over two hours on the witness stand.
Last year top broadcast network ABS-CBN was forced off the air when Congress refused to renew its license after Duterte vowed to personally shut it down for allegedly failing to air his 2016 presidential election campaign ads. — AFP
March 3, 2021 - 10:13am
Three female media workers have been shot and killed in Afghanistan, their TV network said, in what appeared to be the latest targeted killing to rock the country.
Tuesday's murders came in two separate attacks in the eastern city of Jalalabad, said Zalmai Latifi, the director of Enikass TV, where the three women worked.
"They were going home from the office on foot when they were shot," Latifi told AFP, saying all three worked in the dubbing department for the broadcaster. — AFP
February 26, 2021 - 3:19pm
The US director of national intelligence is expected to release a damning report Friday that fingers Saudi Crown Prince Mohammed bin Salman for the brutal murder and dismemberment of dissident journalist Jamal Khashoggi in October 2018.
The classified report is believed to say that, based on intelligence collected by the CIA and other spy bodies, the kingdom's de facto leader directed the assassination of the respected US-based writer in the Saudi consulate in Istanbul.
The prince has steadfastly denied a part in the murder, even as some of his closest advisors have been shown to be deeply involved. — AFP
February 8, 2021 - 3:34pm
Detained journalist Lady Ann Salem, through the Public Interest Law Center, has filed an urgent motion at the Mandaluyong Regional Trial Court for her release, Manila Today, of which she is editor, reports.
The court last week junked the charges of illegal possession of firearms and explosives against Salem and labor organizer Rodrigo Esparago, citing irregularities in how search warrants that led to their arrests were served.
"Law enforcers are authorized to seize only those items listed in the search warrant leaving them with no discretion regarding what articles they shall seize," the court said, adding there were inconsistencies in the testimonies of police officers and an informant that cast doubt on the existence of probable cause to issue the warrant in the first place.
"All told, there being numerous inconsistencies and contradictions, the testimonies of the foregoing witnesses cannot be given full faith and credence," the order read.
The court said that since the sworn affidavits and testimonies served as the sole basis of the search warrant, "the Court finds that probable cause was not sufficiently established."