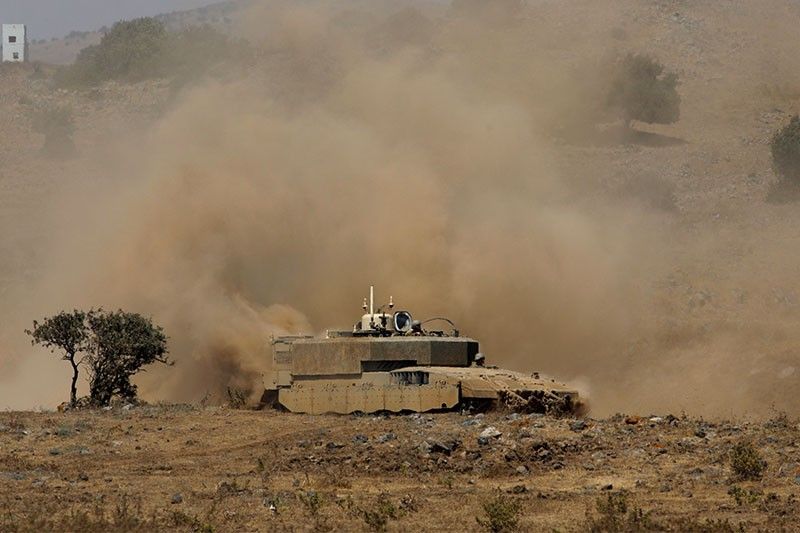 An Israeli army special tracked vehicle is seen during a drill in the Israeli-annexed Golan Heights, near Merom Golan on the border with Syria, on August 3, 2020. Jal
AFP/Jalaa Marey
Israel launches air strikes on Syria after thwarted border attack
(Agence France-Presse) - August 4, 2020 - 7:49am
JERUSALEM — Israel launched air strikes on Syrian military targets in southern Syria late Monday, after thwarting an attack near the Israeli-occupied sector of the Golan Heights.
In Damascus, the state-run news agency Sana said Israeli helicopters rocketed Syrian army positions near Quneitra in the south but caused only material damage. It also said air defences had gone into action near the Syrian capital.
The Israeli army said its fighters jets, attack helicopters and other warplanes struck Syrian army positions in retaliation for the attempt to lay explosives in the Golan Heights.
"The targets struck include observation posts and intelligence collection systems, anti-aircraft artillery facilities and command and control systems in SAF (Syrian Armed Forces) bases," the army said in statement.
"The IDF holds the Syrian government responsible for all activities on Syrian soil, and will continue operating with determination against any violation of Israeli sovereignty," it said.
Tensions are already high between bitter rivals Israel and Syria.
Last month, Israeli army helicopters struck military targets in southern Syria in retaliation for earlier "munitions" fire towards Israel.
Israel did not directly blame Syrian forces for the munitions fire, but said it held the Damascus government responsible.
And earlier Monday, the Israeli army said it had killed four men laying explosives near the Israeli-occupied sector of the Golan Heights.
'Inside Israeli territory'
"They were inside Israeli territory but beyond the fence," military spokesman Lieutenant Colonel Jonathan Conricus told journalists in a telephone briefing.
He said an Israeli commando unit lying in wait attacked the intruders shortly after 11 pm Sunday (2000 GMT) with assault rifles and sniper fire backed by air strikes.
"Our estimate is that all four were killed," Conricus said in English, adding that there were no Israeli casualties.
Prime Minister Benjamin Netanyahu said in a statement Monday that "the army thwarted an attempted attack on the Syrian front".
"We don't let our guard down," he said, recalling an incident at the Lebanese border last week that prompted Israeli artillery fire across the frontier, as well as rocket fire Sunday evening from the Hamas-controlled Gaza Strip which led to retaliatory Israeli air strikes.
Israel will "strike anyone who attacks us or tries to attack us", he added.
Possible Hezbollah links
Several Israeli media outlets reported that Monday's actions were in response to an increased threat from the Iran-backed Lebanese Shiite group Hezbollah, which has a significant presence in Syria.
Last month, five Iran-backed fighters were killed in an Israeli missile strike south of Damascus, according to Britain-based monitoring group the Syrian Observatory for Human Rights.
Then last Monday, Israel said it had thwarted an infiltration attempt from Lebanon by up to five Hezbollah gunmen, a claim denied by the Iran-backed group.
Israel reported an exchange of fire that forced the "terrorists" back into Lebanon. It said it fired artillery across the heavily guarded border for "defensive" purposes.
"We do not know at this stage and we cannot confirm a link between this terrorist squad and Hezbollah or Iranians," Conricus said.
"We know that there are many different factions operating on Syrian soil."
The Syrian Observatory said it was likely, but could not be confirmed, that the attackers were from the Syrian Resistance to Liberate the Golan.
The Hezbollah-linked group was formed more than six years ago to launch attacks in the Israeli-occupied zone.
The Syrian Observatory said late Monday there were Israeli air raids on the southern province of Quneitra and on Boukamal city, near the Iraqi border in the northeast.
Conricus said that Israel's Maglan commando unit had been deployed at the attack site for several days.
"We spotted irregular night-time activity in this specific location for the past week and we had a commando unit deployed in the area," he said.
Since 2011, Israel has launched hundreds of strikes in Syria, targeting government troops and allied Iranian and Hezbollah forces and vowing to end Iran's military presence in Syria.
As It Happens
LATEST UPDATE: March 6, 2020 - 8:43am
Eight Security Council nations say it's "imperative" that the U.N. body "immediately pursue decisive action" to achieve a cease-fire in Syria if U.N. member states, especially Russia and its ally Syria, don't implement a resolution demanding a cessation of hostilities.
A letter sent to all 15 council members on Monday expresses "profound concern" about the lack of implementation of the Feb. 24 resolution demanding a cease-fire throughout Syria without delay to deliver humanitarian aid and evacuate the critically ill and wounded.
It singles out Russia and Syria as key to implementation.
The letter was signed by France, Kuwait, Peru, Poland, Sweden, the United Kingdom, the United States and the Netherlands.
It says that implementing the resolution "could immediately save hundreds, if not thousands, of children, women and men who have suffered acutely during the past eight years of the brutal conflict in Syria."
___
12:10 a.m.
The U.N. human rights chief says the Syrian government's five-year siege of the Damascus suburbs of eastern Ghouta has involved "pervasive war crimes," use of chemical weapons and starvation as a weapon of war.
High Commissioner for Human Rights Zeid Ra'ad al-Hussein told an informal meeting of the U.N. Security Council late Monday that never before have military offensives against terrorism been used more often "to justify the unconscionable use of force against civilians than in the last few months in Syria."
Russia earlier blocked his planned address to a formal meeting of the council.
Zeid said "unlawful methods of warfare have been used by all parties" in Syria. But he singled out the Syrian government's claim that it makes every effort to protect civilians and dismissed it.
In his words, "When you are capable of torturing and indiscriminately killing your own people, you have long forfeited your own credibility."
___
11 p.m.
Western nations on the U.N. Security Council and their supporters have quickly organized an informal briefing by the U.N. human rights chief on Syria after a Russian-led protest blocked him from addressing a formal council meeting.
France's U.N. Ambassador Francois Delattre told reporters after a procedural vote that Russia called for prevented High Commissioner for Human Rights Zeid Ra'ad al-Hussein from addressing an open meeting in the council that he would deliver the same address at the informal meeting late Monday afternoon.
Delattre criticized Russia for refusing any discussion of human rights in the Security Council when rights violations in Syria "are at their very peak."
Russian deputy ambassador Gennady Kuzmin had argued that human rights have nothing to do with the council's mandate of ensuring international peace and security.
But Sweden's U.N. Ambassador Olof Skoog insisted that "human rights and peace and security are intimately linked."
And Britain's deputy U.N. ambassador Jonathan Allen said Russia "doesn't want the truth of ... the appalling human rights abuses taking place." But he said: "We mustn't let them silence us.
___
10:10 p.m.
The U.N. human rights chief has been blocked from speaking to the Security Council about the situation in Syria after Russia, backed by China and others, protested that the U.N. body charged with ensuring international peace and security should not be discussing human rights.
At the start of Monday afternoon's council meeting that was to be addressed by High Commissioner for Human Rights Zeid Ra'ad al-Hussein, Russia demanded a procedural vote on whether the meeting should be held.
Under council rules, nine "yes" votes are required.
After the issue was put to a vote, the result was 8 countries in favor, 4 against and 3 abstentions. So the meeting was canceled.
It was a very rare defeat on a procedural issue at an open council meeting.
But it reflected deep divisions at the Security Council over seven years of Syrian conflict that has involved President Bashar Assad's key ally Russia and Western nations including the U.S. and other supporters of the Syrian opposition.
___
10 p.m.
Turkey's president has vowed to expand military operations across northern Syria and even into neighboring Iraq after his forces drove Kurdish fighters from the northern Syrian town of Afrin.
President Recep Tayyip Erdogan said Monday that the two-month-long Afrin campaign was the "most important phase" of the military operation launched on Jan. 20, which is aimed at driving Syrian Kurdish forces out of areas along the border.
Turkey views the Syrian Kurdish militiamen as terrorists because of their links to Kurdish insurgents fighting inside Turkey.
Erdogan said Turkish troops and allied Syrian forces would now press eastward, toward the town of Manbij and areas east of the Euphrates River, including Ayn al-Arab, the Arabic name for the Kurdish town of Kobani. Those areas are controlled by U.S.-backed Syrian Kurdish forces, and U.S. troops are stationed there.
___
8:30 p.m.
The U.N.'s humanitarian coordinator in Syria is appealing for help to provide aid to tens of thousands of civilians affected by the fighting outside the Syrian capital and in the northern town of Afrin.
Ali al-Za'tari says the civilians are in "desperate need," and are "tired, hungry, traumatized and afraid."
Government forces are close to capturing the eastern Ghouta region outside Damascus, where they have waged a fierce monthlong air and ground campaign. Turkish troops and allied Syrian forces seized Afrin from Kurdish fighters on Sunday after a two-month offensive. The fighting in both places has killed hundreds of civilians and displaced tens of thousands.
Al-Za'tari says the U.N., the Syrian Arab Red Crescent and other partners are "fully mobilized to deliver aid on the spot," but require permissions and security guarantees.
The Syrian government has regularly blocked the delivery of aid to opposition-held areas.
___
8 p.m.
Syria has condemned Turkey's capture of the northern Syrian town of Afrin from Kurdish forces.
The Syrian Foreign Ministry, in messages sent to the U.N. Security Council and secretary general on Monday, called on Turkey to withdraw its forces immediately from Syrian territories.
Turkish troops and allied Syrian opposition forces seized Afrin from a Kurdish militia on Sunday after a nearly two-month military campaign.
The Syrian Foreign Ministry said the move was "illegal" and called it an invasion.
Turkey views the Kurdish forces as terrorists because of their links to Kurdish insurgents inside Turkey. Ankara denies it is invading or occupying Syrian land, saying it is only removing militants from areas along the border.
___
6:30 p.m.
Syrian President Bashar Assad's office has released videos showing the president driving himself to visit his forces at the battle for eastern Ghouta, just outside the capital, Damascus.
The videos, released late Sunday and early Monday, show the president calm and assured. Other drivers on the road give no indication of knowing who is behind the wheel of the Honda sedan.
Assad's forces in eastern Ghouta appear close to clinching one of their most significant victories against rebels in seven years of civil war.
As he drove, he narrated his route to the camera and gave his thoughts on the battle. He said the images of civilians crossing over by the thousands to government authorities in eastern Ghouta showed that his government was still popular with his people and still possessed the "legitimacy" to rule.
Eastern Ghouta has been under a crippling siege and heavy bombardment for weeks, with civilians packing into underground shelters. Some 1,500 civilians have been killed in the last month.
___
6:15 p.m.
The U.S. State Department says it is "deeply concerned" over the humanitarian situation following Turkey's capture of the town of Afrin in northern Syria from Kurdish forces.
Spokeswoman Heather Nauert said in a statement Monday that the offensive forced the majority of the predominantly Kurdish population of Afrin to evacuate from the town.
She said the U.S. calls on all parties to the conflict to allow humanitarian groups to access the displaced and develop a program for their safe and voluntary return.
Nauert said the fighting in Afrin has distracted from the fight against Islamic State militants, allowing the extremists to begin to reconstitute in some areas.
She said the U.S. is committed to its NATO ally Turkey and its security concerns, and is also committed to the fight against IS with its partners, the Kurdish-led Syrian Democratic Forces.
Nauert said U.S. officials have expressed their concern to Turkish officials about the situation in Afrin.
___
4:15 p.m.
Turkish President Recep Tayyip Erdogan says that after victory in Syria's Afrin region, his country will expand its military operations into other Kurdish-held areas in Syria as well as to Iraq's Sinjar region.
Speaking at a ceremony for judicial appointments in Ankara, Erdogan said troops would target the Syrian city of Manbij, as well as Ayn al-Arab, also known as Kobani, and other towns along the border to the east of the Euphrates River. Those areas are controlled by U.S.-backed Syrian Kurdish forces and U.S. troops are stationed there.
Erdogan said Turkish troops could also cross into Iraq to drive out Kurdish militants from the region of Sinjar, if the Iraqi government is reluctant to oust militants from the area. Turkey says the region is becoming a headquarters for outlawed Kurdish rebels who have been fighting an insurgency in Turkey's southeast since 1984.
Erdogan said "one night, we could suddenly enter Sinjar."
He insisted Turkey had no intention of "invading" Syria, saying it was merely clearing the border area of terrorists.
___
2:05 p.m.
Syria's Kurdish militia says a British woman who had joined their ranks to fight in the northern town of Afrin has been killed in a Turkish airstrike.
Nisrin Abdullah, spokeswoman of the Kurdish female militia known as YPJ, said on Monday that Anna Campbell was killed last Thursday.
She is the first foreign national to die in the battle for Afrin. She is also the first British female fighter and the eighth Briton to die fighting alongside the Kurdish militia in Syria. The Press Association says Campbell was 26 years old from Lewes, East Sussex.
Macer Gifford, a Briton who travelled with Campbell, said they arrived last May to eastern Syria, where they joined the U.S-backed Kurdish militia to fight against Islamic State militants. Gifford returned home after the fall of the city of Raqqa last summer.
Gifford told The Associated Press via Twitter that Campbell, an animal rights activist, "was a lovely girl. Very opinionated and determined."
He also says: "She loved the YPJ and the last I saw of her was her leaving to join them."
___
1:50 p.m.
Turkish Deputy Prime Minister Bekir Bozdag says Turkey does not aim to invade the Syrian town of Afrin and will hand it over to "its real owners."
Bozdag made the comments on Monday, a day after Turkish troops and Ankara-allied Syrian opposition forces captured Afrin.
The town was taken nearly two month after Turkey launched its offensive to clear Afrin and surrounding districts of a Syrian Kurdish militia that Ankara considers to be a "terrorist" group, allied with Turkey's outlawed Kurdish rebels.
Bozdag says" ''We are not invaders. The aim of our offensive is to clear the region of terror."
He says the Syrian Kurdish forces retreated from Afrin because "they were afraid ... you see this very clearly when you look at ammunition and weapons that they left behind."
He says the Kurdish fighters had left booby traps and other explosives inside Afrin.
___
1:35 p.m.
The European Union has slapped sanctions on a senior Syrian military officer and three scientists accused of links to the development and use of chemical weapons against civilians.
EU headquarters said on Monday that the four work at the Scientific Studies and Research Center, a Syrian government agency the EU says produces chemical weapons and missiles to deliver them.
The center has been under EU sanctions since Dec. 2011.
The move brings to 261 the number of people targeted by an EU travel ban and asset freeze over the crackdown on Syrian civilians and support for the government of President Bashar Assad or associating with certain government officials.
A further 67 entities — often companies, agencies and organizations — have had their assets frozen.
___
12:40 p.m.
A senior Syrian Kurdish official says Turkey's offensive on the Syrian town of Afrin is an "occupation" that endangers the rest of northern Syria.
Aldar Khalil, a leading Kurdish official, on Monday condemned Turkey for the assault and for raising the Turkey's flag in a Syrian town.
He says Turkish President Recep Tayyip Erdogan is seeking to spread his influence in Syria as a way of restoring the Ottoman empire's former influence.
He says: "The whole of northern Syria is in danger."
Turkish troops and Syrian opposition fighters allied with Ankara captured Afrin on Sunday, nearly two months after Turkey began its offensive on the enclave.
Erdogan, who first launched military operations in Syria in 2016, has repeatedly said Turkey will not allow a "terror corridor" along its border and has vowed to push eastward in Syria after Afrin, to prevent the Kurdish militia from linking up territories it controls in eastern and western Syria.
___
9:50 a.m.
The European Union's top diplomat is criticizing Turkey over its military offensive in a northern Syrian town and is calling on Ankara to ensure that fighting eases in the conflict-torn country.
EU foreign policy chief Federica Mogherini says: "I am worried about this."
Mogherini told reporters in Brussels on Monday that international efforts in Syria are supposed to be "aiming at de-escalating the military activities and not escalating them."
She urged Turkey, Russia and Iran to guarantee that conflict "de-escalation zones" are established as promised, to "guarantee that that is what happens on the ground."
Turkey's President Recep Tayyip Erdogan announced on Sunday the capture of the town of Afrin, previously controlled by the Kurdish militia known as the People's Defense Units, or YPG.
___
9:40 a.m.
Turkey's state-run news agency says a booby trap bomb reportedly left by Syrian Kurdish fighters in the northern Syrian town of Afrin has killed 11 people — seven civilians and four Turkish-backed fighters.
Anadolu Agency says the explosion occurred late on Sunday in a four-story building that Turkish-backed Syrian opposition forces were clearing for explosives.
Turkish troops and Syrian opposition fighters allied with Ankara marched into Afrin on Sunday, nearly two months after Turkey began its offensive on the enclave to drive out a Syrian Kurdish militia. Ankara considers the militia an extension of its own insurgency.
Kurdish officials and a war monitor say some pockets of resistance remain in the town of Afrin but the Kurdish militia, known as YPG, has largely withdrawn.
___
9:20 a.m.
A Syria war monitoring group says Turkish-allied militiamen are looting the northern Syrian town of Afrin after the Turkish military and allied Syrian fighters seized control of it.
The Britain-based Syrian Observatory for Human Rights said Monday the looting began on Sunday, after the Turkish and allied Syrian forces marched into the town center and raised their flags there — nearly two months after the offensive on the Kurdish enclave started.
The troops faced little resistance from the Kurdish militia, which withdrew, vowing a "new phase" of guerrilla tactics against Turkish troops and their allied fighters.
The Observatory, which monitors Syria's war through a network of activists on the ground, described extensive looting of shops, homes and cars in Afrin.
It's unclear what Turkey plans after the capture of Afrin. — AP
March 6, 2020 - 8:43am
A ceasefire in northern Syria agreed between Russia and Turkey came into force at midnight on Friday in a move to halt intense fighting in Idlib that has sparked a humanitarian disaster and raised fears of their armies clashing.
With just minutes to go before the truce was due to come into force, however, bombings were still continuing, according to the Syrian Observatory for Human Rights war monitor. — AFP
March 6, 2020 - 8:42am
UN Secretary-General Antonio Guterres says he hopes to see an "immediate and lasting cessation of hostilities" that would help the people of northern Syria, after Russia and Turkey agreed to a ceasefire.
The deal — which goes into effect from midnight on Friday — aims to put a stop to intense fighting in Idlib, the northwestern province of Syria where Ankara is battling Moscow-backed government forces.
Guterres "hopes that this agreement will lead to an immediate and lasting cessation of hostilities that ensures the protection of civilians in northwest Syria, who have already endured enormous suffering," a statement said. — AFP
March 2, 2020 - 8:14am
Turkish drone strikes in Syria's Idlib province killed 19 regime soldiers on Sunday, a war monitor reported, as tensions soared between Damascus and Ankara.
The 19 died in strikes on a military convoy in the Jabal al-Zawiya area and a base near Maaret al-Numan city, the Syrian Observatory for Human Rights said.
The report came hours after Turkey shot down two Syrian warplanes, in an escalating offensive against the Damascus regime in the country's northwestern province of Idlib.
Following weeks of violence in and around Idlib, Turkey confirmed the launch of a full military operation against Russian-backed Syrian forces after 34 Turkish soldiers died last week in an air strike blamed on Damascus.
Tensions have intensified between rebel backer Turkey and the regime's main ally Moscow, but Ankara has insisted it does not want to clash directly with Russian forces.
The Syrian regime has vowed to retake the last opposition enclave in a nine-year civil war.
Ankara has also pressured Europe over the conflict by opening its border for migrants already in Turkey to cross into the continent.
The confrontation between Syrian forces and NATO-member Turkey has prompted worries over a wider conflict and a migrant crisis in Europe similar to that of 2015. — AFP
January 15, 2020 - 8:13am
Syrian air defences were activated Tuesday to confront "aggression" directed at a military airport in central Syria, state media said, without specifying the origin of the attack.
"Air defences confronted aggression targeting T4 airport, located in Homs province," north of the capital Damascus, SANA news agency said. — AFP
January 11, 2020 - 9:40am
The UN Security Council has voted to renew cross-border aid to Syria but under pressure from Russia it scaled back a program that has been helping millions in the war-ravaged country since 2014.
The assistance is now being prolonged for six months and deliveries will be made from only from two points along Syria's border with Turkey.
After a series of concessions by Western countries since late December, a resolution extending the aid was passed by 11 votes in favor and four abstentions: Russia, China, the United States, and Britain. — AFP