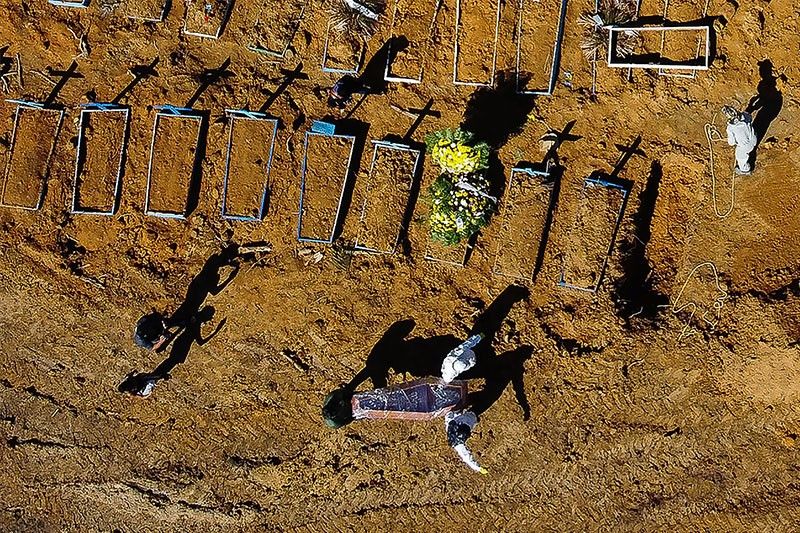 This file photo taken on June 2, 2020 shows an aerial view showing a coffin being taken to its grave at the Nossa Senhora Aparecida cemetery in the neighbourhood of Taruma, in Manaus, Brazil, during the COVID-19 novel coronavirus pandemic. Brazilian health workers urged the International Criminal Court on July 27, 2020 to investigate President Jair Bolsonaro's government for crimes against humanity over its handling of the coronavirus pandemic. A dossier of evidence was handed to the Hague-based court by a group of unions that claim to represent more than one million healthcare staff in Brazil, which has the world's highest virus death count after the United States.
AFP/Michael Dantas
Brazil's COVID-19 death toll surpasses 90,000
(Agence France-Presse) - July 30, 2020 - 7:56am
RIO DE JANEIRO, Brazil — Brazil registered record daily numbers of infections and deaths from the new coronavirus Wednesday, sending its overall death toll surging past 90,000 people.
The country, which has been hit harder than any except the United States in the pandemic, recorded 69,074 new cases and 1,595 new deaths in the past 24 hours, the health ministry said.
That brought the figures to a total of more than 2.5 million cases and 90,134 people killed since the start of the pandemic.
Experts say under-testing in the country of 212 million people means the real numbers are probably much higher.
Technical issues likely contributed to the high daily figures.
The health ministry had said Tuesday that problems with its online reporting system had delayed figures from Sao Paulo, Brazil's most populous state and the one with the most cases and deaths.
Leaving lockdown too soon?
Still, the numbers paint a bleak picture of how the country is faring against the virus.
It has regularly recorded more than 1,000 deaths a day since early July, and more than 30,000 new cases a day since mid-June.
A health ministry official put the prolonged high numbers of cases and deaths down to increased testing.
"The testing program in Brazil has expanded a lot in recent weeks. That's an extremely important point," Arnaldo Medeiros, secretary for health vigilance, told a news conference.
President Jair Bolsonaro faces criticism for his handling of the pandemic.
The far-right leader has dismissed the virus as a "little flu" and attacked lockdown measures by state and local authorities to contain it, arguing the economic fallout could be worse than the disease.
Even after contracting the virus himself earlier this month, forcing him to work from quarantine at the presidential palace for more than two weeks, Bolsonaro has continued to downplay the severity of the pandemic.
Rather than lockdowns, Bolsonaro is pushing the anti-malaria drug hydroxychloroquine as the way to fight the virus.
Like US President Donald Trump, whom he admires, Bolsonaro touts the drug as a remedy for the virus, despite a slate of scientific studies finding it has no effect against COVID-19 and can cause serious side effects.
After testing positive for the virus, the Brazilian leader took hydroxychloroquine himself, regularly showing off his box of pills.
Bolsonaro is currently on his third health minister of the pandemic, an active-duty army general with no prior medical experience.
The interim minister's two predecessors, both doctors, left after clashing with Bolsonaro, including over his insistence the health ministry recommend hydroxychloroquine against COVID-19.
Meanwhile, most states have begun relaxing their stay-at-home measures, encouraged by the fact the number of infections finally appears to have reached a plateau.
But Brazil's infection curve has flattened at a very high level of daily cases, and experts warn it is still too soon to exit lockdowns in many places.
As It Happens
LATEST UPDATE: January 16, 2021 - 2:04pm
Follow this page for updates on a mysterious pneumonia outbreak that has struck dozens of people in China.
January 16, 2021 - 2:04pm
India is set to begin one of the world's largest coronavirus vaccination drives Saturday as the pandemic spread at a record pace and global COVID-19 deaths surged past two million.
The World Health Organization has called for accelerating vaccine rollouts worldwide as well as ramping up efforts to study the sequencing of the virus, which has infected more than 93 million people globally since it was first detected in China in late 2019.
India, home to 1.3 billion people, has the world's second-largest caseload, and the government has given approvals to two vaccines -- though one is yet to complete clinical trials -- aiming to inoculate around 300 million people by July. — AFP
January 16, 2021 - 10:26am
US Secretary of State Mike Pompeo alleges there were COVID-like illnesses among staff at a Chinese virology institute in autumn 2019, casting further blame on Beijing as health experts arrived in the country to probe the pandemic's origins.
The top US diplomat in a statement urged the World Health Organization team that landed Thursday in Wuhan, where COVID-19 was first detected, to "press the government of China" on the "new information."
"The United States government has reason to believe that several researchers inside the (Wuhan Institute of Virology) became sick in autumn 2019, before the first identified case of the outbreak, with symptoms consistent with both COVID-19 and common seasonal illnesses," Pompeo says. — AFP
January 16, 2021 - 9:06am
The global death toll from COVID-19 has surpassed two million, with the World Health Organization urging mass vaccinations as the pandemic progresses at a record pace.
As of 1825 GMT on Friday, at least 2,000,066 people worldwide had been confirmed dead of the virus that first emerged in Wuhan, China, in late 2019, according to an AFP tally.
The grim milestone came as US pharmaceutical giant Pfizer said shipments of its vaccines would slow for a period in late January -- a blow to fledgling campaigns to immunize people against the virus. — AFP
January 15, 2021 - 5:37pm
China has sent over 20,000 rural residents living in the epicentre of the country's latest virus outbreak to state-run quarantine facilities, as Beijing on Friday reported the worst nationwide figures since March.
The country had largely brought the virus under control after strict measures including mass testing and travel restrictions, but recent weeks have seen numbers climbing again, especially in the north, prompting a fresh wave of lockdowns.
Another 144 infections were reported by the National Health Commission on Friday -- the highest single-day tally since March last year -- mostly in Hebei province where more than 22 million people are in lockdown. — AFP
January 15, 2021 - 12:52pm
Germany has recorded more than two million coronavirus cases since the start of the pandemic, the Robert Koch Institute health agency says Friday.
Europe's most populous country added another 22,368 cases over the past 24 hours, it said, bringing the total to 2,000,958.
It also reported another 1,113 fatalities from Covid-19, taking the overall death toll up to 44,994. — AFP