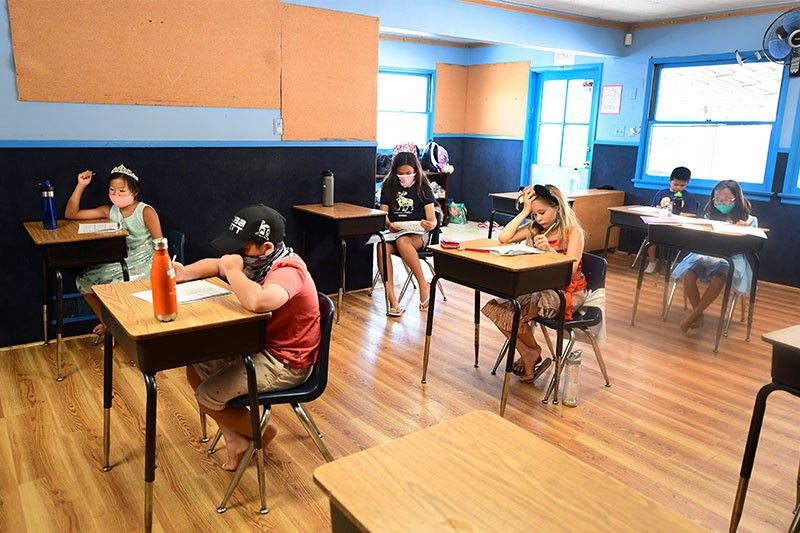 Children in an elementary school class wear masks and sit as desks spaced apart as per coronavirus guidelines during summer school sessions at Happy Day School in Monterey Park, California on July 9, 2020. California Governor Gavin Newsom says the reopening of California schools for the coming school year will be based on safety and not pressure from President Donald Trump as California sets records for one-day increases in COVID-19 cases.
AFP/Frederic J. Brown
Ten million kids 'may never return to school' after virus
(Agence France-Presse) - July 13, 2020 - 7:55am
LONDON, United Kingdom — The coronavirus pandemic has caused an "unprecedented education emergency" with up to 9.7 million children affected by school closures at risk of never going back to class, Save the Children warned Monday.
The British charity cited UNESCO data showing that in April, 1.6 billion young people were shut out of school and university due to measures to contain COVID-19 — about 90 percent of the world's entire student population.
"For the first time in human history, an entire generation of children globally have had their education disrupted," it said in a new report, Save our Education.
It said the economic fall-out of the crisis could force an extra 90 to 117 million children into poverty, with a knock-on effect on school admissions.
With many young people required to work or girls forced into early marriage to support their families, this could see between seven and 9.7 million children dropping out of school permanently.
At the same time, the charity warned the crisis could leave a shortfall of $77 billion in education budgets in low and middle income countries by the end of 2021.
"Around 10 million children may never return to school — this is an unprecedented education emergency and governments must urgently invest in learning," Save the Children chief executive Inger Ashing said.
"Instead we are at risk of unparallelled budget cuts which will see existing inequality explode between the rich and the poor, and between boys and girls."
The charity urged governments and donors to invest more funds behind a new global education plan to help children back into school when it is safe and until then support distance learning.
"We know the poorest, most marginalised children who were already the furthest behind have suffered the greatest loss, with no access to distance learning — or any kind of education — for half an academic year," Ashing said.
Save the Children also urged commercial creditors to suspend debt repayments for low-income countries — a move it said could free up $14 billion for education programmes.
"If we allow this education crisis to unfold, the impact on children's futures will be long lasting," Ashing said.
"The promise the world has made to ensure all children have access to a quality education by 2030, will be set back by years, " she said, citing the United Nations goal.
The report listed 12 countries where children are most at risk of falling behind: Niger, Mali, Chad, Liberia, Afghanistan, Guinea, Mauritania, Yemen, Nigeria, Pakistan, Senegal and Ivory Coast.
Before the crisis, an estimated 258 million children and adolescents were already missing out on school, the charity said.
As It Happens
LATEST UPDATE: August 7, 2020 - 5:08pm
Follow this page for updates on a mysterious pneumonia outbreak that has struck dozens of people in China.
August 7, 2020 - 5:08pm
Reports say that former Manila mayor Alfredo Lim has been confined at an undisclosed hospital reportedly due to the coronavirus disease.
Lim's grandson, Manila 1st District Councilor Niño Dela Cruz, earlier requested for prayers for the healing of the former mayor. The post has been deleted. — The STAR/Rey Galupo
August 7, 2020 - 4:07pm
The Department of Health announces 3,379 new cases of the coronavirus disease, bringing the national caseload to 122,754 in the Philippines.
There are 96 new recoveries and 24 new deaths.
August 7, 2020 - 12:30pm
The health ministry data show India's coronavirus cases passed two million after a daily jump of more than 60,000 and around 900 new deaths,
India has now recorded 2.03 million infections and 41,585 deaths, according to the ministry's website. Many experts doubt the official figures, however, and say the true numbers may be much higher. — AFP
August 7, 2020 - 7:49am
The number of coronavirus cases recorded worldwide has passed 19 million, according to an AFP tally from official sources at 2300 GMT Thursday.
At least 19,000,553 cases and 712,315 deaths have now been registered.
Forty percent of cases were in the United States and Brazil, the two worst-affected countries with 4,870,367 cases (159,864 deaths) and 2,912,212 infections (98,493 deaths) respectively. — AFP
August 7, 2020 - 7:40am
The number of COVID-19 cases in Africa has risen to over one million, with more than half registered in South Africa, according to an AFP count late Thursday.
The continent's worst-hit nation has registered 538,184 infections, including over 8,000 new cases on Thursday, and 9,604 deaths.
Egypt has recorded around 95,000 COVID-19 cases while the figure in Nigeria is 45,000.
South Africa's infection figures are the fifth-highest after the US, Brazil, India and Russia. — AFP