Hong Kong to lead Tiananmen mourning despite virus vigil ban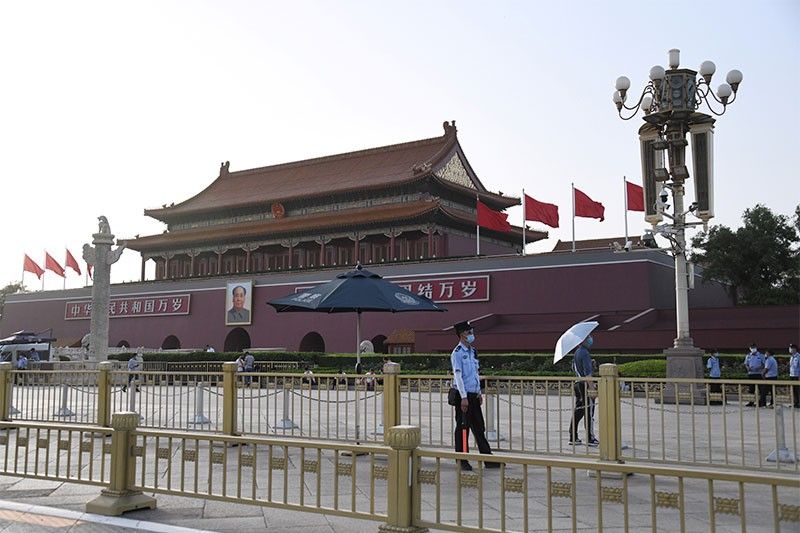 HONG KONG, China — Hong Kong will Thursday lead global remembrance of China's deadly Tiananmen crackdown, with people lighting candles in neighbourhoods across the restless city after authorities banned a mass vigil because of the coronavirus.
Open discussion of the brutal suppression is forbidden inside China, where hundreds — by some estimates more than a thousand — died when the Communist Party sent tanks on June 4, 1989 to crush a student-led demonstration in Beijing calling for democratic reforms.
But Hong Kongers have kept memories alive for the last three decades by holding a huge annual vigil in a park, the only place inside China were such mass displays of remembrance are possible.
This year's vigil was forbidden on public health grounds with restrictions placed on more than eight people gathering in public, to combat the coronavirus.
Organisers have instead called for residents to light candles at 8:00 pm (1200 GMT) wherever they happen to be.
"If we are not allowed to light a candle at a rally, we will let the candles be lit across the city," Lee Cheuk-yan, chairman of vigil organisers Hong Kong Alliance, told reporters.
Crowds have swelled at Hong Kong's Tiananmen vigils whenever fears spike that Beijing is prematurely stamping out the semi-autonomous city's own cherished freedoms, an issue that has dominated the finance hub for the last 12 months.
The business hub was engulfed by seven straight months of huge and often violent pro-democracy protests last year — rallies that kicked off five days after the last annual vigil.
Security and anthem laws
In response to those protests last month Beijing announced plans to introduce a sweeping national security law covering secession, subversion of state power, terrorism and foreign interference.
China says the law — which will bypass Hong Kong's legislature — is needed to tackle "terrorism" and "separatism" in a restless city it now regards as a direct national security threat.
But opponents, including many Western nations, fear it will bring mainland-style political oppression to a business hub that was supposedly guaranteed freedoms and autonomy for 50 years after its 1997 handover to China from Britain.
Hong Kong's lawmakers are also expected to sign off on another controversial law on Thursday — one punishing insults towards China's national anthem with up to three years in jail.
With the Victoria Park vigil banned, Hong Kongers are organising locally and getting creative.
"We are expecting white candles to be distributed at 100 to 200 spots across Hong Kong," Chiu Yan-loy, a district councillor and alliance member told AFP.
Online groups have sent out maps and lists of more than a dozen districts calling for people to gather for small vigils.
Seven Catholic churches have also announced plans to host a commemorative mass on Thursday evening.
Riot police have moved swiftly against protests forming in recent weeks, citing the coronavirus measures.
Vigils are also planned in neighbouring Taiwan and among the Chinese diaspora in many western countries.
But in mainland China, Tiananmen is greeted by an information blackout, with censors scrubbing mentions of protests and dissidents often visited by police in the days leading up to June 4.
The candle emoji has been unavailable in recent days on China's Twitter-like Weibo platform.
On Wednesday, China's foreign ministry described calls by Taiwan for Beijing to apologise for the crackdown as "complete nonsense".
"The great achievements since the founding of new China over the past 70 or so years fully demonstrates that the developmental path China has chosen is completely correct," spokesman Zhao Lijian told reporters.
As It Happens
LATEST UPDATE: September 29, 2022 - 1:10pm
Millions march in Hong Kong in a powerful rebuke of an extradition law feared to expose them to China's capricious justice system.
September 29, 2022 - 1:10pm
Former Hong Kong opposition lawmaker Ted Hui was sentenced in absentia on Thursday to three-and-a-half years in jail, after a court found that he misled authorities when fleeing the city.
Hui, a veteran activist, is also facing multiple charges related to Hong Kong's massive and sometimes violent pro-democracy demonstrations in 2019, as well as holding protests that disrupted city legislature meetings.
Judge Andrew Chan said that Hui tricked police and the court into lifting pre-trial travel restrictions by using false documents about an official visit to Denmark.
Hui "made a mockery of the criminal justice system", the judge said, adding that the deception was "carefully orchestrated".
Responding to the sentence, Hui criticised the judge for "abetting tyranny" and said the sentencing would highlight the "insanity and ineptness" of Hong Kong's authorities.
"Hong Kong's courts have become the courts of the (Chinese) Communist Party, and political trials and sentencing that target dissent have become a common sight," Hui wrote on social media.
In December 2020, Hui announced after his Denmark trip that he had gone into exile in light of Beijing's crackdown on dissent in Hong Kong. — AFP
September 26, 2022 - 12:26pm
A 90-year-old Hong Kong cardinal went on trial alongside five fellow democracy supporters on Monday over their role in running a fund to help defend people arrested in anti-government protests.
Cardinal Joseph Zen, one of Asia's highest-ranking Catholic clerics, was originally detained earlier this year under a national security law that Beijing imposed on Hong Kong to quell dissent.
His arrest for "colluding with foreign forces" shocked the city's Catholic community and renewed criticism of the Vatican's warming ties with Beijing, including from fellow senior clerics.
Police have not yet charged Zen with a national security offense, which can carry up to life in jail.
Instead, he and his fellow defendants, including activist and singer Denise Ho and veteran human rights barrister Margaret Ng, are being prosecuted for the less serious offense of failing to properly register their defense fund as a society. -- AFP
September 5, 2022 - 1:09pm
Cassius and Roxie have spent three months at a Hong Kong dog shelter waiting for new owners.
The two mongrels are victims of a surge in pet abandonments as the city experiences an exodus of residents due to China's crackdown on dissent as well as some of the world's strictest Covid restrictions.
They were brought to Hong Kong Dog Rescue (HKDR) after their owners made a sudden decision to relocate back to Britain.
It is an all too familiar story to people running animal shelters in Hong Kong these days.
"We are always full house," Eva Sit, communications director at HKDR, told AFP against a backdrop of near-constant excitable barks and yowls.
"We find it very difficult to say no to surrender requests because we feel very bad for the dogs."
Those giving up their pets, Sit explains, fill out a form that includes the reason why.
Emigration used to account for two in 10 cases.
"These days, it's almost the only reason. Like, maybe eight out of 10 surrender requests we get come with that reason," she said. — AFP
August 18, 2022 - 5:44pm
Reporting restrictions blanketing Hong Kong's largest national security prosecution were lifted on Thursday following an earlier a High Court ruling, shedding new light on pre-trial hearings that have dragged on for more than a year.
Beijing imposed a sweeping security law on Hong Kong after 2019's huge and sometimes violent pro-democracy protests.
It criminalized most dissent and transformed the once-outspoken city into something more closely resembling the authoritarian mainland.
The largest joint prosecution is of 47 leading democracy activists, most of whom have been held behind bars for more than a year as prosecution and defense lawyers prepare for an eventual trial in what is new legal territory. -- AFP
August 12, 2022 - 12:40pm
A Hong Kong court has jailed two young men in relation to a violent clash during the city's political unrest in 2019 that killed an elderly man.
Luo Chang-qing, a 70-year-old cleaner, died from a blow to the head during a border town confrontation where democracy protesters and government loyalists hurled bricks at each other.
Luo was one of the only fatalities directly linked to Hong Kong's political turmoil in 2019 and his case remains a source of outrage for government supporters.
Kelvin Lau, 19, and Chan Yin-ting, 18, are each sentenced to five-and-a-half years in jail for rioting. — AFP