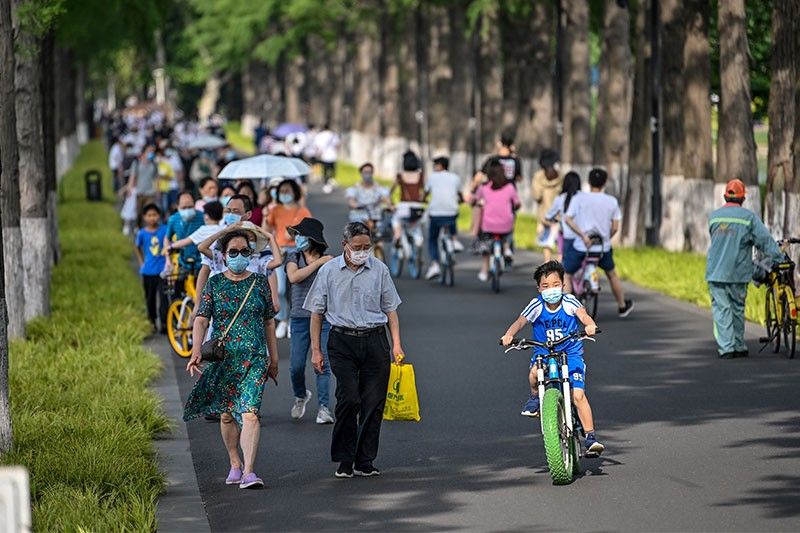 People walk in Moshan Scenic Area Qinshui Platform in the East Lake in Wuhan, in China's central Hubei province on May 17, 2020. Authorities in the pandemic ground zero of Wuhan have ordered mass COVID-19 testing for all 11 million residents after a new cluster of cases emerged over the weekend.
AFP/Hector Retamal
Top China expert warns of potential second coronavirus wave
(Agence France-Presse) - May 18, 2020 - 8:09am
BEIJING, China — China faces a potential second wave of coronavirus infections due to a lack of immunity among its population, its government's senior medical advisor has warned.
After months of lockdowns and curbs on travel China has largely brought the virus under control, but fears of a second wave have risen as clusters have emerged in northeast provinces and in the central city of Wuhan.
"The majority of... Chinese at the moment are still susceptible of the Covid-19 infection, because (of) a lack of immunity," Zhong Nanshan, the public face of government's response to the pandemic, told CNN.
"We are facing (a) big challenge," Zhong added. "It's not better than the foreign countries I think at the moment."
Zhong, who helped expose the scale of the 2003 outbreak of Severe Acute Respiratory Syndrome (SARS), also said authorities in ground-zero Wuhan had under-reported cases during the early days of the pandemic.
"The local authorities, they didn't like to tell the truth at that time," said Zhong, who was part of a team of experts sent to Wuhan to investigate the outbreak.
"I didn't believe that result (the number of cases reported) so I (kept) asking and then, you have to give me the real number," he said.
But he added he believed data published after Wuhan was locked down in late January, and when the central government took control of the response, "will be correct".
The novel coronavirus has killed at least 309,296 people, according to a tally from official sources compiled by AFP, with scientists around the world racing to find a vaccine.
Zhong cautioned that a "perfect" vaccine for a disease that the World Health Organization (WHO) says may never disappear could take "years".
As It Happens
LATEST UPDATE: June 5, 2020 - 4:56pm
Follow this page for updates on a mysterious pneumonia outbreak that has struck dozens of people in China.
June 5, 2020 - 4:56pm
The Department of Health reports that the total number of confirmed COVID-19 infections in the Philippines climbed to 20,626 as of Friday, June 5, 2020.
There are 244 additional cases, 82 recoveries and three new deaths.
June 5, 2020 - 9:16am
Brazil's death toll from the novel coronavirus has surged to become the third-highest in the world, surpassing Italy's, according to official figures released Thursday.
The South American country of 210 million people reported a new record of 1,473 deaths in 24 hours, bringing its overall toll to 34,021, from 614,941 infections, the health ministry said.
Italy has confirmed 33,689 deaths from 234,013 infections. — AFP
June 5, 2020 - 7:26am
The novel coronavirus has killed at least 387,280 people since the outbreak first emerged in China last December, according to a tally from official sources compiled by AFP at 1900 GMT on Thursday.
At least 6,563,710 cases of coronavirus have been registered in 196 countries and territories. Of these, at least 2,838,800 are now considered recovered.
The tallies, using data collected by AFP from national authorities and information from the World Health Organization (WHO), probably reflect only a fraction of the actual number of infections. — AFP
June 4, 2020 - 6:44pm
Britain's Prince Charles spoke of his experience of coronavirus, saying he was fortunate to have only mild symptoms and that he hopes the pandemic will refocus efforts on the environment.
"I was lucky in my case and got away with it quite lightly," the 71-year-old heir to the throne told Sky News television in an interview broadcast on Thursday.
"I can so understand what other people have gone through. I feel particularly for those who've lost their loved ones but were unable to be with them at the time.
"That's to me the most ghastly thing," he said. — AFP
June 4, 2020 - 5:05pm
The Department of Health reports 634 additional cases of the coronavirus disease, which brings the national tally to 20,382.
The agency says there are 95 recoveries and 10 deaths.