WHO insists it hid nothing, sounded virus alarm from start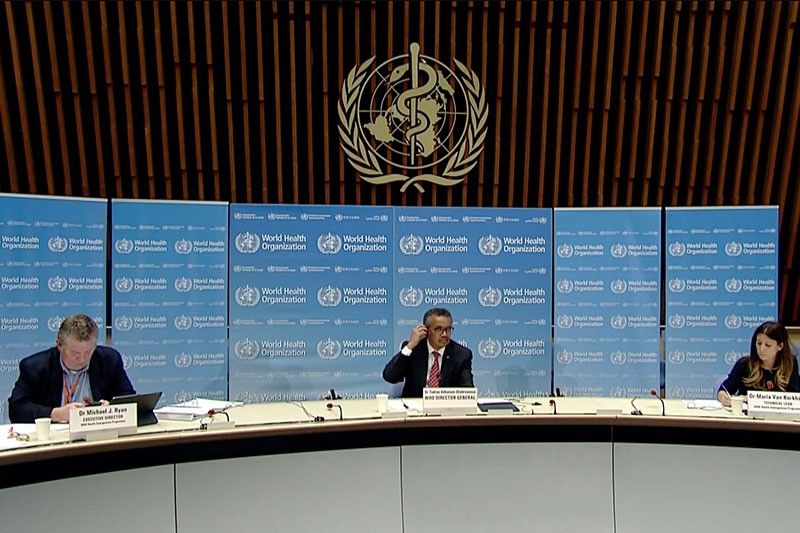 GENEVA, Switzerland — The World Health Organization insisted Monday that it sounded the alarm on the novel coronavirus right from the very start and had hidden nothing from Washington about the deadly pandemic.
WHO chief Tedros Adhanom Ghebreyesus said there were no secrets at the UN agency after being blasted by the United States for allegedly downplaying the initial COVID-19 outbreak in China.
"We have been warning from day one that this is a devil that everyone should fight," Tedros told a virtual briefing in Geneva.
The virus, which emerged late last year in the Chinese city of Wuhan, has so far infected more than 2.4 million people globally and killed more than 165,000, according to an AFP tally.
The United States has by far the highest death toll of any country, at more than 40,000 fatalities, and President Donald Trump has faced criticsm over his handling of the pandemic.
Washington is the biggest contributor to the WHO but Trump is freezing funding, alleging that the organisation mismanaged and covered up the spread the virus.
Tedros said the presence of embedded US government secondees working at the WHO headquarters in Geneva meant there was nothing being concealed from Washington.
The WHO said there were 15 staff from the Centers for Disease Control and Prevention (CDC), the US health protection agency, detailed specifically to work with the organisation on its COVID-19 response.
"Having CDC staff means there is nothing hidden from the US, from day one. Because these are Americans working with us. It just comes naturally and they tell what they are doing," said Tedros.
"WHO is open. We don't hide anything. Not only for CDC, them sending messages, or others -- we want all countries to get the same message immediately because that helps countries to prepare well and to prepare quickly."
Taiwan row
The US State Department has said the WHO was too late in sounding the alarm over COVID-19 and is overly deferential to China.
It questioned why it did not pursue a lead from Taiwan flagged up on December 31 about reports of atypical pneumonia in Wuhan
Debate has raged over the significance of Taiwan's email, which informed the WHO of the reports from Wuhan, and of at least seven patients being isolated -- something that would not be necessary for a non-infectious disease.
The United States said Thursday it was "deeply disturbed that Taiwan's information was withheld from the global health community, as reflected in the WHO's January 14, 2020 statement that there was no indication of human-to-human transmission".
But Tedros insisted that the WHO was already aware of reports emanating from Wuhan -- and said Taiwan's email was only seeking further information.
"One thing that has to be clear is the first email was not from Taiwan. Many other countries were already asking for clarification. The first report came from Wuhan," said Tedros.
"Taiwan didn't report any human-to-human transmission," he stressed.
WHO emergencies director Michael Ryan said the email made no reference to anything beyond what had already been reported in news media.
"Clusters of atypical pneumonia are not uncommon. There are millions of cases of atypical pneumonia around the world in any given year," he explained.
Ryan said that the WHO tweeted the existence of the event in Wuhan on January 4, and on January 5 provided "detailed information on the epidemic" which all countries could access.
Tedros also urged leaders not to exploit the pandemic for their own political capital.
"Don't use this virus as an opportunity to fight against each other or score political points," he said.
"It's like playing with fire. It's the political problem that may fuel further this pandemic."
As It Happens
LATEST UPDATE: July 6, 2022 - 12:37pm
Follow this page for updates on a mysterious pneumonia outbreak that has struck dozens of people in China.
July 6, 2022 - 12:37pm
Tens of millions of people were under lockdown in China on Wednesday as businesses in a major tourist city were forced to shut their doors and fresh clusters sparked fears of a return to blanket restrictions.
Health authorities reported over 300 infections Wednesday, with clusters found in the historic northern city of Xi'an — home to the Terracotta Army -- as well as the country's biggest city Shanghai.
The fresh cases and the official response to them have deepened fears that China may be set to return to the kinds of strict restrictions seen earlier this year, when Beijing's hardline zero-Covid policy saw tens of millions locked down for weeks on end.
In Shanghai, some residents on social media Tuesday reported receiving government food rations — a throwback to the month's long confinement in the spring.
"Let me tell you a scary story, Putuo district is sending out vegetables again," read one resident's viral WeChat post.
"I'm so nervous, the epidemic has destroyed my youth. I'm about to go crazy," posted another Shanghai-based Weibo user.
Officials launched a new round of mass testing in over half of the city's districts after a rebound in cases since the weekend, closing all karaoke bars Wednesday after some infections were linked to six such venues.
And Xi'an -- a historic city of 13 million that endured a month-long lockdown at the end of last year — was placed back under "temporary control measures" after 29 infections were found, mostly among waste recycling workers, since Saturday.
Public entertainment venues including pubs, internet cafes and karaoke bars would shut their doors from midnight on Wednesday, the city government said in a notice.
— AFP

July 4, 2022 - 2:50pm
China has placed 1.7 million people under lockdown in central Anhui province, where authorities reported nearly 300 new cases Monday in the latest of a string of outbreaks testing Beijing's no-tolerance approach to Covid-19.
The country is the last major economy wedded to a zero-Covid strategy, responding to all cases with strict isolation orders and tough testing campaigns.
The outbreak in Anhui -- where officials first found hundreds of cases last week -- comes as the Chinese economy begins to rebound from a months-long lockdown in Shanghai and disruptive Covid restrictions in the capital Beijing. — AFP
July 2, 2022 - 1:03pm
Antoine Flahault, director of the Institute of Global Health at the University of Geneva says that there is a "fragile, armed peace" with COVID-19.
"In the hopes of stemming the tide of the pandemic and reducing mortality, we need to reduce the level of contamination, which the vaccine cannot do alone," he tells AFP.
"We need a new phase -- improving the quality of indoor air."
June 25, 2022 - 4:46pm
China reports zero new COVID-19 infections in Shanghai for the first time since March on Saturday, as the country's latest outbreak subsides after months of virus-spurred lockdowns and restrictions.
China is the last major economy still committed to a zero-Covid strategy, stamping out new cases with a combination of targeted lockdowns, mass testing and lengthy quarantines.
The economic hub of Shanghai was forced into a months-long lockdown during a Covid surge this spring driven by the fast-spreading Omicron variant, while the capital Beijing shuttered schools and offices for weeks over a separate outbreak. — AFP
June 13, 2022 - 4:20pm
Beijing starts a new round of mass testing in its most populous downtown district after a rapidly spreading outbreak linked to a bar saw Covid rules tightened again in the capital.
A night of partying by one Beijing resident last week threw the city's tentative reopening into chaos, leading authorities to shutter nightlife venues in the downtown district of Chaoyang days after they reopened last Monday.
The resident, who did not get tested for 14 days, went to several bars and nightlife venues in Chaoyang in the days before and after developing a fever.
The outbreak stemming from the Heaven Supermarket bar has infected at least 183 people in 15 districts so far. — Agence France Presse