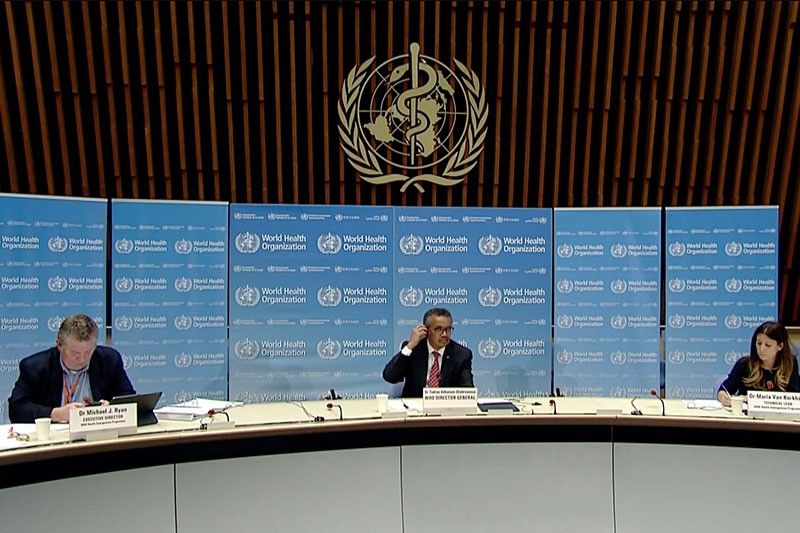 A TV grab from the World Health Organization (WHO) website shows (From L) World Health Organization (WHO) Health Emergencies Programme Director Michael Ryan, WHO Director-General Tedros Adhanom Ghebreyesus and WHO Technical Lead Maria Van Kerkhove attending a WHO virtual news briefing on the COVID-19 (novel coronavirus) from the WHO headquarters, on April 17, 2020 in Geneva. Lady Gaga will launch a giant online coronavirus awareness concert on April 18 entitled "One World: Together at Home", featuring music icons like Paul McCartney and Stevie Wonder.
AFP
WHO insists it hid nothing, sounded virus alarm from start
GENEVA, Switzerland — The World Health Organization insisted Monday that it sounded the alarm on the novel coronavirus right from the very start and had hidden nothing from Washington about the deadly pandemic.
WHO chief Tedros Adhanom Ghebreyesus said there were no secrets at the UN agency after being blasted by the United States for allegedly downplaying the initial COVID-19 outbreak in China.
"We have been warning from day one that this is a devil that everyone should fight," Tedros told a virtual briefing in Geneva.
The virus, which emerged late last year in the Chinese city of Wuhan, has so far infected more than 2.4 million people globally and killed more than 165,000, according to an AFP tally.
The United States has by far the highest death toll of any country, at more than 40,000 fatalities, and President Donald Trump has faced criticsm over his handling of the pandemic.
Washington is the biggest contributor to the WHO but Trump is freezing funding, alleging that the organisation mismanaged and covered up the spread the virus.
Tedros said the presence of embedded US government secondees working at the WHO headquarters in Geneva meant there was nothing being concealed from Washington.
The WHO said there were 15 staff from the Centers for Disease Control and Prevention (CDC), the US health protection agency, detailed specifically to work with the organisation on its COVID-19 response.
"Having CDC staff means there is nothing hidden from the US, from day one. Because these are Americans working with us. It just comes naturally and they tell what they are doing," said Tedros.
"WHO is open. We don't hide anything. Not only for CDC, them sending messages, or others -- we want all countries to get the same message immediately because that helps countries to prepare well and to prepare quickly."
Taiwan row
The US State Department has said the WHO was too late in sounding the alarm over COVID-19 and is overly deferential to China.
It questioned why it did not pursue a lead from Taiwan flagged up on December 31 about reports of atypical pneumonia in Wuhan
Debate has raged over the significance of Taiwan's email, which informed the WHO of the reports from Wuhan, and of at least seven patients being isolated -- something that would not be necessary for a non-infectious disease.
The United States said Thursday it was "deeply disturbed that Taiwan's information was withheld from the global health community, as reflected in the WHO's January 14, 2020 statement that there was no indication of human-to-human transmission".
But Tedros insisted that the WHO was already aware of reports emanating from Wuhan -- and said Taiwan's email was only seeking further information.
"One thing that has to be clear is the first email was not from Taiwan. Many other countries were already asking for clarification. The first report came from Wuhan," said Tedros.
"Taiwan didn't report any human-to-human transmission," he stressed.
WHO emergencies director Michael Ryan said the email made no reference to anything beyond what had already been reported in news media.
"Clusters of atypical pneumonia are not uncommon. There are millions of cases of atypical pneumonia around the world in any given year," he explained.
Ryan said that the WHO tweeted the existence of the event in Wuhan on January 4, and on January 5 provided "detailed information on the epidemic" which all countries could access.
Tedros also urged leaders not to exploit the pandemic for their own political capital.
"Don't use this virus as an opportunity to fight against each other or score political points," he said.
"It's like playing with fire. It's the political problem that may fuel further this pandemic."
As It Happens
LATEST UPDATE: January 16, 2021 - 2:04pm
Follow this page for updates on a mysterious pneumonia outbreak that has struck dozens of people in China.
January 16, 2021 - 2:04pm
India is set to begin one of the world's largest coronavirus vaccination drives Saturday as the pandemic spread at a record pace and global COVID-19 deaths surged past two million.
The World Health Organization has called for accelerating vaccine rollouts worldwide as well as ramping up efforts to study the sequencing of the virus, which has infected more than 93 million people globally since it was first detected in China in late 2019.
India, home to 1.3 billion people, has the world's second-largest caseload, and the government has given approvals to two vaccines -- though one is yet to complete clinical trials -- aiming to inoculate around 300 million people by July. — AFP
January 16, 2021 - 10:26am
US Secretary of State Mike Pompeo alleges there were COVID-like illnesses among staff at a Chinese virology institute in autumn 2019, casting further blame on Beijing as health experts arrived in the country to probe the pandemic's origins.
The top US diplomat in a statement urged the World Health Organization team that landed Thursday in Wuhan, where COVID-19 was first detected, to "press the government of China" on the "new information."
"The United States government has reason to believe that several researchers inside the (Wuhan Institute of Virology) became sick in autumn 2019, before the first identified case of the outbreak, with symptoms consistent with both COVID-19 and common seasonal illnesses," Pompeo says. — AFP
January 16, 2021 - 9:06am
The global death toll from COVID-19 has surpassed two million, with the World Health Organization urging mass vaccinations as the pandemic progresses at a record pace.
As of 1825 GMT on Friday, at least 2,000,066 people worldwide had been confirmed dead of the virus that first emerged in Wuhan, China, in late 2019, according to an AFP tally.
The grim milestone came as US pharmaceutical giant Pfizer said shipments of its vaccines would slow for a period in late January -- a blow to fledgling campaigns to immunize people against the virus. — AFP
January 15, 2021 - 5:37pm
China has sent over 20,000 rural residents living in the epicentre of the country's latest virus outbreak to state-run quarantine facilities, as Beijing on Friday reported the worst nationwide figures since March.
The country had largely brought the virus under control after strict measures including mass testing and travel restrictions, but recent weeks have seen numbers climbing again, especially in the north, prompting a fresh wave of lockdowns.
Another 144 infections were reported by the National Health Commission on Friday -- the highest single-day tally since March last year -- mostly in Hebei province where more than 22 million people are in lockdown. — AFP
January 15, 2021 - 12:52pm
Germany has recorded more than two million coronavirus cases since the start of the pandemic, the Robert Koch Institute health agency says Friday.
Europe's most populous country added another 22,368 cases over the past 24 hours, it said, bringing the total to 2,000,958.
It also reported another 1,113 fatalities from Covid-19, taking the overall death toll up to 44,994. — AFP