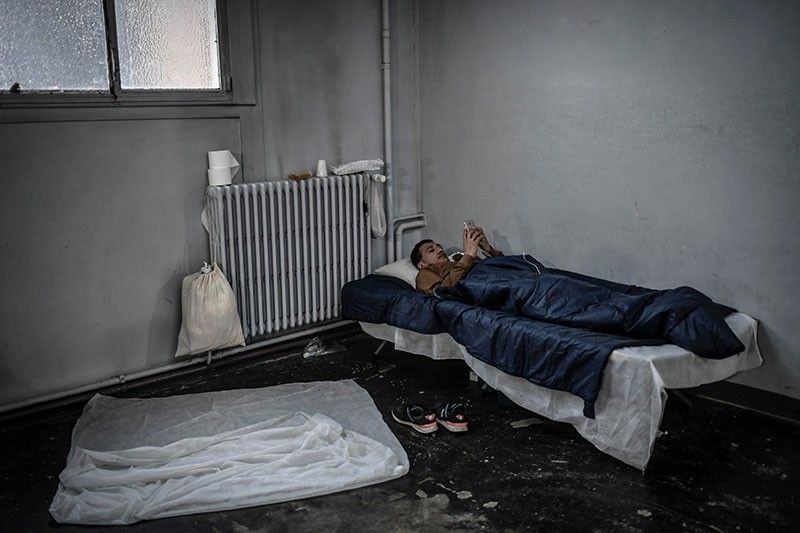 A man looks at his mobile phone as he rests in bed at the Jean Jaures gymnasium which has been organised to welcome migrants on March 29, 2020 in Paris, on the thirteenth day of a lockdown aimed at curbing the spread of the COVID-19 (novel coronavirus) in France.
AFP/Stephane De Sakutin
4 in 10 people worldwide confined in some form
(Agence France-Presse) - March 30, 2020 - 8:12am
PARIS, France — More than 3.38 billion people worldwide have been asked or ordered to follow confinement measures in the fight against COVID-19, according to an AFP database Sunday.
That represents around 43 percent of the total world population, which is 7.79 billion people according to a United Nations count in 2020.
The Chinese province Hubei and its capital city Wuhan, the first epicentre of the novel coronavirus, were the first to introduce confinement measures at the end of January.
As Hubei province starts opening up again after its months-long isolation, confinement measures have multiplied worldwide in recent weeks.
By March 18 these measures affected more than 500 million people. This increased to more than a billion people by March 23, and more than two billion just a day later.
On March 25 more than three billion people were affected by confinement measures in some form.
Worldwide impact
On Sunday at least 3.381 billion people in at least 78 countries and territories have been called on to stay at home.
Most of those — at least 2.45 billion people in 42 countries and territories — are under obligatory confinement.
No region in the world is excluded.
In Europe, the affected countries include Britain, France, Italy and Spain. In Asia, India, Nepal, Sri Lanka and more are affected, while many nations have measures in the Middle East including Iraq, Jordan, Lebanon, Israel.
In Africa, South Africa, Morocco, Madagascar, Rwanda and more are affected. In the Americas, confinement measures are in place in Colombia, Argentina, Peru and more, including a large part of the United States. In Oceania, New Zealand has imposed a lockdown.
Congo-Brazzaville and two regions in Ghana will also join the list early next week.
Varying measures according to country
In most cases people are allowed to leave their homes to work, buy essential goods or for medical treatment.
At least nine countries or territories — comprising some 511 million people — have urged their populations to stay home without imposing threats of punishment.
These include Germany, Iran, Russia and Uganda.
Curfews and quarantines
At least 21 other countries or territories — comprising some 384 million people — have imposed evening curfews.
This measure is particularly widespread in Africa (Egypt, Kenya, Ivory Coast, Burkina Faso, Mali, Senegal, Sierra Leone, Mauritania, Gabon) and Latin America (Chile, Ecuador, Dominican Republic, Panama, Puerto Rico).
Saudi Arabia, Serbia and the city of Manila in the Philippines have also imposed curfews.
At least seven countries have put their main cities under quarantine, barring populations from entering and exiting.
This is the case for Kinshasa in the Democratic Republic of Congo, Riyadh, Mecca and Medina in Saudi Arabia, Helsinki in Finland, and Baku in Azerbaijan.
As It Happens
LATEST UPDATE: May 14, 2021 - 9:00am
Follow this page for updates on a mysterious pneumonia outbreak that has struck dozens of people in China.
May 14, 2021 - 9:00am
The top US health agency on Thursday said it was lifting mask-wearing guidance for people who are fully vaccinated against COVID-19, a watershed moment that President Joe Biden called "a great day" in the long pandemic fight.
The announcement by the Centers for Disease Control and Prevention (CDC) marked an abrupt turnaround after more than a year of urging people to cover their faces to stem the spread.
"Anyone who is fully vaccinated can participate in indoor and outdoor activities, large or small, without wearing a mask or physical distancing," CDC director Rochelle Walensky said during a briefing.
"If you are fully vaccinated, you can start doing the things that you had stopped doing because of the pandemic." — AFP
May 13, 2021 - 3:30pm
At the peak of Kenya's third wave of COVID-19 in March, hospitals — buckling under the strain of the virus — saw their oxygen reserves fizzle out.
Since then, they have been scrambling to increase capacity of the lifesaving element, fearing the nightmare scenario currently unfolding in India due to oxygen shortages.
On the roof of the Metropolitan Hospital, a 150-bed private institution that targets the middle class, a brand-new oxygen production unit has just been installed that is capable of producing up to 600 liters of the gas per minute.
Metropolitan CEO Kanyenje Gakombe said the hospital accelerated plans to produce its own oxygen after supplies were squeezed to the limit during the height of the third wave, fanned by the variants of the coronavirus first detected in Britain and South Africa.
In April Kenya registered a record 571 deaths, and the health ministry warned hospitals were overrun with fewer than 300 patients in the Intensive Care Unit and fewer than 2,000 hospitalised countrywide. — AFP
May 12, 2021 - 6:19pm
The catastrophic scale of the Covid-19 pandemic could have been prevented had the warning signs been heeded, the global panel investigating the world's coronavirus response concluded Wednesday.
The Independent Panel for Pandemic Preparedness and Response blamed a "toxic cocktail" of dithering and poor coordination, said the World Health Organization could have sounded the alarm sooner, and urged rich countries to donate one billion vaccine doses by September, in its long-awaited final report. — AFP
May 12, 2021 - 12:36pm
Official data show India's coronavirus death toll surpassed 250,000 on Wednesday as the pandemic raged across the vast country of 1.3 billion people.
According to the health ministry, 4,205 people died in the past 24 hours -- a new record -- taking total fatalities to 254,197.
The number of cases rose almost 350,000 to 23.3 million, the second-highest after the United States. — AFP
May 12, 2021 - 9:03am
The World Health Organization said Wednesday that a variant of COVID-19 behind the acceleration of India's explosive outbreak has been found in dozens of countries all over the world.
The UN health agency said the B.1.617 variant of COVID-19, first found in India in October, had been detected in sequences uploaded to the GISAID open-access database "from 44 countries in all six WHO regions," adding it had received "reports of detections from five additional countries". — AFP