4 in 10 people worldwide confined in some form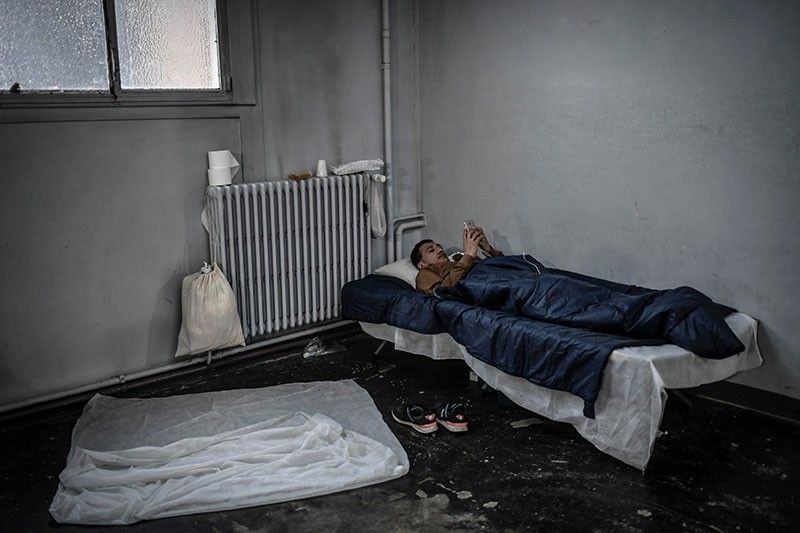 PARIS, France — More than 3.38 billion people worldwide have been asked or ordered to follow confinement measures in the fight against COVID-19, according to an AFP database Sunday.
That represents around 43 percent of the total world population, which is 7.79 billion people according to a United Nations count in 2020.
The Chinese province Hubei and its capital city Wuhan, the first epicentre of the novel coronavirus, were the first to introduce confinement measures at the end of January.
As Hubei province starts opening up again after its months-long isolation, confinement measures have multiplied worldwide in recent weeks.
By March 18 these measures affected more than 500 million people. This increased to more than a billion people by March 23, and more than two billion just a day later.
On March 25 more than three billion people were affected by confinement measures in some form.
Worldwide impact
On Sunday at least 3.381 billion people in at least 78 countries and territories have been called on to stay at home.
Most of those — at least 2.45 billion people in 42 countries and territories — are under obligatory confinement.
No region in the world is excluded.
In Europe, the affected countries include Britain, France, Italy and Spain. In Asia, India, Nepal, Sri Lanka and more are affected, while many nations have measures in the Middle East including Iraq, Jordan, Lebanon, Israel.
In Africa, South Africa, Morocco, Madagascar, Rwanda and more are affected. In the Americas, confinement measures are in place in Colombia, Argentina, Peru and more, including a large part of the United States. In Oceania, New Zealand has imposed a lockdown.
Congo-Brazzaville and two regions in Ghana will also join the list early next week.
Varying measures according to country
In most cases people are allowed to leave their homes to work, buy essential goods or for medical treatment.
At least nine countries or territories — comprising some 511 million people — have urged their populations to stay home without imposing threats of punishment.
These include Germany, Iran, Russia and Uganda.
Curfews and quarantines
At least 21 other countries or territories — comprising some 384 million people — have imposed evening curfews.
This measure is particularly widespread in Africa (Egypt, Kenya, Ivory Coast, Burkina Faso, Mali, Senegal, Sierra Leone, Mauritania, Gabon) and Latin America (Chile, Ecuador, Dominican Republic, Panama, Puerto Rico).
Saudi Arabia, Serbia and the city of Manila in the Philippines have also imposed curfews.
At least seven countries have put their main cities under quarantine, barring populations from entering and exiting.
This is the case for Kinshasa in the Democratic Republic of Congo, Riyadh, Mecca and Medina in Saudi Arabia, Helsinki in Finland, and Baku in Azerbaijan.
As It Happens
LATEST UPDATE: July 30, 2022 - 12:45pm
Follow this page for updates on a mysterious pneumonia outbreak that has struck dozens of people in China.
July 30, 2022 - 12:45pm
North Korea reports zero fever cases on Saturday for the first time in more than two months since it confirmed its first COVID-19 infections in May.
"There were no new fever patients reported" over a 24-hour period from Thursday evening, the state-run Korean Central News Agency says, marking the first time the isolated country had reported no new cases since it began tallying numbers in May.
While it has maintained a rigid coronavirus blockade since the start of the pandemic, experts have said that massive Omicron outbreaks in neighbouring countries meant it was only a matter of time before Covid snuck in. — AFP
July 27, 2022 - 5:46pm
According to a pair of new studies in the journal Science that claimed to have tipped the balance in the debate about the virus' origins, an animal market in China's Wuhan really was the epicenter of the COVID-19 pandemic.
Answering the question of whether the disease spilled over naturally from animals to humans, or was the result of a lab accident, is viewed as vital to averting the next pandemic and saving millions of lives.
The first paper analyzed the geographic pattern of COVID-19 cases in the outbreak's first month, December 2019, showing the first cases were tightly clustered around Wuhan's Huanan Seafood Wholesale Market. — AFP
July 17, 2022 - 2:01pm
Macau is set to begin another working week of partial lockdown, after the city extended the closure of its casinos and non-essential businesses to try and eradicate its worst coronavirus outbreak yet.
Authorities had announced a week of "static management" starting June 11 after recording more than 1,500 infections in the previous three weeks despite multiple rounds of compulsory mass testing of the city's population.
The restrictions had been due to lift on Monday, but cases have continued to climb, with the Macau government saying Sunday there had been 1,733 cases recorded since the start of the outbreak.
Daily case numbers are comparatively small by global standards, but authorities have moved quickly to stamp out transmission as they adhere to mainland China's strict zero-Covid policy.
On Saturday the government announced that the "static management" period would be extended through Friday. -- AFP
July 12, 2022 - 4:58pm
Hundreds of thousands of people were under lockdown in a small Chinese city Tuesday after just one case of Covid-19 was detected, as Beijing's strict no-tolerance virus strategy showed no sign of abating.
China is the last major economy glued to a zero-Covid policy, crushing new outbreaks with snap lockdowns, forced quarantines and onerous travel curbs despite mounting public fatigue and damage to the economy.
Authorities in several regions have imposed a range of restrictions as they struggle to tamp down fresh flare-ups driven by the fast-spreading Omicron variant.
After reporting a new domestic infection, the steelmaking hub of Wugang in Henan province announced Monday that it would implement three days of "closed control" in response to "the needs of disease prevention", according to an official notice.
None of the city's 320,000 people are allowed to set foot outside their homes until midday Thursday, the notice said, adding that basic necessities would be delivered by local authorities. -- AFP
July 11, 2022 - 3:50pm
Asian markets and oil prices mostly fell Monday with a fresh Covid flare-up in Shanghai fanning fears of another economically painful lockdown in China's biggest city.
The news comes after a forecast-busting US jobs report last week indicated the world's top economy was coping so far with the Federal Reserve interest rate hikes, giving it room for more as it battles soaring inflation.
Traders are also keeping tabs on developments in Washington as President Joe Biden weighs removing some of the Donald Trump-era tariffs on Chinese goods worth hundreds of billions of dollars.
Shanghai recorded more than 120 virus cases at the weekend, having seen its first case of the highly contagious BA.5 Omicron strain, forcing officials to launch another mass testing drive. — AFP