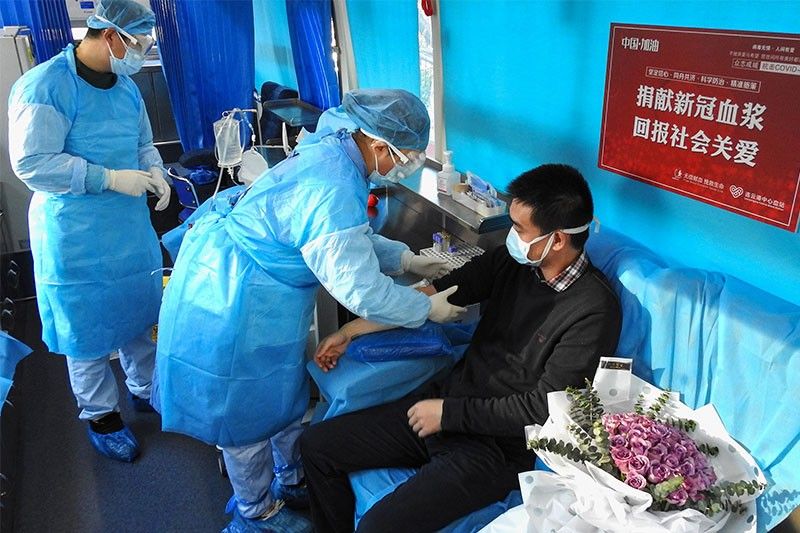 This photo taken on February 16, 2020 shows a man (R) who has recovered from the COVID-19 coronavirus infection donating plasma in Lianyungang in China's eastern Jiangsu province, aimed at curing infected patients in severe and critical conditions. The death toll from China's new coronavirus epidemic jumped to 1,770 after 105 more people died, the National Health Commission said February 17.
AFP/STR
China asks recovered patients to donate plasma for virus treatment
(Agence France-Presse) - February 18, 2020 - 8:38am
BEIJING, China — Chinese health officials Monday urged patients who have recovered from the coronavirus to donate blood so that plasma can be extracted to treat others who are critically ill.
Drugmakers are racing to develop a vaccine and treatment for the epidemic, which has killed 1,770 people and infected over 70,500 people across China.
Plasma from patients who have recovered from a spell of pneumonia triggered by COVID-19 contains antibodies that can help reduce the virus load in critically ill patients, an official from China's National Health Commission told a press briefing Monday.
"I would like to make a call to all cured patients to donate their plasma so that they can bring hope to critically ill patients," said Guo Yanhong, who heads the NHC's medical administration department.
Eleven patients at a hospital in Wuhan -- the epicentre of the disease -- received plasma infusions last week, said Sun Yanrong, of the Biological Center at the Ministry of Science and Technology.
"One patient (among them) has already been discharged, one is able to get off the bed and walk and the others are all recovering," she said.
The call comes days after China's state-owned medical products maker reported successful results from its trial at Wuhan First People's Hospital.
China National Biotec Group Co. said in a post on its official WeChat account that severely ill patients receiving plasma infusions "improved within 24 hours".
The World Health Organization said exploring the use of plasma as a treatment for the novel coronavirus was "important", but cautioned it needed to be done "with safety".
"It is a very important area of discovery," head of WHO's emergencies programme Michael Ryan told reporters in Geneva, pointing out that plasma had proven effective in saving lives when combatting a range of different diseases.
"It is a very valid way to explore therapeutics, especially when we don't have vaccines and we don't have specific anti-virals," he said.
His colleague Sylvie Briand, who heads WHO's Global Infectious Hazard Preparedness division, meanwhile cautioned that plasma-based treatments could be difficult to scale up to reach large numbers of patients, and stressed the need to carefully follow safety protocols.
"With blood products you can also transmit other diseases, so the protocol ... is very important," she told reporters.
Sun stressed that "clinical studies have shown that infusing plasma (from recovered patients) is safe and effective."
Blood donors will undergo a test to ensure that they are not carrying the virus, said Wang Guiqiang, chief physician at Peking University First Hospital.
"Only plasma is taken, not all the blood," he said.
"Other components of the blood including red blood cells and platelets will be infused back into the donors."
As It Happens
LATEST UPDATE: April 2, 2020 - 8:36am
Follow this page for updates on a mysterious pneumonia outbreak that has struck dozens of people in China.
April 2, 2020 - 8:36am
The new coronavirus pandemic has killed at least 45,719 people worldwide since its appearance in December in China, according to a tally by AFP from official sources on Wednesday at 1900 GMT.
More than 905,580 cases of infection have been officially diagnosed in 187 countries and territories since the start of the epidemic.
The number of detected cases, however, only reflects a fraction of the actual number of infections, with many countries now testing only those cases requiring hospital care.
Since a tally made on Tuesday, 4,708 new deaths and 77,241 new cases have been recorded worldwide. — AFP
April 2, 2020 - 8:16am
President Donald Trump says that US authorities will evacuate passengers from a stranded cruise ship due to dock in Florida after being barred from several South American countries because of a coronavirus outbreak aboard.
Trump said the US was "sending medical teams on board the ship" and taking people off, with foreigners being sent home.
"We're taking the Canadians off and giving them to Canadian authorities," he said. "Same thing with the UK." — AFP
April 1, 2020 - 8:01pm
Authorities say the coronavirus death toll in Spain surged over 9,000 on Wednesday after a record 864 deaths in 24 hours, with the number of confirmed cases passing the 100,000 mark.
Spain has the world's second-highest death toll after Italy, with the virus so far claiming 9,053 lives and the number of confirmed cases reaching 102,136. — AFP
April 1, 2020 - 7:02pm
GCash, the leading mobile wallet in the Philippines, has facilitated over P18.14 million in donations to support frontliners amid the COVID-19 pandemic.

The funds were used to purchase protective gears for health workers and relief goods for the families affected by the enhanced community lockdown.

"We are overwhelmed by the generosity of the Filipino GCash users. We know very well that everyone is affected by the pandemic, and we at GCash are happy to see that our platform is being maximized during these trying times," GCash Chief Technology and Operations Officer Pebbles Sy-Manalang says.
April 1, 2020 - 4:23pm
The Department of Health confirms 227 new COVID-19 cases, which raises the national total to 2,311.
The country also registered eight new fatalities, bringing the national death toll to 96.
The DOH also announced the recovery of one patient, bringing the total number of recovered patients to 50.