Startup uses diesel emissions to produce ink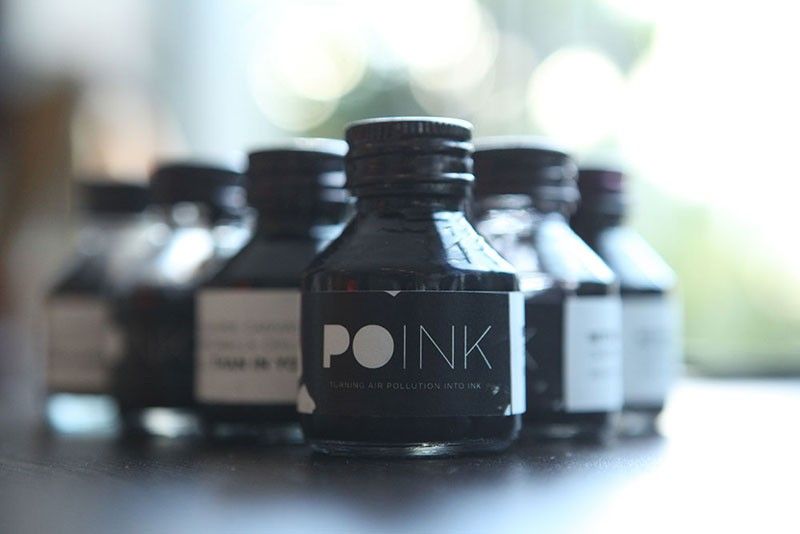 In India, a young entrepreneur has found a way to trap harmful emissions from diesel generators and use them to produce ink.
Kushagra Srivastava, 24, developed with his colleagues a machine—in essence an efficient filter—that could trap the particulate matter in the exhaust from diesel generators and ensure clean air is emitted by the engine.
These carbonised emissions, so extracted, are then turned into ink that can be used as paint or ink for printers.
Their device, Chakr Shield, a retrofit emission control device for diesel generators, is the mainstay of their company, Chakr Innovations (CI), now in the third year of its existence.
Srivastava and his colleagues, Arpit Dhupar, a mechanical engineer two years his senior and Prateek Sachan, in the chemical engineering department, have so far installed 70 particulate-capturing machines in a slew of industries and claimed to have "purified about 50,000 billion litres of air" that would have otherwise gone unfiltered into the atmosphere.
Srivastava and Dhupar say they been personally affected by pollution while they were students in Delhi.
"I was heavily into football but the bad air often affected my outdoor playing," said Dhupar, in a promotional film about CI.
Fourteen out of the 20 most polluted cities in the world are in India, as per figures compiled and released last year by the World Health Organization (WHO). Delhi topped that list.
The Chakr Shield fits in the exhaust pipe of a diesel generator and captures 70 to 90 percent of the particulate matter generated as engine exhaust.
The device draws inspiration from commercially available diesel particulate filters (DPF), fitted in diesel cars in Europe to trap fine, toxic diesel emissions.
But it turns the concept on its head, says Srivastava.
The typical DPF is made up of a system of sieves that captures ultra-fine diesel particulate matter emitted from the engine tailpipe. The air from the heat of the engine "burns" these fine particles and converts them into carbon dioxide or monoxide.
"Thus hazardous fine particulate matter is converted into less hazardous gases [which are emitted from the engine exhaust]," said Srivastava. A traditional DPF only converts one form of carbon into another and requires the engine to use more energy (and hence fuel) to push out the carbon.
Chakr Shield does away with the sieves, and works by cooling the engine exhaust.
When small particles are rapidly cooled, they coagulate and expand, due to a phenomenon called thermophoresis, becoming easier to capture. These larger particles are then made to pass through a snaking "maze of contours and meshes" into which they are inhaled.
A solvent then passes through this winding path and the resulting liquid extract can be turned into ink. The engine, wiped clean of these particles, emits relatively clean air.
Srivastava expects CI to be profitable in two years and has already gone through two rounds of investor funding — a sum that the company doesn't disclose.
Irrespective of the companies that CI is associated with, such as Titan, Jyoti Sagar Associates and Mahindra & Mahindra, Srivastava says that their mainstay is going to be producing black ink.
He expects that a variety of applications in printers and the printing industry in general will turn this into a business.
With an estimated market of 232 million tonnes, valued at about 54 billion Indian rupees ($ 830 million), the Indian ink industry has grown at an average of more than 8 percent per year over the past 10 years, according to trade publication InkWorld Magazine.
"We supply to Dell [for the computer company's printers] and their demand is already 100 times more than what we can produce…. and they want it for their China division too," says Srivastava.
The global printer ink market is expected to witness an annual growth rate of 4.7 percent until 2023, reaching nearly $24 million, said market research agency Prescient & Strategic.
The idea of making ink from diesel emissions isn't exclusive to CI.
Graviky, a Bengaluru-based company, also extracts ink from a DPF installed in automobile engines.
However, Srivastava – inspired by Tesla's chief executive officer, Elon Musk – says his company isn't looking at cars because they are likely to be outdated.
"In about a decade, I believe, electric vehicles are going to take over and there won't be a market for diesel cars. We'd like to target industries that cannot be electrified. For instance, we collaborate with ONGC [the leading oil and natural gas company in India] to extract the soot from industrial chimneys. Then there are boilers… We are a business-to-business company and not a consumer-facing one," he explains.
The company is looking to improve the efficiency of its product as well as explore "parallel applications" such as activated carbon that can be used in water filters. — Jacob Koshy, The Hindu (India)
This article is being published as part of Earth Beats, an international and collaborative initiative gathering 18 news media outlets from around the world to focus on solutions to waste and pollution.