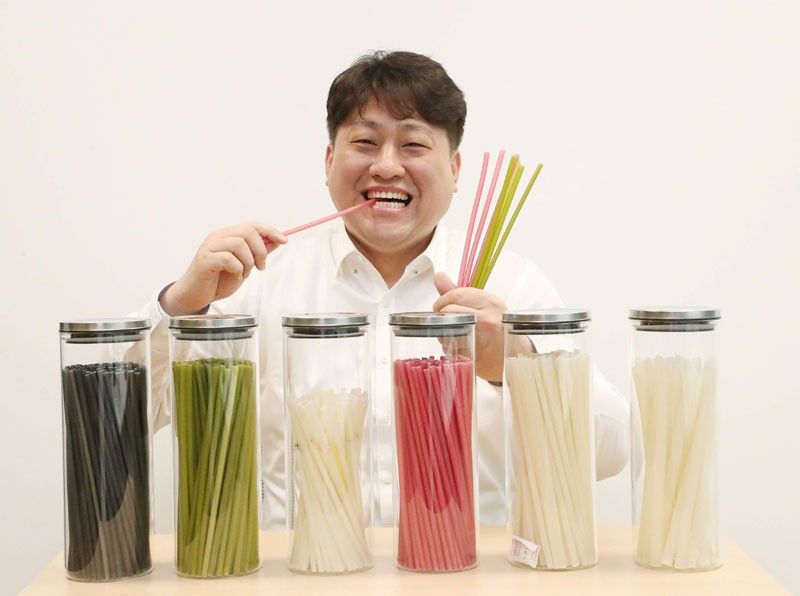 Kwangpil Kim, chief executive officer of Yeonjigonji, with the edible straws he developed. The straws are made of rice and tapioca powder and are seen as an innovative alternative to plastic straws. Photo courtesy of Jaemyoung Kim/Dong-A Ilbo
(The Philippine Star) - April 22, 2019 - 12:00am
In South Korea, a company has taken the fight against the use of plastic straws on another level – by developing an alternative that you can eat.
"These straws are edible," says Kwang-Pil Kim, chief executive officer of Seoul-based company Yeonjigonji. "You can throw them away if you don't want to eat them. Simply put them in a flower bed, or in a fish tank."
Kim says the product was born out of concern about the impact of plastic straws to the environment, noting that in South Korea alone, some 2.6 billion plastic straws are being used every year.
Harder than the usual plastic straw, the edible straws were made of seven parts rice flour and three parts tapioca powder. It slightly smells like rice, although the base product does not affect the taste of the drink in any way.
Originally founded by his parents to manufacture and distribute traditional bridal shoes, Kim took over Yeonjigonji (Korean for "red rouge on a bride's cheek") in 1999. He managed the firm for 15 years but was not able to make ends meet, finding wedding shoes to be a dying industry.
Searching for a new business product in early 2017, he recalls stumbling upon an article about an American startup, Loliware, that was developing edible cups.
"If they can make an edible cup, couldn't we make an edible straw?" he recalls. "I thought about ingredients that South-Koreans don't generally dislike. Rice immediately came to mind."
It took one and a half year of research and trials before Kim succeeded in creating the rice straw. Now, his company produces 500 million pieces every year.
The product is being manufactured in Vietnam, partly due to raw material for the product as Korean rice is stickier, making it harder to produce straws.
Kim said he also he wanted to lower the production cost to compete with plastic straws.
Yeonjigonji now supplies rice straws to small cafes, and has signed contracts with major department stores, hypermarkets and hotels in South Korea.
Individual consumers can buy the straws online.
"We've also signed export contracts with companies in seven countries including Canada, Singapore and Malaysia," says Kim, who noted that one of the biggest advantages of the rice straw is that they are biodegradable.
While it takes as long as 200 years for an ordinary plastic straw to decompose, leaving plastic microbeads behind, a rice straw takes 100 days at most.
"When I put a rice straw into a fish tank at home, fish nibbled away the straw in less than a month," Kim says, adding that an experiment conducted by one of his partners in Indonesia showed a rice straw decomposing in seawater in just eight days.
He also notes that rice straws are better than paper ones as the latter requires cutting down trees in order for them to be manufactured.
Kim says they hope to be able to attract more regular users to be able to lower the costs.
Currently, each rice straw costs up to 35 Korean won (around $.03), whereas the retail price of a plastic straw is about one-sixth that amount.
"If we can produce 2 to 2.5 billion rice straws a month, we'll be able to cut the production cost by around 120 percent," he says.
Consumers, who have long enjoyed the convenience of plastic straws, may find rice straws inconvenient to use at first. However, a considerable amount of people seems willing to put up with inconvenience for the sake of the environment.
Jeong-Eun Mo, owner of a café in Jeju Island, has been using the rice straws since early this year.
"Customers have given more positive feedback than I expected," she says. "Living on an island, I frequently see litter on the beach. I'm proud to be able to do a small thing to help reduce waste."
Kim's journey to develop the environmentally friendly product coincides with a bigger movement against plastic straws. In October 2018, the European Parliament approved a ban on single-use plastic, including straws, starting in 2021.
In January 2018, China banned imports of recyclable waste such as plastic or paper, leading to a waste crisis in South Korea and other countries. Urgently needing to find a solution, last August the Korean government imposed a ban on single-use plastic cups in cafes and fast-food restaurants.
Kim says the edible straws are just the beginning. Yeonjigonji has also developed disposable cups, forks, spoons, knives and bags made of rice, and is planning to sell these products in South Korea and abroad starting April.— Eunjee Wi, Dong-A Ilbo (South Korea)
This article is being published as part of Earth Beats, an international and collaborative initiative gathering 18 news media outlets from around the world to focus on solutions to waste and pollution.