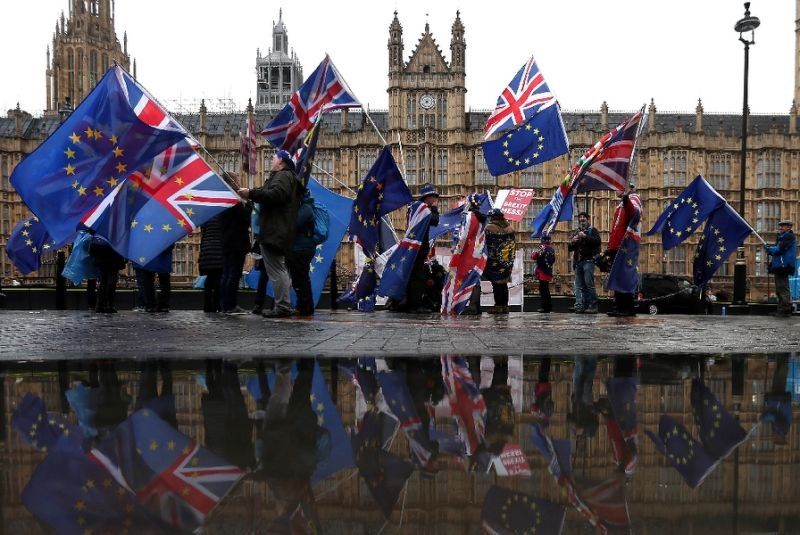 The British parliament will hold five days of debate on the prime minister's Brexit deal.
AFP Photo/Daniel LEAL-OLIVAS
British MPs wrangle ahead of momentous Brexit debate
Alice Ritchie
(Agence France-Presse) - December 5, 2018 - 12:00am
London - UK lawmakers held up a momentous Brexit debate on yesterday, accusing the government of contempt over its handling of the withdrawal agreement, as a top EU legal opinion stated Britain could even call off its departure from the bloc altogether.
Prime Minister Theresa May is facing resistance on all sides of the House of Commons to the withdrawal agreement she struck with the European Union last month.
Its chances of being approved look slim, raising the risk of Britain crashing out of the world's largest single market on March 29 without trade arrangements in place.
The Conservative leader was set to tell MPs in a speech later on yesterday that the deal "delivers for the British people".
"The British people want us to get on with a deal that honours the referendum and allows us to come together again as a country, whichever way we voted," May will say, according to comments released by her Downing Street office.
But her speech is being delayed by a dispute over the government's refusal to publish the full legal advice it has received about the implications of May's plan.
Conservative House leader Andrea Leadsom told MPs that May's government had a right to receive confidential opinions that were unhampered by political considerations.
"What we break now may be very difficult to fix later," Leadsom said.
Opposition Labour Party member Keir Starmer said "the government is wilfully refusing to comply with a binding order of this House and that is contempt".
The row is unlikely to have any impact on the course of Brexit.
But it does highlight how little control May's fragile minority government has over MPs ahead of next yesterday crucial vote.
- 'Brexit shambles' -
Pro-European MPs pressing for a second referendum on staying in the EU received a sudden boost from an opinion issued by a legal adviser to the European Court of Justice (ECJ).
Advocate General Campos Sanchez-Bordona stated that Britain could halt the entire process without the agreement of other EU countries.
"That possibility continues to exist until the withdrawal agreement is formally concluded," he said.
Downing Street reaffirmed on yesterday that May has absolutely no intention of doing so -- and that the ruling was in either case only advisory.
"It does nothing, in any event, to change the clear position of the government that Article 50 is not going to be revoked," May's spokesman said.
But the Scottish National Party's Alyn Smith -- one of several MPs who brought the case -- proclaimed: "We now have a roadmap out of the Brexit shambles."
- Renegotiate Brexit? -
The vote next week has huge implications for Britain's future and that of May herself.
Left-wing Labour said May's defeat next yesterday would likely trigger a confidence vote to bring down her government.
She has also been constantly challenged by hardline eurosceptics in her own party and might face an internal leadership contest as well.
Hardline Conservative Brexiteers say May's compromise deal does not represent enough of a break with Brussels.
The Democratic Unionist Party (DUP) -- the Northern Ireland party propping up May's government -- also objects to special provisions for the province.
Many of May's critics want her to go back and renegotiate.
- Brexit bill -
The EU Withdrawal Agreement covers a settlement of £39 billion (43.7 billion euros, $49.8 billion) that Britain will have to play for leaving.
It also sets out the rights of EU expatriates and plans for a post-Brexit transition period lasting to December 2020.
The extra time is intended to give both sides a chance to strike a new trade and security relationship.
Failure to do so would trigger a "backstop" arrangement that keeps Britain in an EU customs union -- with Northern Ireland also following EU rules on regulation of goods.
May insists this is necessary to avoid border checks in Ireland. Opponents say this risks tying Britain to the EU for years to come.