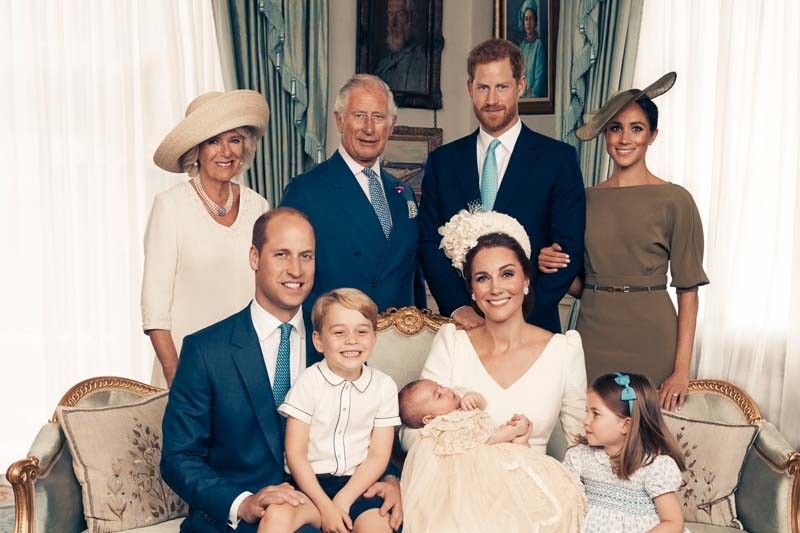 This Monday, July 9, 2018, photo provided by the Duke and Duchess of Cambridge shows an official photograph to mark the christening of Prince Louis at Clarence House, following Prince Louis' baptism, in London. Seated, left to right: Prince William, The Duke of Cambridge; Prince George; Prince Louis; Kate, the Duchess of Cambridge; and Princess Charlotte. Standing, left to right: Camilla, The Duchess of Cornwall; Prince Charles, the Prince of Wales; Prince Harry, the Duke of Sussex; and wife Megan, the Duchess of Sussex.
Matt Holyoak/Camera Press/Duke and Duchess of Cambridge via AP
Royals release new photos to mark Prince Louis's christening
(Associated Press) - July 16, 2018 - 1:02pm
LONDON — Kensington Palace has released family photos of Prince Louis in the arms of his mother, the Duchess of Cambridge, to mark the baby boy's christening.
The four official photos were taken at Clarence House in London after Louis was baptized in the chapel at St. James's Palace on July 9.
The images, taken by celebrity photographer Matt Holyoak, show Prince William and Kate posing with their three children — Louis, Princess Charlotte, 3, and Prince George, 4 — as well as with their wider family.
One shows Kate in a garden cuddling and gazing down at Louis, dressed in a frilly cream lace royal christening gown — a replica of the intricate robe made for Queen Victoria's eldest daughter in 1841.
Louis was born April 23.