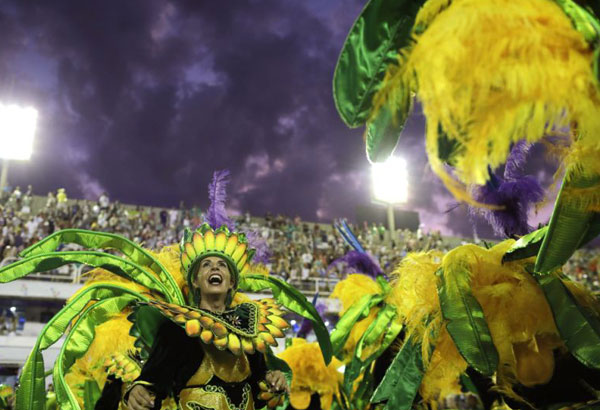 A performer from Mocidade samba school parades during Carnival celebrations at the Sambadrome in Rio de Janeiro, Brazil, Monday, Feb. 12, 2018. (AP Photo/Leo Correa)
Drag queen to star in Rio samba parade at Brazil Carnival
(Associated Press) - February 13, 2018 - 12:00am
SAO PAULO — A drag queen is headlining the parade of one of Rio de Janeiro's most storied samba schools as Brazil's Carnival celebrations continue the tradition of ridiculing cultural icons and pushing social boundaries.

Singer Pabllo Vittar is performing yesterday night with the Beija-Flor de Nilopolis. The school's theme is promoting tolerance.

Vittar is a sensation in the Brazilian pop scene, and Carnival has long been a place to celebrate sexuality and diversity. But Brazil also has some of Latin America's highest rates of violence against gay and transgender people, and Beija-Flor will tackle prejudice against the LGBT community and others.

In the northeastern city of Olinda, meanwhile, revelers have begun a parade of puppets, including blow-up dolls of US President Donald Trump and North Korean leader Kim Jong Un.