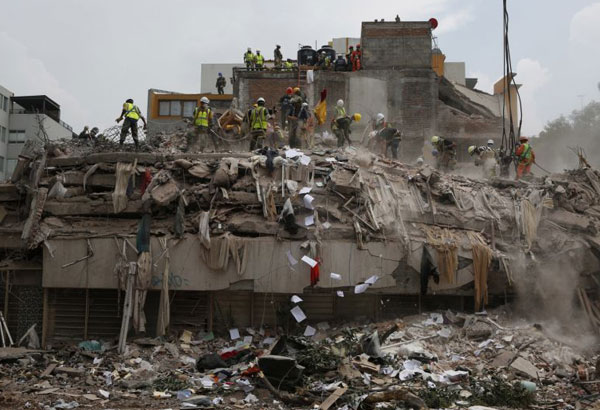 Workers shovel papers and debris off the top of the rubble of a building that collapsed in last week's 7.1 magnitude earthquake, at the corner of Gabriel Mancera and Escocia streets in the Del Valle neighborhood of Mexico City, Monday, Sept. 25, 2017. Search teams were still digging through dangerous piles of rubble Monday, hoping against the odds to find survivors after the Sept. 19 quake. (AP Photo/Rebecca Blackwell)
Mexico's official quake death toll rises to 331
(Associated Press) - September 26, 2017 - 9:21pm
MEXICO CITY — The Latest on Mexico's major earthquake (all times local):

8:05 a.m.

The toll of dead following Mexico City's magnitude 7.1 earthquake of last week is continuing to rise.

Civil Defense chief Luis Felipe Puente reports by Twitter that 331 are now known dead. Of those, 192 are in Mexico City.

The Sept. 19 quake also killed 74 in Morelos state and 45 in Puebla state, where it was centered. Thirteen died in the State of Mexico, six in Guerrero and one in Oaxaca.

An even stronger earthquake less than two weeks before has caused nearly 100 deaths. That magnitude 8.1 quake was centered off Mexico's southern Pacific coast.