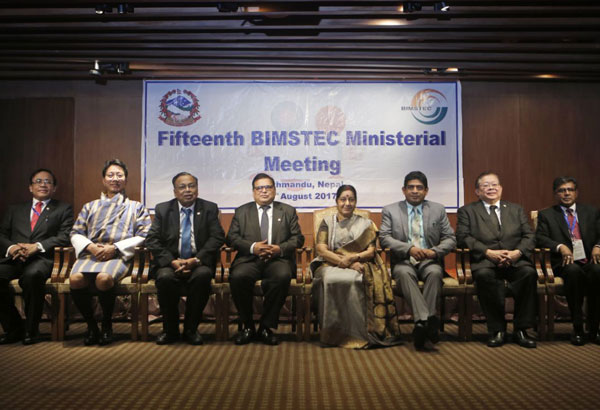 From Left to Right, Myanmar's Minister of State for Foreign Affairs U Kyaw Tin, Bhutanese Foreign Minister Damcho Dorji, Bangladeshi Foreign Minister Abul Hassan Mahmood Ali, Nepal's Foreign Minister Krishna Bahadur Mahara, Indian Foreign Minister Sushma Swaraj, Sri Lankan State Minister of Foreign Affairs Vasantha Senanayake, Thai Deputy Foreign Minister Virasakdi Futrakul and BIMSTEC Secretary General Sumith Nakandala pose for a group photo during the BIMSTEC ministerial meeting in Kathmandu, Nepal, Friday, Aug. 11, 2017. BIMSTEC (Bay of Bengal initiative for Multi-Sectoral Technical and Economic Cooperation) was setup in 1997 to foster economic cooperation between the nations. (AP Photo/Niranjan Shrestha)
7 Bay of Bengal nations to work for free trade region
(Associated Press) - August 12, 2017 - 12:00am
KATHMANDU — Seven South Asian and Southeast Asian nations on yesterday agreed to conclude early a free trade accord, implement the Paris agreement on climate change and step up cooperation among their security agencies to combat terrorism.

The foreign ministers of Bangladesh, India, Myanmar, Sri Lanka, Thailand, Bhutan and Nepal expressed "great concern'" over increasing threats to the planet and peoples' livelihoods from climate change and agreed to combat it at local, national and regional levels.

They met in the Nepalese capital under the aegis of the Bay of Bengal Initiative for Multi-Sectoral Technical and Economic Cooperation, or BIMSTEC.

Nepal is also scheduled to hold the fourth summit of the grouping later this year.

The ministers agreed to expedite the ratification of the BIMSTEC Convention on Cooperation in Combating International Terrorism and Transnational Organized Crime and Illicit Drug Trafficking, said a joint statement issued at the end of a two-day meeting on yesterday.

The nations agreed to explore the possibilities of promoting energy trade in the region, particularly of renewable and clean energy sources. They finalized an agreement to be signed soon on the establishment of the BIMSTEC Grid Interconnection, the statement said.

In October, the BIMSTEC leaders interacted with the heads of state of five of the world's rising powers — Russia, China, India, Brazil and South Africa — during a two-day summit in the western Indian tourist resort of Goa, which focused on economic recovery and counterterrorism.