EDITORIAL - Parental guidance still the best deterrent against juvenile crimes
August 13, 2022 | 12:00am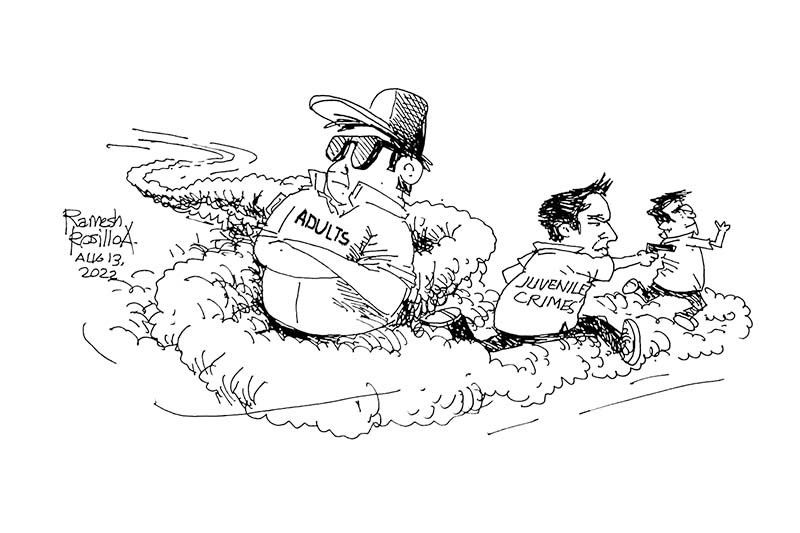 One local news item people are still talking about is how a minor was robbed and killed by one adult and four other minors who tried to rob him of his cellphone in Barangay Bulacao, Cebu City, last August 7.
Jerome Rivera Estan, 16, a Grade 10 student and a resident of Barangay Pahina-Central, was stabbed dead after he refused to surrender his cellphone to the five suspects. Three of them have been arrested while the other two, both minors, are still at large.
Minors who lack the guidance from adults often end doing crime to satisfy their own needs. Usually the crimes perpetrated by minors involve petty theft and burglary, very seldom do they end in violence and death, which makes the incident involving Estan more shocking.
We recently wrote about how a curfew for minors implemented properly can help stop them from becoming victims of crime or even becoming perpetrators of crime themselves. However, this is more of a band-aid solution than anything else.
The best way to prevent minors from turning to crime is still parental guidance, and we don't mean the guidance TV shows tell parents to provide before showing programs with sensitive content.
We mean the guidance that allows a minor to be able to distinguish between what is wrong and what is right, what is considered socially acceptable behavior and what isn't. More importantly, how to become a responsible citizen who actually contributes to society instead of a dreg who becomes a burden to it.
Of course, we understand that not all minors have the guidance of parents, teachers, relatives, guardians, and other similar figures. Sometimes it is for the lack of figures like these that they turn to bad influences and eventually to crime in the first place.
What is the government, the neighborhood, and society in general to do in the face of such a problem?
If nothing is done to guide wayward youths to the path of the straight and narrow we can only expect more incidents like minors robbing and even killing other minors to become more commonplace.