EDITORIAL - Highest rating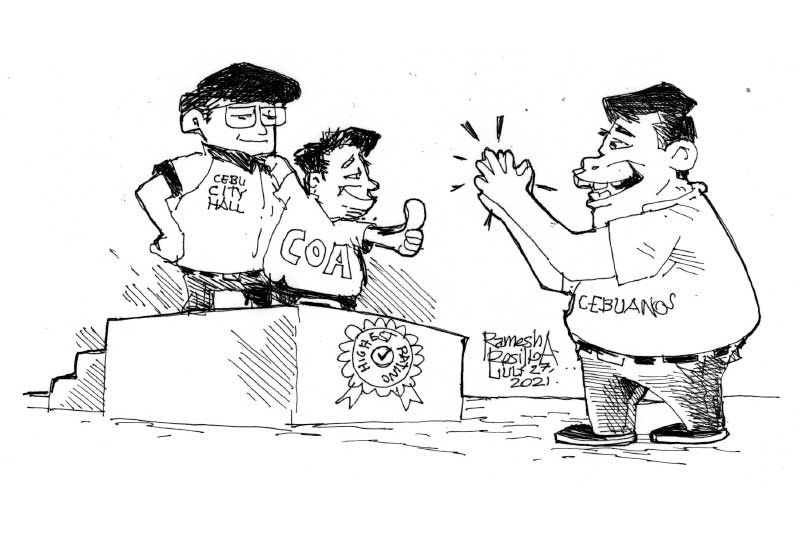 It has been the nature of the Commission on Audit to call out local government units and other public agencies once it finds certain flaws in their official transactions, especially those that involve the spending of public money.
After all, it's the mandate of COA to see to it that any government transaction follows the legal protocol as far as transparency is concerned. Its task is just plain and simple; to prevent corruption from tainting government service.
However, while the commission is known for a no-holds-barred approach in singling out defects in government transactions in its annual audit report, it is also obliged commend performances it considers clean and aboveboard.
For instance, the COA, in its latest report, gave the Cebu City government its highest rating for the first time in 84 years. No other mayor of the city received such recognition than the present occupant of the City Hall's highest post, Edgardo Labella.
"The city's financial statements present fairly, in all material respects, the financial position of the City of Cebu as of December 31, 2020, and its financial performance, its cash flows, and its comparison of budget and actual amounts for the year then ended in accordance with International Public Sector Accounting Standards," COA said in its report.
Despite the various accusations thrown at the local administration over alleged overpriced purchases of rice and other COVID-19 assistance, we can only say that the COA's highest rating is a sort of vindication for the city and the present administration.
According to City Administrator Floro Casas Jr., the city has already satisfactorily remedied the observations made by the state auditors regarding certain flaws, and that their opinion will serve as a guide by the city government in its future financial operations.
One thing is sure, COA's highest rating for Cebu City should serve as a reminder that the commission is not only going after questionable government transactions, the agency is also giving prime importance to the need to commend clean and aboveboard operations.
For bagging COA's highest rating in 84 years, the Cebu City government deserves public commendation.