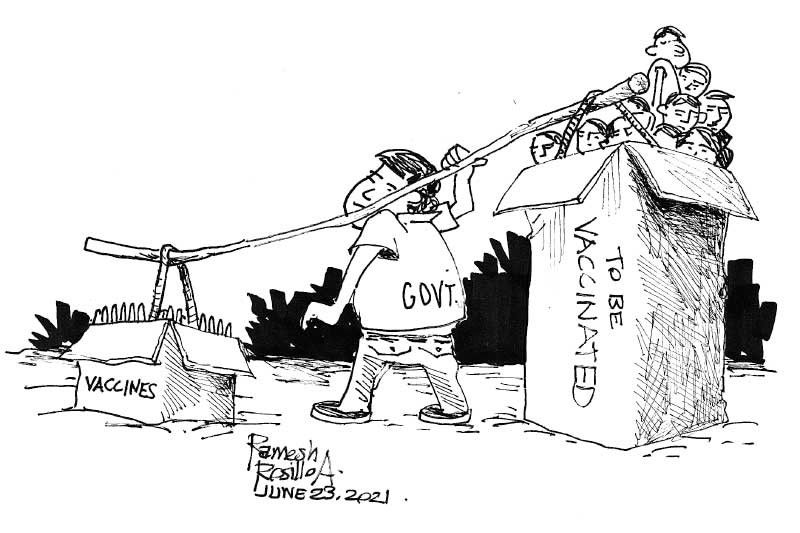 EDITORIAL - Something silly, something smart
(The Freeman) - June 23, 2021 - 12:00am
During his recent televised address, President Rodrigo Duterte said something silly; he said he was going to have those who refuse to be vaccinated arrested.
"Magpabakuna kayo or ipakulong ko kayo sa selda," President Duterte said.
We says it's silly because getting everyone vaccinated is a pipe dream. There will never be enough vaccines for all Filipinos, all 110 million of us. This is why our health experts are going for herd immunity. That means getting majority of the people safe from the virus so that the chain of transmission is broken.
So there will always be some of us who cannot get vaccinated, are they to be treated the same way as the ones who refuse to be vaccinated, even if they are willing?
It's not really a matter of vaccine hesitancy anymore. Many are catching on that it is good for them and they are willing to be vaccinated. The problem is the pace of the vaccination isn't just going fast enough.
Also, no crime has been committed if you did not get vaccinated or refuse to get vaccinated. There is still rule of law in this country and according to that law you cannot be arrested if you have committed no crime. Policemen will have a ton of explaining to do why they have to arrest you if they carry out his orders.
We would not be surprised if this was another of the president's jokes; the kind we don't know is one until someone explains it to us. We are waiting for presidential spokesman Harry Roque to say it is.
However, the president also said something that makes sense during the same address. Face shields should still be mandatory in public areas.
Again, we say that in this country where many of us seem to ignore quarantine protocols, or seem to have forgotten that there is still a pandemic going on, we need every bit of protection we can get against both getting the virus or spreading it to someone else.
Even if that protection comes in the form of a flimsy plastic shield that covers our facial orifices.
It's good that President Duterte is still deferring to the experts regarding this matter.
His decision to retain this device is timely. It's not just about plain COVID-19 anymore. The Delta variant of the coronavirus, the one wreaking havoc and killing thousands in India, has been detected here already.
For those thinking that these Delta variant infections are isolated incidents, we should remind them that at one time we all thought that COVID would never reach and spread rampantly here.
How dead wrong we were.