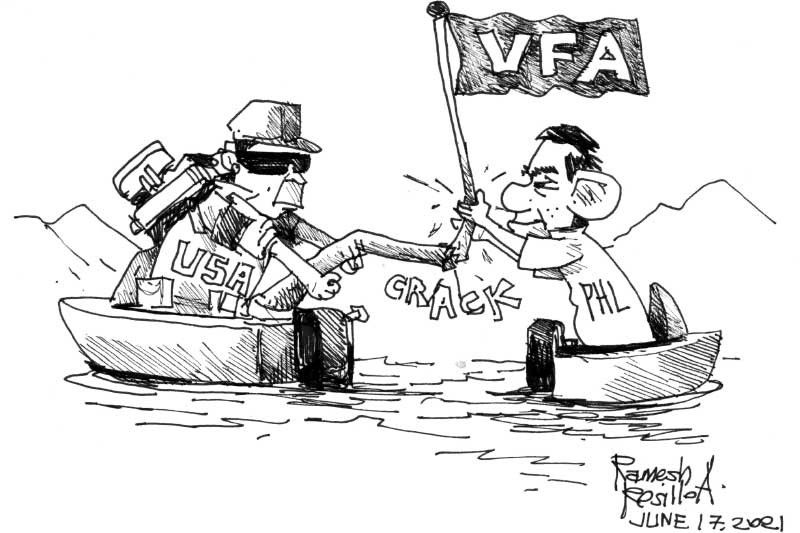 (The Freeman) - June 17, 2021 - 12:00am
Surprise, surprise. President Duterte has again decided to put off the termination of our Visiting Forces Agreement (VFA) with the United States.
This is the third time he has decided to defer the termination of the VFA, which he threatened with fire and brimstone in 2019.
It was Foreign Secretary Teodoro Locsin Jr. who broke the news.
"The president conveyed to us his decision to extend the suspension of the abrogation of the Visiting Forces Agreement for another six months while he studies, and both sides further address his concerns regarding particular aspects of the agreement," Locsin said.
On one hand, it is easy to twit President Duterte for this decision. His staunchest critics, those who live for nothing but to watch his every move and call out any and all mistakes he makes, will immediately label him "balimbing." They will criticize him for pretending to put out such a strong anti-US sentiment, only to call off ending this controversial agreement.
They will say, just like his stand on other issues, his left hand doesn't know what his right hand is doing.
That's one way of looking at it. But on the other hand, we can also appreciate the fact that the wily, seasoned politician that he is recognizes the need to keep this old ally by our side.
The VFA isn't just for war games. It has allowed our police and military forces access to hardware, logistics, assistance, and technical advice normally not available to them. Retaining it for now is a good call.
There may be another reason for President Duterte's decision; that economic and military giant across the sea that insists it is our friend even as it grabs our lands and constantly intrudes into our Exclusive Economic Zone.
Of course, others will ask to what benefit we should keep the VFA in light of this. Some analysts say that despite its pronouncements, the US won't send even one American soldier to fight on behalf of the Philippines should hostilities erupt with China, and they may be right.
However, retaining the VFA may give us access to anything we might need --again like hardware, logistics, assistance, and technical advice-- should such a situation arise.
Of course, President Duterte knows that. This may explain his willingness to still engage with the US even as he constantly criticizes it.