EDITORIAL - Desperate measures for desperate times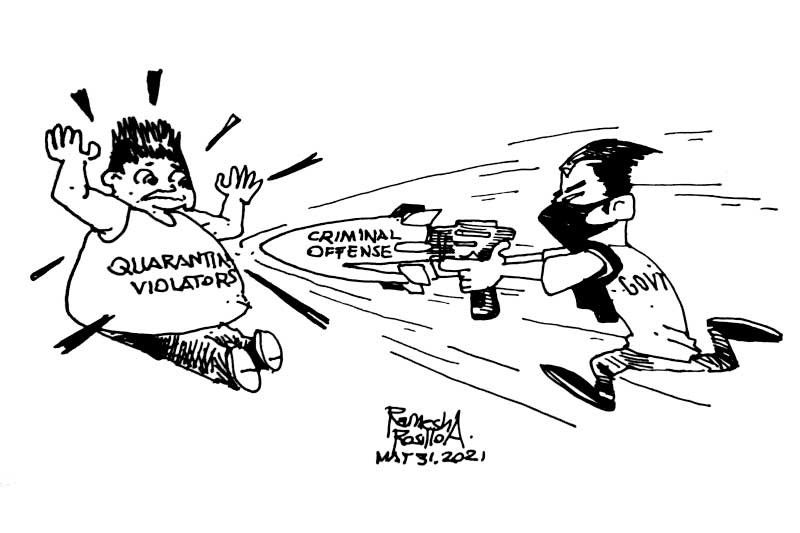 Fed up with still so many people being arrested for not wearing personal protective equipment, being outside the house for no important reason, and violating other quarantine protocols, President Rodrigo Duterte finally said he is mulling criminalizing health protocol violations.
"You are disregarding the government orders. It's criminal for you to get COVID-19 and pass it on to another person. It is really a crime. I'm looking for a law that will let police arrest you and detain you... Those underage would be sent to (DSWD) and the adults will be imprisoned. I will look for a suitable law because you are now forcing my hand to get into this thing and control it," the president said recently.
If it takes criminalizing quarantine violations to finally knock some sense into the most hardheaded of us then so be it.
Look, the numbers of COVID-19 are not going down, in fact they are going up again in many parts of the country, including Cebu City. We are now approaching 400 active cases, a far cry from only 263 active cases just last May 18.
This means that somewhere out there people are still catching the virus. And they did not catch it from the tooth fairy, the engkanto, or the maligno. They caught it because they or someone else did not wear a face mask, left the house without an essential reason, did not keep distance from others, or did not stay away from a crowd.
While we value our individual freedoms, these are not absolute. And these can be curtailed for the right reasons or when situations like national health or national security demand it.
And considering what we are seeing more and more of each day --people going outside for non-essential business, people not wearing personal protective equipment properly, people in a crushing crowd-- fines or jail time just might actually scare some of us straight more than the virus itself.
We acknowledge that such a move as criminalizing health protocol violations invites debate on a whole lot of issues involving human rights, not the least of which is possible abuses by authorities and law enforcers.
However, we also like to point out that these are desperate times, and desperate times call for desperate measures.