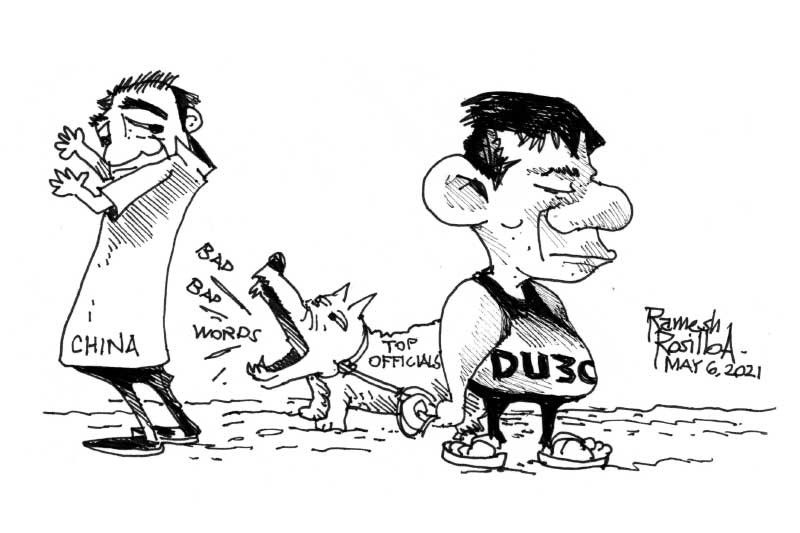 EDITORIAL - Watch your language
(The Freeman) - May 6, 2021 - 12:00am
Filipinos are understandably upset at how China is behaving regarding our issue with the West Philippine Sea. It has continually intruded into our waters using various excuses to justify its actions. It has built what it called "shelters" for fishermen on our islands then later fortified those structures to be able to house military facilities. It has been nothing short of deceptive in slowly encroaching on what is rightfully ours.
Enter our angry diplomats. One in particular has been very vocal about his dislike of China's latest moves.
But apart from his usual words, Foreign Affairs Secretary Teodoro Locsin Jr. appears to have used foul language in his latest rant against China.
You can look for the statement online. It is not fit for print here. Locsin has since apologized to Chinese Foreign Minister Wang Yi for his foul words.
Yes, we appreciate our officials making our stand against China clear. We also understand how frustrated Locsin must be in his situation right now, with China practically ignoring our repeated calls for them to leave the area and the president seemingly reluctant to enforce our sovereignty there.
But Locsin should also be cautious about his language. He must never forget that he is a diplomat and what he says and does reflects on Filipinos all over the world.
But wait, what about the president? He frequently uses foul language. So if he does so then shouldn't it also be okay for those under him to do so?
No and again no. Using foul language reflects poorly on anyone. In the case of the president this use of such language seems to have been so ingrained in him it has practically become part and parcel of his character.
While we wish for him to stop cursing in public it is unlikely he won't do so anytime soon.
We already frequently chastise President Duterte for his occasional unpalatable language. So we should also call out similar behavior from those under him.
We appreciate Locsin's passion. But considering how volatile the situation already is and how we want to portray our side as the more rational, reasonable, and calm one, we should also ask him to be more circumspect with his choice of words.