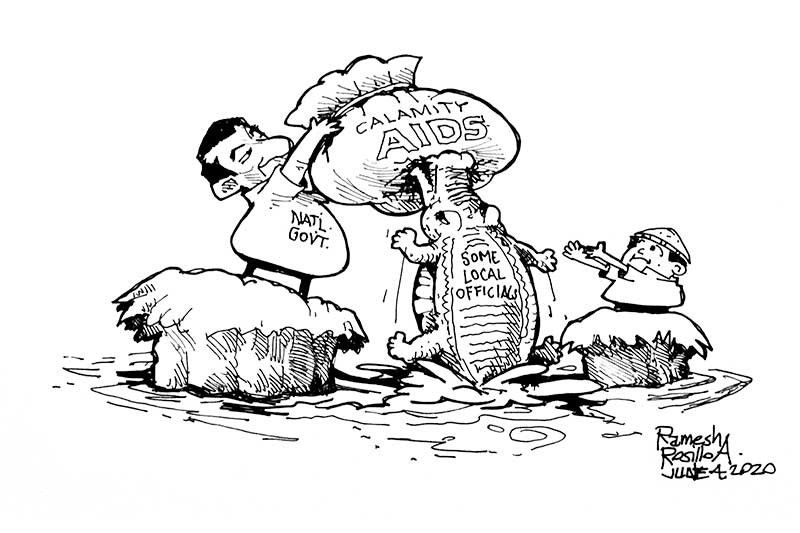 EDITORIAL - Better distribution system needed for calamities, disasters
(The Freeman) - June 4, 2020 - 12:00am
According to a report by the Office of the President to Congress, over 350,000 intended beneficiaries of the Social Amelioration Program (SAP) never got the aid meant to tide them over during the imposition of quarantine restrictions due to the global pandemic.
That was the case even after the extension of the deadline given to local officials to distribute the aid.
In another report, and somewhat on the other hand, the number of barangay officials sued by the Department of the Interior and Local Government for various anomalies during the distribution of the SAP has now reached over 300.
These anomalies include the giving of the SAP to individuals who were not qualified to receive them and the delisting people who are supposed to receive the SAP.
We can sum up those two developments by saying that while aid never reached many of those who were meant to receive them, many others who weren't supposed to get them did.
It's sad to know that in a country that has been repeatedly visited by disasters and calamities throughout the centuries, we still can't seem to come up with a good system to get aid to the people who need them. Considering how much we Filipinos have experienced in terms of natural disasters like typhoons, floods, and volcanic eruptions, and the not-quite-natural calamities like huge fires and armed conflict, you would probably think we have become experts at aid distribution by now.
However, this doesn't seem to be the case. Case in point, a lot of relief goods meant for distribution to survivors of super typhoon Yolanda never really reached their intended recipients but rotted away in some warehouses until they were discovered years later.
Now, more than ever, we need to come up with a fail-safe system to get relief goods, food, cash assistance, or whatever is needed to those who need them badly.
If we don't learn from our mistakes now or choose to stick with a system that barely works, or doesn't come up to expectations, we can expect to deal with the exact same problems during the next calamity. And considering our history and geographical location, that next calamity may not be so far off.