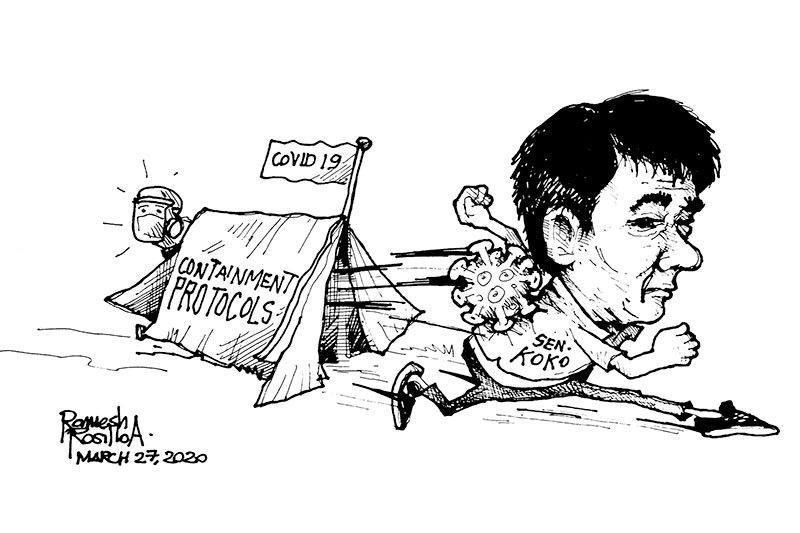 EDITORIAL - Pimentel's lapse of judgment will be costly
(The Freeman) - March 27, 2020 - 12:00am
For lack of anything resembling a showbiz scandal, people have latched on to the issue of Senator Aquilino "Koko" Pimentel III.
With that said, what he did was no small thing.
For those of you who haven't heard what he did, Pimentel was accused of breaching quarantine protocol when he escorted his wife to the Makati Medical Center for her scheduled Caesarian section to deliver their first baby.
Pimentel, already then considered a Person Under Monitoring (PUM) for possible COVID-19 infection, later found out that he was positive for the dreaded virus.
We feel for Pimentel. As an expectant father we understand how eager he was to welcome his first child into his family. One cannot be blamed for looking for any beacon of joy in these troubled times.
As a husband, he is also expected to be by his wife's side in what can be considered as one of a couple's most beautiful yet challenging moments.
However, we also have to point out the fact that Pimentel's reckless actions will have dire consequences for many other people.
He knew he was a PUM, and as such may already be harboring the virus, but he broke quarantine protocol anyway.
In doing so, Pimentel not only caused a number of people to be exposed to possible COVID-19 infection, that number of people happened to be frontliners in the fight against the virus.
Because of his actions, those frontliners may need to be quarantined themselves, thus robbing us of even more personnel we so badly need at this time and further hampering the efforts against the virus.
Pimentel cannot be reprimanded and face sanctions for his actions as an expectant father and a husband. However, he should be reprimanded and face sanctions for his actions as a citizen of the republic who is expected to adhere to its laws in these difficult times.