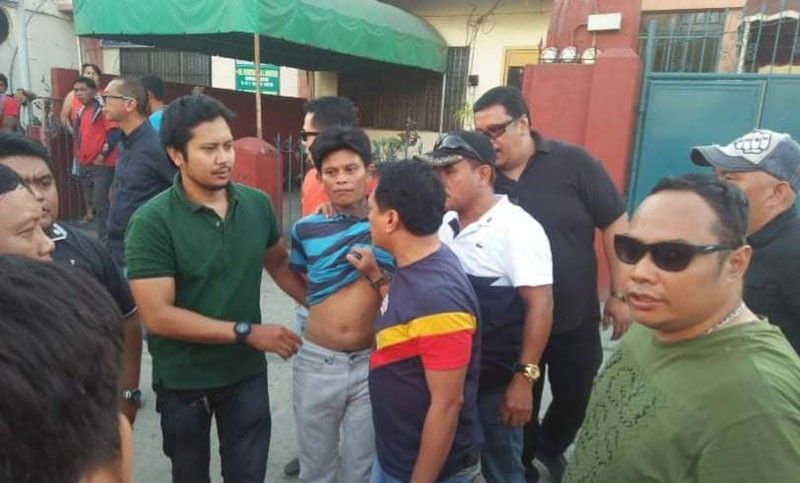 Joint operatives of the National Bureau of Investigation and Police Regional Office-11 arrest Jonas Bueno in Davao City yesterday afternoon.
Photo Courtesy of Brigada News Davao
Suspect uses different name: Teen's 'killer' falls in Davao
CEBU, Philippines — Jonas Martel Bueno, the primary suspect in the brutal killing of 16-year-old student and church collector Christine Lee Silawan Sunday in Lapu-Lapu City, fell into the hands of authorities yesterday, thanks to viral social media posts and community vigilance.
A concerned citizen from Davao City tipped the authorities about the presence of a man whose face went viral on the social media and was being linked to Silawan's gruesome killing, according to Police Regional Office-11 director Chief Supt. Marcelo Morales in a media conference last night broadcast live on Facebook via One Mindanao page.
Morales said a joint operation was then hatched by the National Bureau of Investigation, Criminal Investigation and Detection Group, MAPIO 11, and PIO 11.
They swooped down on the suspect, who was already using a different name, at the Matina crossing in Davao City at around 4 p.m. yesterday but he did not resist arrest. Morales said the suspect used an alias name of Jason Martel.
"Nag-viral ang kanyang picture sa social media and isa sa mga kapitbahay nila nakita yung mukha niya at nai-compare dun sa picture na nag-viral. Kaya yun ang naging reason na tumawag sila at humingi ng assistance based dun sa nag-viral sa social media," Morales said.
Bueno has a standing warrant of arrest for the killing of an old woman in Danao City. But according to Morales, he is also being considered as the primary suspect in the killing of Silawan, who was found dead half-naked with skin peeled off her face in Lapu-Lapu City on Sunday.
The victim's tongue, esophagus, and trachea were also missing. During interrogation, Bueno allegedly admitted to killing a woman in Danao but not to the killing of Silawan.
Despite this, Morales repeatedly identified Bueno as a suspect in Silawan's murder, saying they have basis to believe so.
"Ini-establish talaga namin na one and the same person and we have reasons to believe that siya nga yung (pumatay kay Silawan)," Morales said.
"He is considered as one of the suspects because based sa initial investigation, lumulutang na kanyang nickname na ginamit sa pakikipag-conversation niya doon sa victim (Silawan)," he said.
It has only been five days from the time Silawan's murder took place. Yet based on the accounts of persons interviewed by the police in Davao region, Bueno allegedly arrived in the city four days ago, tagging along her live-in partner, their two children, and an uncle.
But Bueno's live-in partner claimed that they arrived in Davao two weeks ago. Together, they were staying in the house of the live-in partner's relative in the city.
Davao police are still verifying if indeed the family came to Davao two weeks ago. They will also coordinate with their counterparts in Central Visayas to establish the cases to be filed against them.
Morales said they are also trying to determine whether there were truths to report that Bueno is a member of a cult whose members allegedly kill persons and eat flesh as a ritual.
Not A Suspect
Meanwhile, Police Regional Office-7 director Debold Sinas said Bueno is not yet considered a suspect in the murder of Silawan. Sinas clarified that he was only considered as possible person of interest because the killing was similar to that of 60-year-old Trinidad Batucan in Danao City where Bueno is one of the culprits.
He also denied releasing Bueno's photo to Philippine Star that went viral on social media.
"I asked my men, who gave the photo? Sinabi hindi sila nagbigay. So, where did they get it? I am saying now, Jonas Bueno is not considered a suspect or a person of interest without actual evidence," Sinas said.
Apparently, the viral post of Philippine Star helped authorities in Davao to arrest Bueno. Sinas explained that Bueno is wanted in the killing of Batucan and not of Silawan's.
Cult Practices
In another development, Bishop Oscar Jaime Florencio, former Cebu auxiliary bishop and new military ordinary of the Philippines, admitted that cult practices continue to exist in Cebu amid the murder of Silawan.
He attributed it to the psychological impulse of people because these sinister acts and doings appeal or challenge the human mind and some people fall prey to these beliefs.
"The human mind can work and expand in many ways. Some people may find themselves bored because there is no thrill and they seek for something adventurous that is why others are tempted to go to other sects," he said.
Florencio said that such practices are "devilish" in nature that would result in murder and cannibalism.
"You can see it right away on the manner of how they (cult members) do things. Killing, cannibalism, these are devilish acts. And behind all these is Satan," he said.
He added these evolving cult practices become an avenue for the devil to work among humans; the present-day practices include the use of anting-anting or the Filipino term for "amulet" or "charm".
Florencio explained that these practices are on the guise of worshiping "god," who is ultimately the devil or Satan himself.
"The Church is consistent with her doctrine that we only have one God, and we have to worship one God. Cult or these religious sects deviates the Church (community) into believing, worshipping, and adoring another God. So our stand really is no to cult practices or groups," he said.
Moreover, Florencio emphasized that people can do things to counter cult practices and the "best weapon" against the evil are prayers.
"We cannot underestimate the work of the devil but this can be subdued by exorcism or deliverance... prayers are the only weapon to subdue the evil... these spiritual beings (devil/Satan) can be countered through spiritual actions (prayers)," he said. — with Mae Clydyl L. Avila and May B. Miasco FPL (FREEMAN)