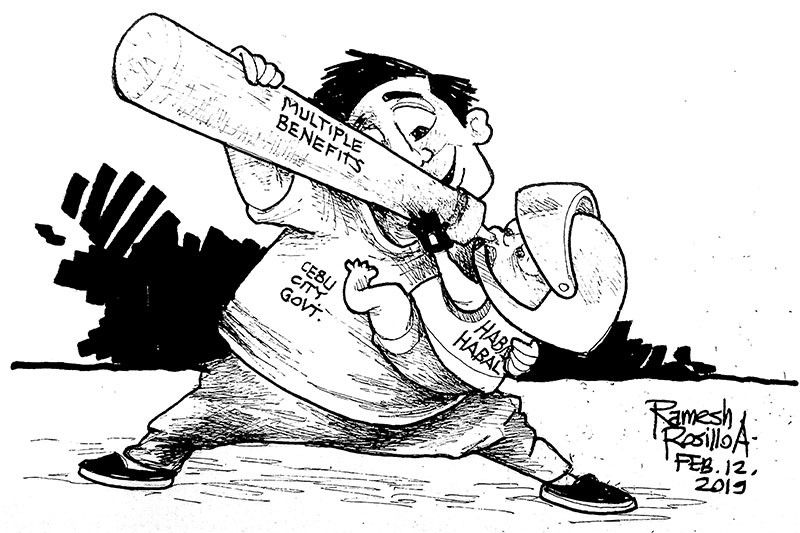 EDITORIAL - Too much attention
(The Freeman) - February 12, 2019 - 12:00am
The Cebu City government has finally awarded a contract in its effort to purchase P15 million worth of rice for distribution to motorcycle-for-hire or habalhabal drivers in the city despite criticisms from some sectors.
A firm called Virgilio and Elsa General Merchandise has been awarded by City Hall's Bids and Awards Committee the contract to supply rice to the city at P2,475 per sack. Qualified to receive the assistance are registered habalhabal drivers whose income is below P10,000 as certified by the Department of Social Welfare and Services (DSWS).
The Commission on Audit earlier questioned the firm's legitimacy as a supplier, saying it only served as a middleman in supplying food items to the DSWS. But forget about the past controversy that the Virgilio and Elsa General Merchandise has been involved in.
Whether or not the firm is a middleman in supplying food to the city, is not for Cebuanos to care about. What is important is that it met the legal, technical, and financial requirements as claimed by BAC head Ronaldo Malacora.
The more important issue here is the fact that the city opted to pursue its plan to provide the rice assistance for habalhabal drivers in spite of criticism from many who have slammed the local government for being selective in extending such assistance.
We cannot really blame the city for initiating a rice subsidy for the thousands of habalhabal drivers. For the local government, the Supreme Court decision affirming the illegality of habalhabal may have seriously sidelined the drivers.
However, those habalhabal drivers are not the only ones suffering from hardship nowadays. There are thousands whose current economic situation is far worse than what those drivers are presently experiencing.
As if the rice assistance is not enough, the city is also pushing seriously hard for the passage of a bill making habalhabal a public transport. That is why we cannot also blame those who criticize the city for giving too much attention to the plight of habalhabal drivers.