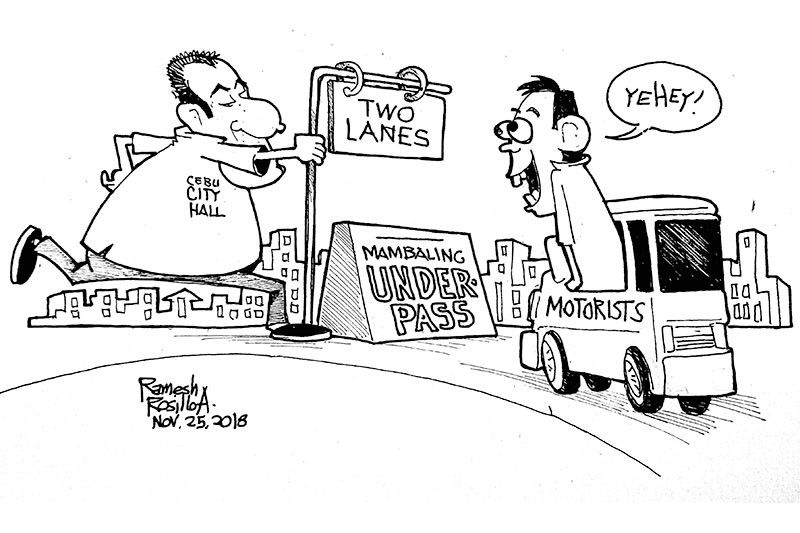 EDITORIAL - Slowly returning to normal
(The Freeman) - November 25, 2018 - 12:00am
Starting tomorrow, both side roads of the underpass being constructed along Natalio Bacalso Avenue will open to the public. This is good news to motorists and commuters going to and from the south of Cebu City.
The opening of both side lanes would certainly alleviate the heavy traffic flow in the area that, for over a year since the start of the underpass' construction, has been the site of a daily monster gridlock, especially during rush hours.
Surrounding areas will stand to also benefit from the opening of the side roads because many motorists will no longer have to divert to neighboring roads, whose traffic condition is also expected to ease up with the development.
Aside from the opportunity to save on gas, many motorists will no longer have to take longer routes using the Cebu South Coastal Road. In general, we expect the traffic situation in the south to slowly return to normal in the coming weeks.
The opening of both side lanes is just timely since many people are expected to be on the streets in time for the holiday rush. While the underpass cannot still be used until May next year, at least there's a little relief for the thousands in the south who, for months, have suffered horrendous traffic in the area.
To recall, the P638-million underpass project in Barangay Mambaling was heavily criticized, at some point even branded as "useless" infrastructure whose ongoing construction is only causing heavy traffic. That is very understandable considering that the underpass is still in its building stage.
Of course, there's nothing wrong with being critical. But it would be better for us to wait until the project is operational to see whether it truly serves its purpose.