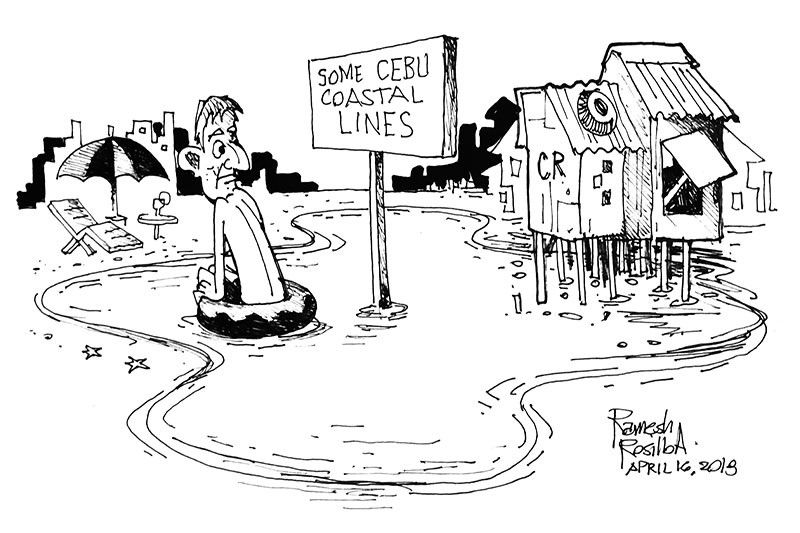 EDITORIAL - Coastal water contamination everyone's problem
(The Freeman) - April 16, 2018 - 12:00am
One immediately tangible benefit that sprung from the impending closure of Boracay is its ripple effect not just on similar tourist destinations but on seaside communities as well. One example is Lapu-Lapu City, which is about to embark on a massive clean-up of its seaside communities after studies showed massive contamination of its coastal waters.
The immediate suspects are the informal settlers dwelling on stilt houses whose raw sewage clearly have nowhere to go but be dumped right into the sea. Massive amounts of coliform contamination have been detected by the studies, forcing government to mull drastic action to arrest what is not just a clear health hazard but an assault on the environment.
It is not clear what the plan of the Lapu-Lapu City government is, although the more likely scenario is to relocate these informal settlers away from the water. Actually, there was already an earlier plan to remove these coastal communities in light of an accident in which several of these houses on stilts were damaged or destroyed by huge waves generated by the wake of passing fastcraft.
Apparently, nothing came of that plan because the houses are still there. But with the study findings pointing to massive contamination of the coastal seas in Lapu-Lapu City, especially in areas that abut these coastal communities, it has now become imperative for the city government to do something about the situation as failure to do so could result in something more dire.
But Lapu-Lapu City is certainly not the only place affected by the contamination. Even more certainly, it is not the only source of the problem. Lapu-Lapu City is just a couple of hundred meters across the narrow Mactan Channel. On the other side of the channel is the rest of Metro Cebu, also dotted heavily with its own coastal communities.
As there is no way of pinpointing the real source of the contamination, it is to be assumed that the rest of coastal Metro Cebu has to have its fair share of the blame. So far, it is only Lapu-Lapu City that has signified its intention of addressing the problem. The rest of Metro Cebu has yet to be heard from. Hopefully it is something to look forward to. Hopefully initiative and not apathy takes over from hereon.