Gwen on crowding patients: Mismanagement, not shortage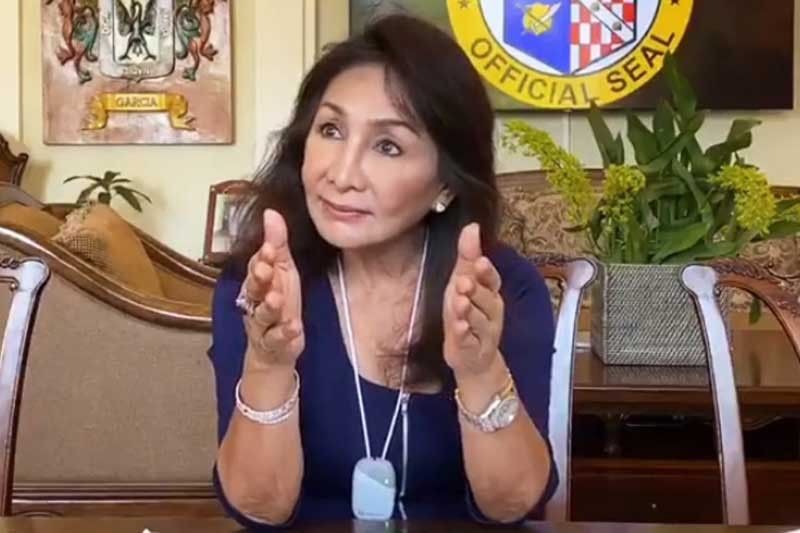 CEBU, Philippines — Some photos showing patients on dextrose being housed under tents outside the Cebu Provincial Hospital in Danao City made rounds on social media recently, eliciting concern from netizens who wanted officials to address the situation.
But Governor Gwendolyn Garcia said the situation came about not because of insufficiency in hospital beds but of "mismanagement."
Garcia, in her news conference yesterday, said there are still available beds at CPH-Danao which can accommodate patients, even the non-COVID ones.
The patients who were captured in the photos were waiting for their RT-PCR results, which would be released three days after the swab. Garcia said they were sent home as soon as they received their negative test results.
In the wake of the incident, the governor has directed the chief of hospital to coordinate with other provincial or district hospitals for possible referrals to prevent congestion of patients in one hospital.
Garcia also wanted mandatory rapid antigen test for patients for faster results, instead of the RT-PCR test whose results will not be out after a few days.
She said those with positive antigen results will be admitted while those with negative results will have to wait on the third floor of another building of CPH-Danao where their specimens will be taken for confirmatory test.
"Ang resulta mogawas three days later. So maghinuwat ka before you are actually admitted. Niingon ko rapid. Kung positive na, positive na gyud. There's a 99 percent chance nga positive na. Kung negative na, mao na lang na ang ipa-confirmatory ug RT-PCR," Garcia explained.
The governor has also ordered the chief of hospital to manage the manpower and scheduling of medical personnel, especially nurses, to ensure that every patient will be accommodated or entertained.
She said what happened in Danao has not happened in other province-run hospitals.
Meanwhile, Danao City government has prepared a transition facility for patients who will not be accommodated immediately at CPH-Danao.
"Kay puno man ang hospitals, dinhi una dalhon sa Rescue 211 ang moderate cases ug katong naglisod og ginhawa. Mahatagan sila og oxygen o IV (intravenous fluid) samtang nagpaabot nga naay bakante sa ospital. Kung naa nay vacant, ihatod nato sila sa hospital," Danao City Mayor Nito Durano said in a post on the city government's Facebook page.
'Be part of the solution'
Garcia, for her part, has appealed for public cooperation.
"Kung padayon ni ang pagpanghadlok sa social media, everybody modagan na lagi didto sa ospital. What can we do? Ang-ang gipanghadlok naman. If you add to the fear of pandemic, we will try our very best to cope. But I'm asking for cooperation of the public. Do not be part of the problem. Ayaw pagpuno. Husto we have a problem but we are managing. Don't be part of it," she said.
Garcia also clarified that there's no shortage of oxygen supply in the provincial and district hospitals.
The Capitol has added 200 oxygen tanks – 50 each to four provincial hospitals -- and will purchase more if needed.
Garcia planned to meet the oxygen suppliers to ensure there's enough supply in the province.
"I want to see to it nga dili mahutdan og supply ug ma-prioritize ang mga hospitals," she added.
She also said the Capitol won't restrict individuals who will buy oxygen for use at home as this would help "decongest" the hospitals. — JMD (FREEMAN)