Chan demands DPWH to hasten drainage project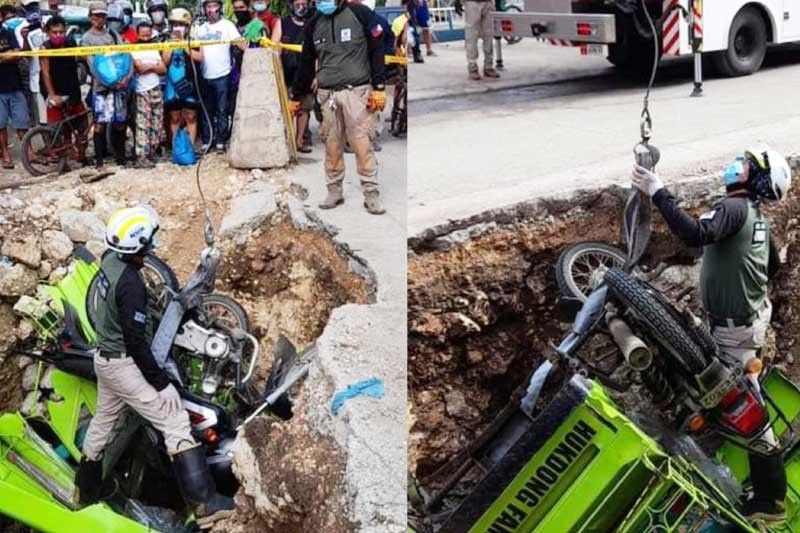 CEBU, Philippines — Lapu-Lapu City Mayor Junard Chan called on the Department of Public Works and Highways (DPWH) to fast track its drainage project in Barangay Pajac after a tricycle driver fell into it yesterday.
The mayor said the driver suffered broken bones after his tricycle fell into an uncovered drainage and is now recuperating in a hospital.
No road barriers and visible warning signs are reportedly put up around the project area.
"Dugay na nakong gipanawagan ang DPWH nga mapadali ang pagtrabaho niining dalan sa Pajac. Dili pwede nga magpaabot ta nga naa na poy kinabuhi nga mabutang sa peligro. Di ko mosugot nga ang maalaot niini kay ang mga katawhang Oponganon tungod sa iyang pabaya," he said in Facebook post yesterday.
"Usbon ko, palihug lang intawon, ipadali ang pagpahuman niining proyekto," he added.
He warned DPWH that he will bring the matter to the national government if it would not immediately act on it.
Chan said it was not the first time the incident happened.
Last June 24, a car driven by a Korean national accidentally fell into a culvert on Bangkal Road in Barangay Pajac. The culvert was part of the DPWH's drainage project.
Chan said he has been reminding DPWH to monitor the contractor of the drainage project.
"Dugay na tamo gipasidan-an nga tutokan gyud ang contractor nga nagtrabaho ana kay taod-taud na pod na nga proyekto. Daghan na ang nabutang sa kahasol ug karon mas misamot pa kay aduna nay naangol," he said.
He requested anew the department to install road barriers and signs along the project site to prevent another accident.
"Kung dili man gani mapadali ang paghuman, atleast man lang, pagbutang og saktong barrier para dili dali matagak ang atong mga motorist," he said.
The FREEMAN tried to reach DPWH-7 Regional Director Edgar Tabacon for comments but to no avail. — KQD (FREEMAN)