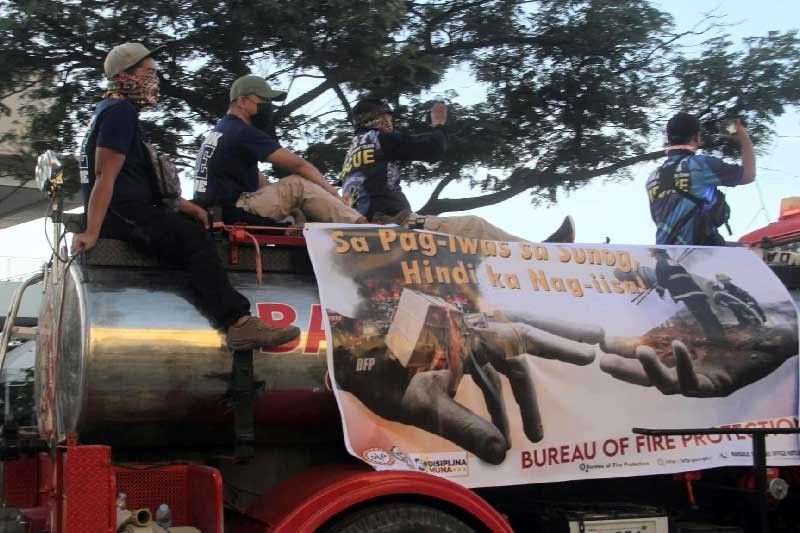 The CCFO issued the statement yesterday on the occasion of the kick-off ceremony of this year's celebration.
Fire department calls off some activities
CEBU, Philippines — The Cebu City Fire Office has cancelled activities for the celebration of the Fire Prevention Month after some of its personnel were reportedly exposed with those who tested positive of COVID-19.
The CCFO issued the statement yesterday on the occasion of the kick-off ceremony of this year's celebration.
"Kini gumikan kay dunay mga personnel sa CCFO ang na-expose sa nagpositibo sa COVID-19," the statement read.
Cebu City Fire Director Josephus Alburo assured that the firemen who were exposed did not show any symptoms of the virus.
They also underwent swab testing thus isolated in their quarters pending their swab results.
The CCFO further announced that they are on regular service for the processing of the application for the establishment inspection, payment for the inspection fee, among others and the response for fire alarms.
"Subay niini, mohangyo ang inyong kabomberohan nga magmatngon kita sa kanunay aron makalikay kita sa sunog labi na gayud karong panahona nga nagsugod na ang panahon sa ting-init," the statement also read.
Aside from this, the CCFO also calls the public to always follow the minimum health standard protocols to avoid virus transmission.
In line with the kick-off of the Fire Prevention Month, the CCFO also appeals to the public to let the firemen do their job while maintaining the proper social distancing.
The CCFO is also hoping that other activities in line with the fire prevention will continue the following days.
Water tanks
Meanwhile, Lapu-Lapu City Mayor Junard "Ahong" Chan has turned over two fire protection water tanks in Sitio Judas Belt in Barangay Babag and in Purok Bayabas in Barangay Canjulao.
Chan appealed to his constituents to be mindful and avoid fire accidents such as by not using substandard electrical wires, not to allow kids to play matches, candles and other things that may start a fire.
"Ayaw usab ninyo kalimti og ibot ang inyong electric fan, aircon, plantsa, rice cooker, ug uban pang appliances kung walay mahabilin sa balay," the mayor said.
This year's celebration bears the theme, "Sa Pag-iwas sa Sunog, Hindi ka Nag-iisa."
Chan added that the turnover of those water tanks is to ensure that in case of fire accidents, firefighters won't be having difficulty infiltrating narrow roads.
"Ato gayud gitun-an ang mga hilit nga dapit sa atong dakbayan diin maglisud og sulod ang atong kabomberohan. Pinaagi sa maong proyekto, dali na nga makaresponde ang komunidad panahon nga adunay moulbo nga sunog kay dili lang ang pag-turn over sa water tank ang atong gibuhat, lakip na niini ang pag-train sa mga residente kung unsaon nila pagresponde," the mayor said in his Facebook post.
The mayor added that the city government will continue to put up fire prevention and fire system in areas considered as fire hazards as it is his priority to ensure the safety of his constituents. — Mitchelle L. Palaubsanon, GMR (FREEMAN)