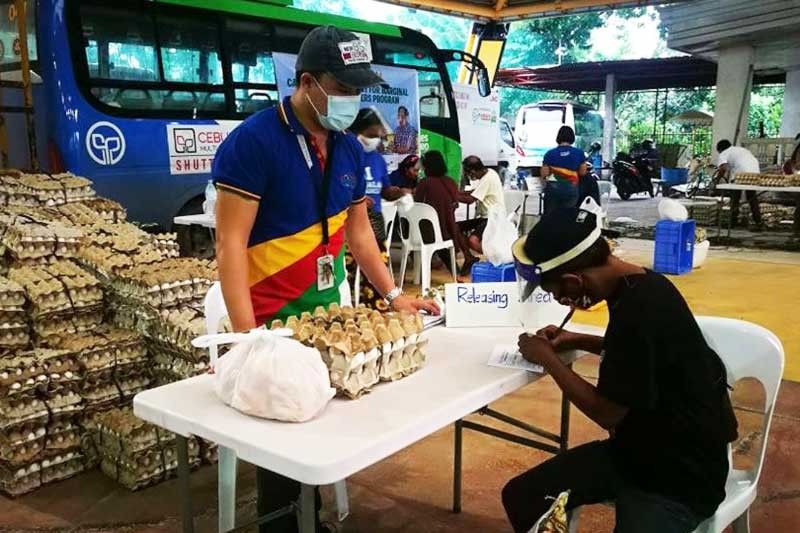 Distribution of subsidy and to farmers.
Photo from DA-7
Over 6 thousands farmers in Central Visayas get cash, food aid
CEBU, Philippines — The Department of Agriculture-7 has started distributing cash and food subsidies to 6,048 farmers in Central Visayas.
Each farmer gets P5,000 in aid.
The program is part of the government's COVID-19 assistance, which is under DA's Cash and Food Subsidy for Marginal Farmers and Fishers (CFSMFF) Program of the Bayanihan to Recover as One Act (Bayanihan 2).
Norberto Ouano, DA7's corn program coordinator, said the distribution of vouchers is ongoing in Cebu, Bohol, Negros Oriental and Siquijor provinces.
For Cebu alone, a total of 6,048 corn farmers are scheduled to receive the P5,000 vouchers totaling to P30.24 million.
Ouano said these vouchers have a QR code indicating the amount of P5,000—P3,000 in cash and P2,000 in food subsidy.
The beneficiaries are those who did not receive any government cash subsidy from other government agencies to avoid duplication of assistance.
In claiming of the aid, beneficiaries must present their voucher to M Lhuillier, the accredited cash payout provider for the cash subsidy.
While for the food items, this be provided by the recognized food suppliers in Cebu like the Cebu People Multipurpose Coop., Lamac Multipurpose Coop (LMPC) and Compostela Market Vendors Cooperative (COMAVENCO).
Ouano added that these cooperatives will act as food suppliers of the P2,000 worth of food items, which include P1,000 worth of rice, P600 worth of dressed chicken and P400 worth of eggs. — KQD (FREEMAN)