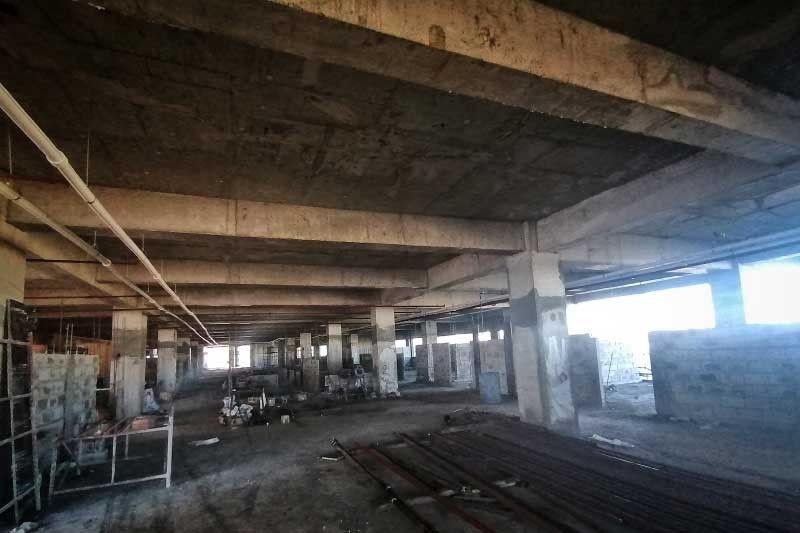 This is how the interior of the 10-story building of the Cebu City Medical Center (CCMC) looks like more than a year after Cebu City Mayor Edgardo Labella vowed to complete the construction. Despite the delays the mayor remains optimistic that the first three floors can be operational by yearend or early 2021.
Aldo Nelbert Banaynal
CCMC construction far from completion
CEBU, Philippines — Just a little over a month before the year ends, the new Cebu City Medical Center building remains a skeleton despite pronouncements that its first three floors may possibly open to the public by then.
The FREEMAN photojournalist Aldo Banaynal, who was able to take a "sneak peek" of the interiors of the building under construction yesterday, described the structure as "bare with no finished area yet."
Even the first three floors which were earlier reported to open earlier this year are not yet done and is being used as a mixing area for concrete.
Mayor Edgardo Labella, however, said he is hopeful that before the year ends, if not early next year, the first three floors can already be operational.
"Hopefully, before the end of the year or early next year, we can already, at least the three floors to be operational," he said.
Labella also added that he will talk with the CCMC administrator Yvonne Cania to see if construction work can be done faster.
Cebu City Vice Mayor Michel Rama, the brainchild of the project, remains firm, however, that opening the first three floors is not right since there are civil works continuing on the upper floors.
Instead, Rama said, it is better to use the Cebu City Quarantine Center at the North Reclamation Area as a field hospital for CCMC.
Rama also suggested transferring the office of the Bureau of Fire Protection and the Land Transportation Office from their present locations across the new CCMC building so the area could be used to expand the hospital further.
The City Council had already formed an ad hoc committee dedicated for CCMC, but had only been able to meet once back last October 16, a source said.
In its initial meeting, the source said, one of the major problems regarding CCMC construction is that there are revisions that remain "unsigned" by the designer due to some unsettled payment issues with the city government.
The source also lamented that there are already equipment that had been purchased that can already be outdated by the time the building construction is done.
Rama he will meet with the CCMC ad hoc committee to look into these developments.
Even with the slow movement of the construction, though, Rama is optimistic that the CCMC will be done before his and Labella's terms end in 2022. — Mary Ruth R. Malinao JMD (FREEMAN)