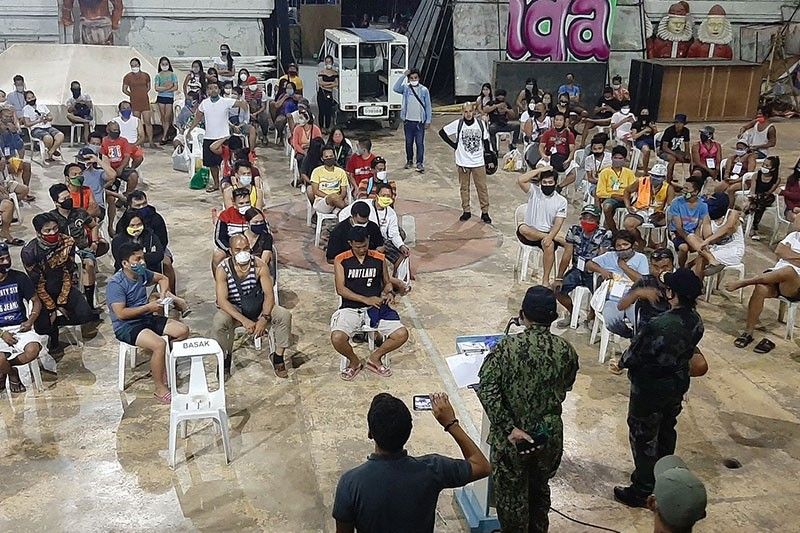 Quarantine violators in Lapu-Lapu City are gathered at the city's sports center Monday evening for the orientation on the rules governing the ongoing enhanced community quarantine.
Joy Torrejos
ECQ violators crowd detention cells
CEBU, Philippines — Authorities have been making good prior warnings to round up violators of quarantine policies but are faced with a corresponding problem – where to detain them.
In Lapu-Lapu City, police accosted almost 170 violators in just a span of three hours on Monday evening.
At a briefing following their pick up, Lapu-Lapu City Police Office Director Colonel Carlito Baja warned these violators that police will arrest them if they are caught violating the curfew and quarantine rules for the second time.
Among those arrested claimed going out to buy some items, but police found that the items were unnecessary. Some also presented unverified quarantine passes.
"Naay mga naghawid og quarantine pass nga walay ngalan, walay number... Kasagaran man gud pud ang ilang pagtuo nga ang quarantine pass para (permit) nila nga mogawas bisag walay lakton," Baja said. (Some possessed nameless quarantine passes, or those without number. They thought that the passes gave them the permit to just go out of the house if they want to.)
Baja said it is contrary to the main purpose of the quarantine pass, which is to be used only to purchase essential items outside the house.
Tigbakay
Meanwhile, seven persons were arrested in two different operations against illegal cockfight, locally known as "tigbakay," in Barangay Pardo, Cebu City last Monday afternoon.
Police Major John Kareen Escober said they first received information about the illegal gambling activities in the area from a concerned citizen, which they then validated.
He explained that the suspects did not have a permanent place to hold the cockfights. "Tagbo-tagbo lang ni sila (they just do it wherever they want)," he said.
Escober said the suspects will face charges for violations of PD 1692 and Mayor Edgardo Labella's executive order.
Because of the rising number of ECQ violators and anti-criminality operations, Cebu City detention cells are now overcrowded, according to Cebu City Police Office Director Colonel Hector Grijaldo Jr.
Grijaldo expressed concerns over the possibility that there could be one arrestee who may be a carrier of coronavirus, and may infect fellow detainees.
He said he directed station chiefs to provide facemasks to the inmates and to strictly implement the social distancing protocol inside detention facilities.
Grijaldo also directed jail officers to ensure that the inmates observe proper hygiene, including taking a bath every morning and washing their hands with alcohol every now and then.
Jail officers were also encouraged to expose inmates under the sun and to do regular exercise but with tight security.
"Mayroon kasing parang lobby doon sa jail. Sabi ko, you let your inmates na bantayan niyo o kahit posasan niyo dyan, ilabas niyo sa premises, painit niyo o mag-exercise ba sila o magwalis to do some cleanup sa lugar nila, i-mop ba nila," Grijaldo said.
At present, at least 684 inmates are inside 11 police station detention cells in Cebu City. The capacity of one detention facility is supposed to be up to 20 inmates only.
While formal complaints against some detainees are already before the prosecutor, many are yet awaiting the filing of their cases, which means extended detention. JMD (FREEMAN)