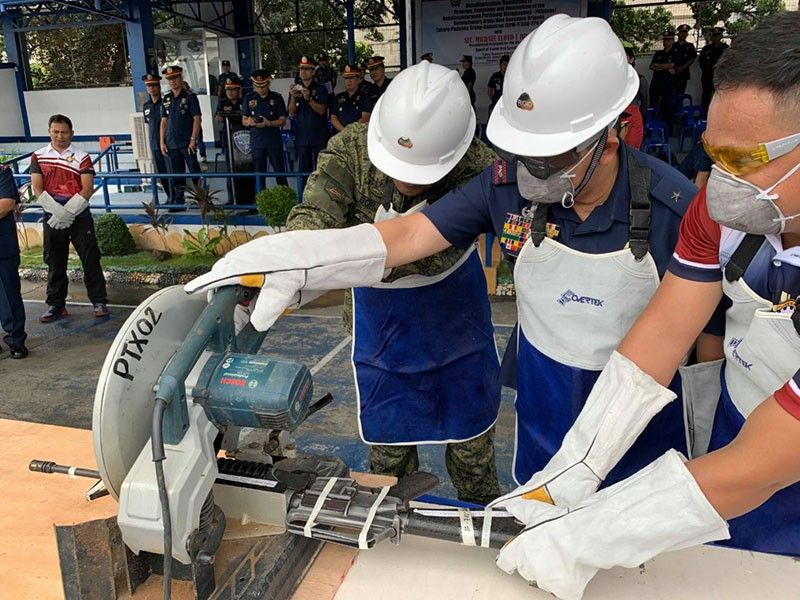 PRO-7 director Brigadier General Albert Ignatius Ferro leads the destruction of 41 loose firearms surrendered by former rebels during a "demilitarization" ceremony yesterday.
Romeo D. Marantal
41 loose firearms "demilitarized"
CEBU, Philippines — Forty-one loose firearms, including high-powered rifles, were destroyed in a ceremony Thursday morning at Police Regional Office-7 headquarters in Camp Sergio Osmeña Sr.
The demilitarization ceremony was led by PRO-7 director Police Brigadier General Albert Ignatius Ferro. It was also attended by Presidential Assistant for the Visayas Michael Dino.
The firearms were surrendered by former members of the Rebolusyonaryong Partido ng Manggagawa-Pilipinas (RPM-P) Revolutionary Proletarian Army-Alex Boncayao Brigade (RPA-ABB), a breakaway group of the New People's Army (NPA).
Demilitarized firearms include 18 pieces of M-16 rifle, three US Carbine, two pieces of M203 grenade launcher, four Garand rifles, and several pistols and revolvers. During the ceremony, the firearms were sliced into pieces using a cut-off machine.
At least 2,000 rounds of ammunition and explosives were also disposed of yesterday at the mining facility of Carmen Copper in Toledo City. Ferro said the demilitarization was part of the campaign adopted by the Philippine government from the United Nations.
He explained that destroying the firearms would ensure that these will no longer be used in any other future criminal activities.
Ferro also took the opportunity to call on the communist rebels to go back to the fold of the law. He promised that the government is willing to give them the necessary assistance.
"We ask this mga kababayan nato na naliligaw ng landas to come up and we will help you," Ferro said. FPL (FREEMAN)