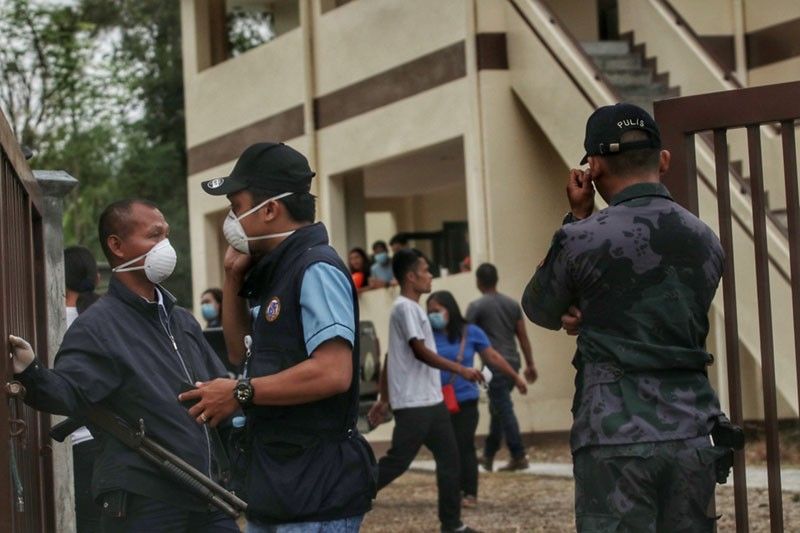 Police and Capitol personnel secure a facility in Barangay Apas, Cebu City where passengers who arrived at the MCIA from Taiwan last Wednesday were brought to undergo a 14-day mandatory quarantine.
Aldo Nelbert Banaynal
'We're detained, not quarantined': Apas facility 'ill-equipped'
CEBU, Philippines — "We are detained. We are not quarantined."
An overseas Filipino worker (OFW) from Taiwan, among those isolated in a government facility in Barangay Apas, Cebu City, yesterday aired his gripe over what he described was a "heartless" protocol in the fight against the coronavirus disease 2019.
In an interview over radio station dyLA, the OFW also enumerated a string of issues plaguing the facility – no water, no suitable beds, clogged up comfort rooms, delayed food delivery, among others.
He said the facility is "below worst", pointing out that the blankets given to him and others under quarantine were smelly.
"Lagyan naman ninyo ng puso ang inyong protocol (Would you put some heart into your protocol?) Treat us as humans or treat us as modern day heroes because we are OFWs," he said.
Governor Gwendolyn Garcia, who has led efforts to combat entry of the virus on Cebu soil with her executive order imposing the mandatory quarantine of arriving passengers from China, its special administrative regions, and Taiwan, acknowledged that the facility "is not good enough."
In response, she has planned that the around 30 people being housed at the facility be transferred to a new center in Pinamungajan town, some 65 kilometers southwest of the capital Cebu City.
Called the Project New Life Center, the Pinamungajan facility is supposedly intended for rehabilitation of illegal drug users but is not being used for the purpose as of the moment.
Garcia said that at least nine Filipinos who are from Cebu province will be transferred to the center while those not from Cebu will be brought to their respective towns and cities in Mindanao.
"Since the evacuation center is not good enough, we are transferring them to Pinamungajan, so gitan-aw lang kay naay 16 kabuok, and I think even more nga kanang para Mindanao. We are trying to arrange a flight for them to be brought or ma-charter kung dunay commercial flight," the governor said.
Lawyer Steve Dicdican, general manager of the Mactan-Cebu International Airport Authority, however, said last night that the Mindanao-bound passengers were not able to leave.
"We were trying to aim for a 6:30 p.m. flight, pero di na makaya kay we can't get DOH (Department of Health) clearance kay kinahanglan pa daw nila og guidance sa DOH Manila. We are now aiming for an early morning flight," he said.
Garcia Dismayed
The failure of the DOH to promptly give the clearance did not sit well with Garcia. Thus, she said she will turn over the individuals to the health agency and let the latter handle the situation.
"So atong gipangitaan og paagi. So nakig-coordinate na ta with the airport and they were able to arrange a flight that will supposedly take them to Mindanao tonight (last night). And we were already confident nga ipada na na sila. Karon nagpaabot pag pirma gikan sa Manila, sa DOH. I'm already telling them: If you cannot allow them to go – mao ilang gusto nga mouli sila – tungod lang kay way pirma (di madayon)? Ako na kana silang ipada ninyo diha," Garcia said in an interview posted by the Capitol Public Information Office yesterday afternoon.
"Kamo na, kamo nay kwarintina nila. Di man sila ganahan sa atong facility. Unya atong ibalik sa Pinamungajan unta di man pud sila gusto, so ako na na silang ipasakay og coaster ipahatud nako sa DOH. Kamo nay bahala nila," she added.
Earlier in the day, Garcia had said the provincial government is coordinating with airport officials for the transport of passengers being quarantined.
"Ang protocol ana kay toa sila sa likod (eroplano), first to board. Gi-arrange pa na ron sa atong office, together with MCIA general manager Steve Dicdican," Garcia told reporters.
The Capitol is also coordinating with the LGUs where the Filipinos live for them to be fetched and ferried to their respective towns or cities.
The Filipinos, who are being quarantined for 14 days in Cebu, came from a flight from Taiwan, which joined the list of territories where travel ban is currently enforced.
Lacking Competencies
Meanwhile, DOH-7 Director Jaime Bernadas said it is the agency's long-term plan to have the capacity of Research Institute for Tropical Medicine (RITM), especially on virus examination, cascaded locally.
"Now we have reagents nga wala pa nato madawat sa Vicente Sotto hospital. Naay mga competencies nga i-review and anytime makumpleto na siya, mahimo gyud na nato sa maong hospital," said Bernadas.
He said once the competencies are completed, Vicente Sotto Memorial Medical Center in Cebu City may already release the laboratory results of patients under investigation for the COVID-19.
"Kuwang gyud ta og reagents sa RITM pa lang kay direkta sa Japan man and it cannot be bought locally and dili pa siya sufficient i-distribute. Unya sa ka busy sa mga tawo, wala pay mo-conduct sa assessment and update sa training ug kana ilaha pa nang gi-schedule. Kinahanglan nga naa tay atoa to minimize the burden of RITM," said Bernadas.
Bernadas also urged the public to stop sharing fake news about the virus as this may only lead to panic.
"Ako lang gihangyo nga kung wala man gani mo'y buhaton sa social media, palihog didto mo sa website sa DOH ug sa website sa regional office kay didto ta makakuha og verified information," he said. JMD (FREEMAN)