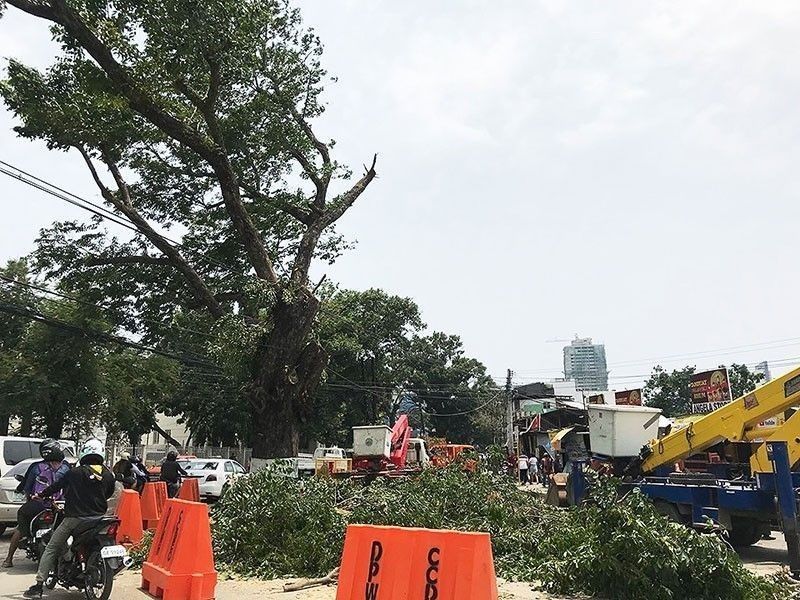 Lawyer Brando Ray Raya said in a Facebook post that it is DPWH that is competent to determine whether a tree within the limits of a national road must be cut as a necessary move to uphold public safety.
File
DPWH exec: Cut trees down
CEBU, Philippines — The chief legal officer of the Department of Public Works and Highways (DPWH) in Central Visayas told legal officers of the agency not to be afraid to cut the trees covered by permits issued by the Department of Environment and Natural Resources (DENR).
Lawyer Brando Ray Raya said in a Facebook post that it is DPWH that is competent to determine whether a tree within the limits of a national road must be cut as a necessary move to uphold public safety.
He said Presidential Decree No. 953 repealed Republic Act 3571, which lawyer Benjamin Cabrido Jr. cited in his petition filed on October 3 for the issuance of a Writ of Kalikasan with urgent prayer for issuance of a Temporary Protection Order against the secretaries of DENR and DPWH.
"Under P.D. No. 953, what is required, in order to have no criminal liability for the cutting of a tree within the limits of a national road (our jurisdiction), is APPROVAL by the DPWH (a PERMIT from the DENR is NOT REQUIRED) [Note: Said approval has already been given by the DPWH under DPWH Department Order (D.O.) No. 52, s. 2003 as amended by DPWH D.O. No. 73, s. 2014]," Raya's post reads.
The public safety purpose is another requirement so as not to be held criminally liable, he said.
Cabrido, invoking RA 3571, argued all roadside tree cutting operations must stop outright since they stem from an illegal and invalid administrative order, the Department Administrative Order 2018-16, issued by DENR on July 18, 2018.
RA 3571 states that the Director of Parks and Wildlife, and not the DENR, which has jurisdiction to issue tree cutting permits involving roadside trees upon recommendation of a committee created in each local government unit.
The Court of Appeals in Cebu City has not acted upon Cabrido's petition as of this writing.
Raya said since he started his stint with the DPWH, he has used this defense in criminal cases filed against his colleagues for the alleged unauthorized cutting of trees within their jurisdiction.
"Ain't nobody wondering why sa kadaghan ug gi saka na kaso sa amoa during the past few years, wala gyuy na priso?! Well, this is the reason why! Thus, to ALL DPWH LEGAL OFFICERS, DONT BE AFRAID, CUT THOSE TREES DOWN!!!," he said.
Last week, Presidential Assistant for the Visayas Michael Dino met with DPWH-7 Director Edgar Tabacon, DENR-7 Director Paquito Melicor, Department of Social Welfare and Development-7 Director Rebecca Geamala, and other officials to discuss the tree replacement project in Central Visayas.
The project ensures the planting of 100 seedling, saplings or propagules as replacement for every tree cut within or along the road right of way of all DPWH-administered infrastructure projects.
Raya said DPWH-7 has allocated P108,188,286 in favor of DENR for the program to cover its regular infrastructure projects for 2018 alone.
The funds shall defray the entire cost of plantation establishment from survey, mapping, and planning to nursery establishment, procurement of materials, site preparation, out-planting, plantation, protection, maintenance, and supervision.
A post in the official Facebook page of the Office of the Presidential Assistant for the Visayas says Dino wants to ensure that the project to replace the trees cut from the 25 infrastructure projects of DPWH in Central Visayas will be implemented properly and accounted for. It is required by law that every tree cut down to pave way for an infrastructure project will be replaced by 100 new trees.
"Aside from seeing developments in the coming years, we will be able to see more than half a million new trees grow which survivability will be ensured by the program for the next five years," the post said.
Petitions
Meanwhile, two online petitions were launched to stop the cutting of trees in southern Cebu, which is scheduled today.
A certain Milky Joy Pactores started a petition on petitiontime.com on October 9 asking DENR-7 to save the trees in Carcar City. As of 6:00 p.m. yesterday, the petition has gathered 8,945 supporters. It is targeting to reach 10,000.
"We'd like to gather as many signatures as we can to raise awareness and ring the authority who has given such orders to cut these trees," the petition states.
"Everyone knows what trees do for us. Let us not sacrifice Earth's lungs for our human convenience. We might not feel the effects now but our future generation surely will. Save the trees!" it added.
On October 10, "Tingog Kinaiyahan" started a signature campaign dubbed as "Stop the SLAUGHTER of the Trees! Protect NAGA Cebu Trees! Protect iconic Cebu South Trees!" on change.org.
The campaign has gathered 18,409 signatures as of 6:00 p.m. yesterday, with 25,000 as its target. JMO (FREEMAN)