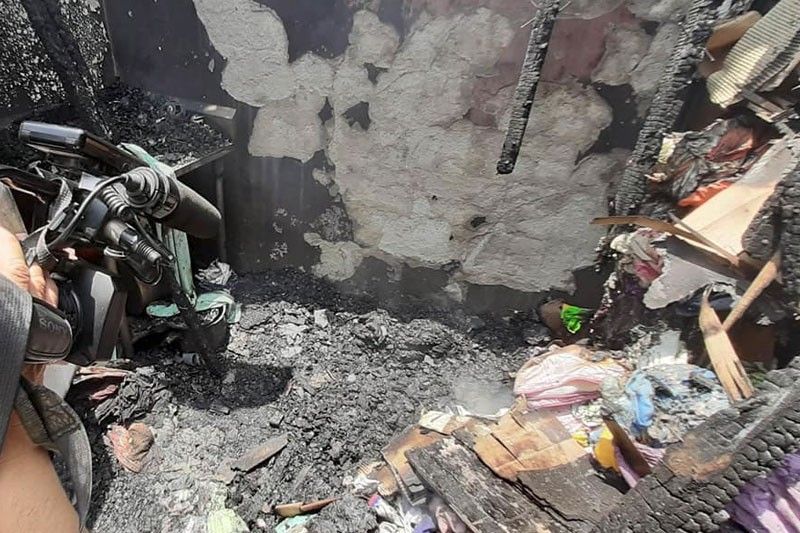 Scene of the Crime Operatives retrieve the remains of a five-year-old boy who perished in the fire that hit Barangay Agus, Lapu-Lapu City Monday morning.
Joy Torrejos
Boy, 5, killed in Lapu-Lapu fire
CEBU, Philippines — A five-year-old boy was killed when a fire hit his house in Sitio Proper, Barangay Agus, Lapu-Lapu City while he was sleeping yesterday morning.
When the fire broke on the second floor where the boy was sleeping, his father, Feddy Anhao, was outside, manning his store nearby.
"Siya ray tawo sa balay ba kay iyang papa namaligya kay naa silay tindahan daplin sa dalan nya sudlunon man ni ilang balay (The child was alone in the house because his father was manning their store at the side of the street. The house is located in the interior portion)," said Fire Officer 1 Mildred Villaban, desk operator of the Maribago Fire Station.
Feddy tried to save his son by breaking the jalousie but to no avail.
"Naay naka-ingon niya nga nasunog mao tung iyang giadto sa balay… nya iyang gi-try og save ang bata (Someone informed him that his house caught fire so he rushed there and tried to save the boy)," Villaban said.
But it was too late. The fire was too big and razed the house to the ground.
Later, Feddy found nothing but his son's burnt body. He and his neighbors said they still heard the boy shout "Papa (father)" before the fire killed him.
Feddy sustained an injury on his left arm, which he used to break the jalousie windows of the house.
Villaban said Feddy and the boy's mother are separated.
The fire station received the alarm at around 9 a.m. and was about to control the fire in less than an hour.
The fire also damaged the house next to Feddy's home.
Villaban said investigation is ongoing to determine the cause of the fire but they are looking at the possibility that it was triggered by a ceiling fan that overheated. (FREEMAN)