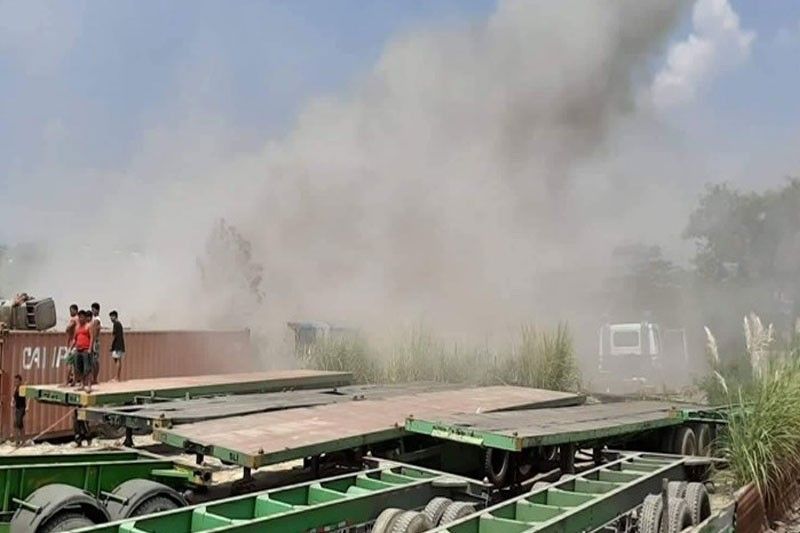 Firefighters train their hose at the fire that hit a vacant lot full of used tires yesterday in Barangay Cabancalan, Mandaue City.
Joy Torrejos
Smokes from burning tires alarm Cabancalan locals
CEBU, Philippines — Residents of a sitio in Barangay Cabancalan, Mandaue City were alarmed yesterday morning when smokes billowed from a vacant lot filled with used vehicle tires.
The Bureau of Fire Protection responded to the alarm at 10:15 a.m. following the tips from concerned citizens.
According to Fire Officer 1 Dominic Lastimoso, they were able to contain the fire quickly before it even managed to spread to the nearby homes.
Despite not being able to affect residential structures, the fire nonetheless caused alarm and concern among residents because of the thick black smokes that emanated from the burning tires.
Lastimoso said the fire was officially declared out at 11:03 a.m. As of this writing, the BFP could not yet ascertain the cause of the fire.
The public has been advised on the harmful effects of inhaling polluted air, especially in light of the haze from Indonesian forest fires that had enveloped Cebu City recently.
According to Environmental Management Bureau-7 director William Cuñado, the public is urged to avoid inhaling air that carries with it some particulates from the forest fires, which cover the city at early morning until 10 a.m as well as from 4 p.m. to 9 p.m. later in the day.
EMB-7 is also urging the people to use face mask and to avoid going outside their homes to prevent inhaling polluted air.
Cuñado warned that the irresponsible burning of any form of garbage is prohibited because of the possible ill effects it may cause to human health. (FREEMAN)