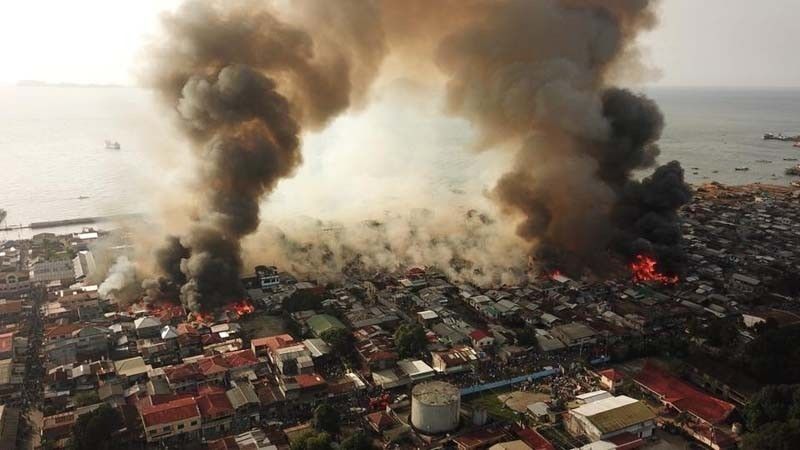 CH to build tenement for Mambaling fire victims
CEBU, Philippines — Over 100 families were left homeless in a fire that hit Barangay Mambaling, Cebu City last Wednesday.
Instead of implementing re-blocking scheme, Mayor Edgardo Labella said he will recommend for the construction of a medium-rise building on the fire-stricken area in Barangay Mambaling.
The mayor said the construction of tenement housing would be on top of the usual financial assistance that the affected families will receive from the city.
"The city will undertake that…because of the limited space and so that they will have a habitable and very comfortable setup," he told reporters.
A tenement housing could accommodate at least 88 families. One five-story building could cost P115 million.
Labella said he will talk to the residents, barangay officials, and the city officials to push through with the establishment of medium-rise building wherein more people will be accommodated in a vertical development compared to a horizontal project that will need more space.
On top of the housing, the mayor said the city will give P20,000 financial assistance to the affected families.
"I will talk to the barangay that instead of making a reblocking in the area, I may suggest to have as what we did sa Lorega nga maybe we can come up a vertical building or tenement so as many as possible can be occupied," he added.
Last Wednesday, Labella led the groundbreaking ceremony of the two medium-rise buildings in Barangay Lorega San Miguel that could house around 200 families who are homeless and underprivileged.
As of yesterday morning, City's Department of the Social Welfare and Services Head Dr. Jeffrey Ibones said at least 53 houses were destroyed because of the fire.
At least 103 families or 466 individuals were left homeless because of the incident.
The Cebu City government, through DSWS, has distributed packed meals for the affected families.
On top of the packed meals, the city will also give P20,000 financial assistance to structure owners while P10,000 assistance will be given to renters and sharers.
The city will also give housing materials and family kit to the fire survivors.
The city's Division for the Welfare of the Urban Poor (DWUP) Head Simeon Romarate said that the fire-stricken area is owned by the city government under the Slum Improvement Resettlement. — GAN (FREEMAN)