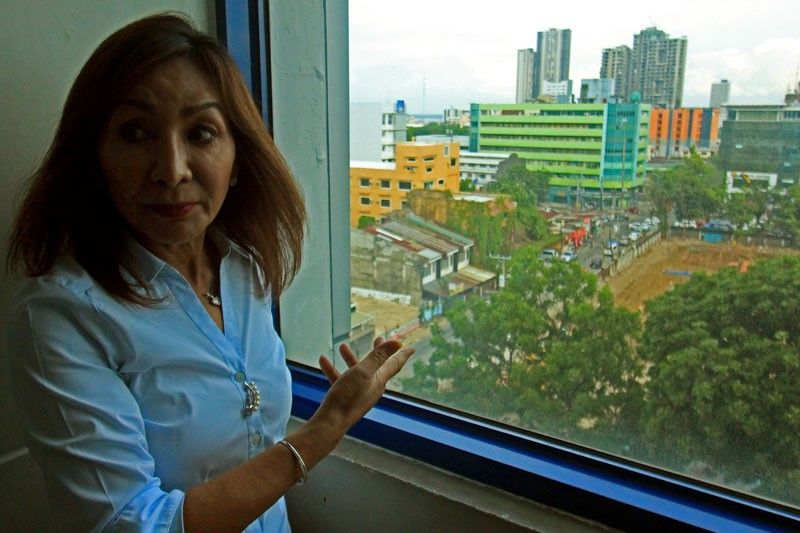 Garcia disclosed that the outgoing administration wants to shell out over P194 million, which provincial accountant Marieto Ypil did not reportedly heed.
Aldo Nelbert Banaynal
Garcia to Davide: 'Naghilas-hilas ka'
CEBU, Philippines — Governor-elect Gwendolyn Garcia cried foul over his predecessor's move in pushing through with the construction of the proposed Capitol resource center.
In a press conference, Garcia disclosed that the outgoing administration wants to shell out over P194 million, which provincial accountant Marieto Ypil did not reportedly heed.
Garcia was enraged by Governor Hilario Davide III's act.
"I am shocked and I am offended and in the name of the Cebuanos who voted for me... I am insulted... that this present outgoing governor and his minions committed such a blatant act of attempting to waste people's money," she said.
"Niingon siya kaniadto sa akong suwat, I am insulted and I am offended. Well, Governor Davide, soon to be governor no more, I am very much offended and I am very much insulted in the name of Cebuanos. Naghilashilas ka. Klaro na ka kaayo. Ayaw na pun-i ang imong nabuhat sulod sa unom katuig pun-an pa nimo niining tataw nga pagusik-usik sa kwarta," she added.
Davide, for his part, is not intimidated with Garcia's pronouncements.
"This is a matter already in court and, therefore, no longer the proper subject of a presscon, even more so because they have no restraining order. At any rate, since they continue to do this, we will just refer this to our lawyers to file the appropriate action before the court," Davide said.
Garcia showed a copy of the disbursement voucher for the release of the 15 percent mobilization fee or advance payment for the construction of the 20-storey resource center amounting to P 194,849,570.
She said Davide even issued a memorandum to Ypil.
The memo reads: "Bear in mind that I am still the chief executive of the Province of Cebu until noontime of June 30, 2019… In case you have forgotten, the governor-elect's term of the office as Representative of the 3rd District of the Province of Cebu, like mine, ends at noontime of June 30, 2019 yet. Until then, she is not the Governor. Worse, your reason for returning the aforesaid disbursement voucher despite being complete in its supporting documents is outright contemptuous and negligence on your part to perform a positive duty."
"I shall consider your willful defiance of this directive a patent act of insubordination," it added.
Ypil earlier responded to Davide that his office is "constrained" to proceed with its processing after their office received a formal notice from Garcia's transition team, "relaying a warning to all concerned department heads not to process any and all billing related to the said project."
Ypil initially turned down the disbursement, returning it to Provincial Engineer Hector Jamora, who recommended for the release of the advance payment.
Ypil noted in her first endorsement dated May 30 addressed to Jamora that the disbursement "cannot be given due course as the incoming administration has publicly manifested that the same is not her priority project which will render the recoupment of the advanced amount uncertain and in effect will disadvantage the Cebu Provincial Government by not being able to recover the advanced payment."
"It may be noted that the submitted surety bond will not cover for performance failure if not attributable to the principal which is WT Construction, Inc. (contractor)," she added.
Garcia's lawyers, in a letter to Davide, stated that the incoming governor has declared that the project is "not part of her program of government" and that she "never agreed to it."
Meanwhile, National Historical Commission of the Philippines Chairperson Dr. Rene Escalante said their office cannot intervene for now on ongoing spat, unless a formal complaint lodged before the agency.
Escalante seemed to be surprised when he was informed by local reporters that excavation works had started at the construction site.
He said he will look into the matter and consult the other board members first.
He said the provincial government has not secured a clearance from them as the latter argued that the NHCP cannot assume jurisdiction over new constructions.
The issue there concerning heritage policies is that the resource center will be built within the buffer zone, or just beside a presumed cultural property.
He said construction of new edifice near heritage structures had been regulated to protect the latter in case of disaster such as earthquakes. — Bonen A. Clarin (FREEMAN)