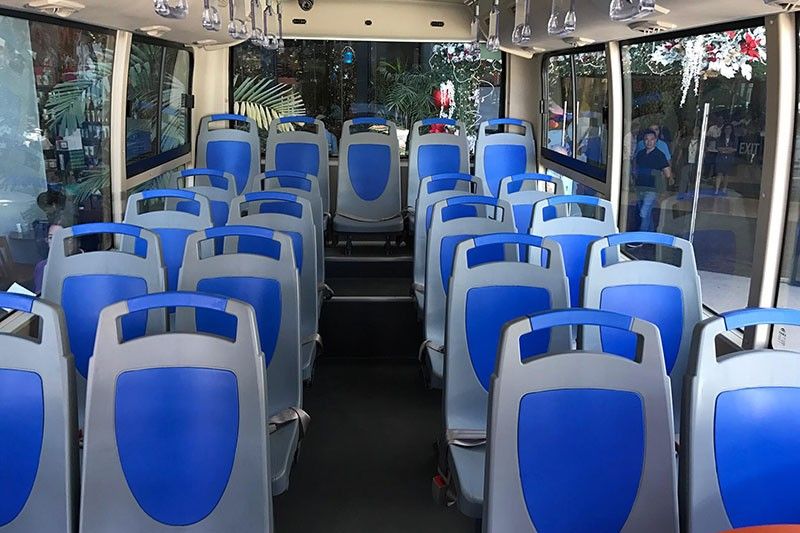 This is how the interior of a modern public utility jeepney that will start plying Cebu City streets on Wednesday looks like.
Mitchelle L. Palaubsanon
Modern jeepneys to hit Cebu City streets
CEBU, Philippines — At least 40 modern jeepneys will travel Cebu City's roads starting tomorrow.
The modern jeepneys will ply two routes with a P8 fare and an additional P1 for every succeeding kilometer.
The two routes are Cebu City Hall-Asia Town I.T. Park via Robinsons Galleria Cebu-Cebu Business Park and vice versa, and R. Duterte St.-Sykes via Happy Valley-Fuente Osmeña-Ramos St.-D. Jakosalem St.-Cebu Business Park and vice versa.
The Department of Transportation Office and the Land Transportation Franchising Regulatory Board launched the jeepneys yesterday in partnership with Persano Corporation.
How modern?
Owned by Persano Corporation, the 40 modern jeepneys are air-conditioned and has wifi, GPS, CCTV, automated fare system, and individualized chairs.
It costs P2.6 million and can carry 32 passengers.
Local transport cooperative CITRASCO will manage, operate, and dispatch the units.
"This transport modernization is a big help among our commuters and this will greatly reduce our traffic. Our city streets is so traffic because of inefficient system," said Victor Caindec, regional director of the Land Transportation Office-7.
LTFRB-7 Director Eduardo Montealto said one franchise is allowed to operate only one route.
"Sa pagkakaron man gud, daghan kaayong franchise ang mag-operate sa usa ka ruta. With the modernization, usa ka franchise na lang ang mo-operate sa usa ka ruta," Montealto said.
More units
Atty. Vigor Mendoza, chairman of Persano Corporation, said they intend to add 60 more units for Mandaue City and Lapu-Lapu City this year.
The modernized jeepneys are part of DOTr and the Duterte administration's effort in modernizing the public transport system in the country.
"We are not just changing the units but we are changing public transport system for efficient and convenience of the riding public," said LTFRB Chairman Martin Delgra.
CITRASCO Chairman Jericho Jumapao said a meeting today will finalize the jeepneys' operations, particularly the dry run, considering that passengers can ride the jeepneys for free during this period.
"We are looking at for at least two days dry run unya libre ang sakay ani while we are waiting for the fare matrix from the LTFRB," Jumapao said.
Delgra said that CITRASCO, under their newly-issued circular, is allowed to collect 20 percent higher than the existing minimum jeepney fare and its succeeding kilometer. (FREEMAN)