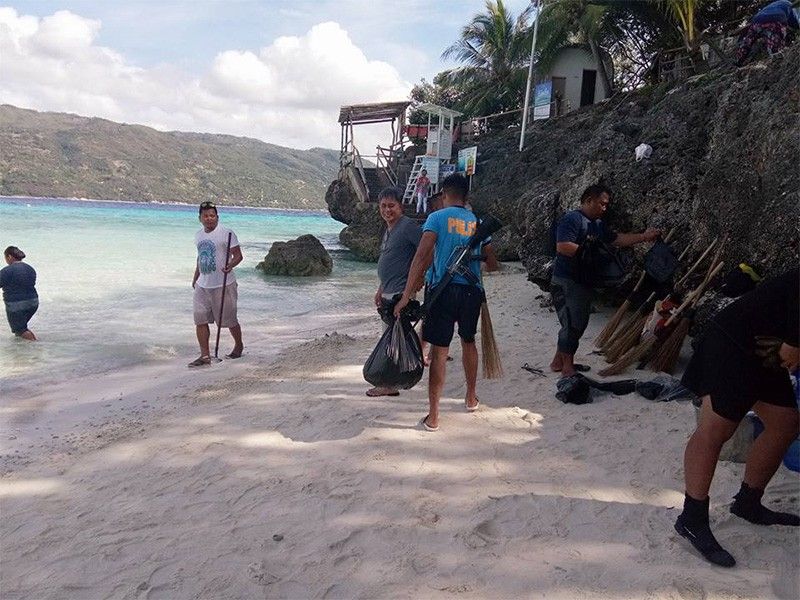 Volunteers of the clean-up drive conducted at the Sumilon Island in Oslob, Cebu gather trash left along the island's sandbar and adjacent areas.
Contributed Photo
Magpale: Replicate Sumilon initiative
CEBU, Philippines — After the study on the carrying capacity of the sandbar on Sumilon Island, Cebu Vice Governor Agnes Magpale hopes the next one to be surveyed is the Moalboal beach.
Carrying capacity refers to the number of people which can be accommodated in a specified area for a specified period of time. In a parallel model, it is the limited number of people which can only be accommodated in a theatre.
For the sandbar of Sumilon, it has a carrying capacity of 522 people daily. On the contrary, there are times when it accommodates over 1,000 tourists on a day. This excess of the carrying capacity may have a harmful effect on the environment.
"In the light of what is happening now sa Boracay, we have come to realize nga importante gyud kaayo na nga carrying capacity," Magpale told reporters in a press conference.
Moalboal Beach refers to the one-kilometer-long stretch of white sand along Barangay Basdaku.
Aside from its sand, diving sites off the coast of Moalboal is also a tourist favorite.
Magpale described the said beach as among Cebu's most visited spot by tourists, especially during summer.
The Provincial Tourism Office (PTO) confirmed that the municipal government sent a request for them to do a study in order to determine its carrying capacity but the PTO has yet to schedule a field evaluation on the beach given their tight schedule.
With this in mind, Magpale hopes that if the municipality were to conduct a coastal cleanup, she hopes that an underwater cleanup will also be included like the one done on Sumilon Island.
Moalboal Town Mayor Inocentes Cabaron said that he will only close the town's beach upon the recommendation of the Environmental Management Bureau (EMB) of the Department of Environment and Natural Resources (DENR).
However, he stressed that the town can always do a clean-up any time.
"The EMB people have already checked and inspected our resorts and seawater. We will wait for their recommendation. Imo diay pasirhan bisan og walay order sa EMB? Kana panglimpyo, okay na anytime," he told The FREEMAN.
In a separate interview, EMB-7 confirmed that it conducted a seawater testing and analysis off the shores of Moalboal town in southwestern Cebu.
Engineer Cindylyn Pepito, chief of Ambient Air and Water Monitoring Section of EMB-Region 7, said a team was deployed last week to collect samples in selected sites in Moalboal.
She added the samples are yet being observed for laboratory analysis at the EMB-7 office to examine the quality of the sea waters at the town. The test was made to determine whether the seawater there is still safe for bathing.
The test results are expected to be released next week.
In an earlier interview, PTO Head Joselito Costas commended the local government units (LGU) which took the initiative to request their office to conduct a survey on the carrying capacity of their destinations.
He added that this means that the LGUs have become more aware of the importance of observing measures to protect eco-tourism sites.
Lapu-Lapu to follow
Meanwhile, the Lapu-Lapu City government has created a team that will monitor the beach areas of Lapu-Lapu City, said Mayor Paz Radaza.
In a press conference yesterday morning, Radaza said the Lapu-Lapu City Disaster Risk Reduction Management Office will be the one to conduct weekly underwater clean-up drive.
The City Environment and Natural Resources Office (CENRO), the City Tourism Office (CTO), and the City Health Office (CHO) are also part of the team.
"Atong gibuhat, kaniadto pa man gyud ni. Duna ta'y regular inspection dili gyud kada buwan, gipuli-puli nato og resort og asa magbuhat og mga seawater examination kay ato man gud katuyoan nga ang mga turista nga muari diri, always safe (na maligo) sa dagat," Radaza said.
The city is among the top tourist destinations of the country with a long stretch of beaches, as well as hotels and resorts. In 2014, it was branded as the "Historic Resort City".
Radaza said the CENRO's City Fisheries and Aquatic Resources Council (CFARMC) will also be the one to go through the pump boat inspections if this kind of sea transportation has "sapyaw" or scoop nets.
"Ang atong pumpboats, gipatan-aw nato sa CFARMC nga always naay mga sapyaw aron kung naay maglutaw-lutaw nga sagbot ilahang makuha," she said.
The CHO will be the one to inspect hotels and resorts in terms of sewage treatment plans and will do water sampling and examination as well as their swimming pools through the coordination efforts with the CTO.
"Na-appreciate kaayo nako ang Sumilon management nga ni decide sila ana para mag-clean-up lang," Radaza said.
DENR doing studies
THE DENR-7, for its part, has initiated measures to prevent the deterioration of grandeur of the tourist spots here specially the eco-tourism sites.
Carlito Buante, chief of the research, Development and Extension Unit, Biodiversity, Coastal, Wetlands and Ecotourism Research Center, said they are doing research on eco-tourism and wetlands and studying the department's National Greening Program (NGP).
"Sa eco-tourism sites naa tay rules gi-follow. Walay development, naa man minimal lang, kana nang mga basic amenities and facilities for our tourists. Walay mga hotel didto sa eco-tourism sites, ato lang didto more on visitors and sightseeing to the beautiful sceneries and landscapes," he said.
Buante said they already had their research about the carrying capacity of Lake Balinsasayo in Negros Oriental, Lake Danao in Camotes Island
"Sa pagkakaron, naka-focus mi sa mga emerging eco-tourism spots didto sa Panglao, Bohol. Nisunod ni siya sa Boracay ug ubang mga dapit sa Region 8, sa El Nido, Palawan ug dinhi sa Cebu. So makahatag mi og technical assistance in terms of doing research in this aspect sa carrying capacity and vulnerability assessment kay naa siya'y components sa ecological footprints," he said.
Meanwhile, Luisito Babaran, Regional NGP Coordinator, said that Central Visayas was tagged as the lowest survival rate of plant growing in the Philippines, averaging 67 percent from 2011 to 2017, which is less than 30 to 40 percent from other regions.
In line with the observation of Earth day on April 22, the DENR-7 plans to hold a simultaneous mangrove planting and coastal clean-up.
Felimon Alex Selor, Supervising Ecosystem Management Specialist CENRO Cebu City, advised those who wants to join to go to the nearest Cebu City Environment and Natural Resources Office (CENRO) to know more updates and instructions in activities on Earth Day 2018. — May Miasco, Christell Fatima M. Tudtud, Adonis Matthew P. Ardiente, CNU COMM Intern/GAN (FREEMAN)