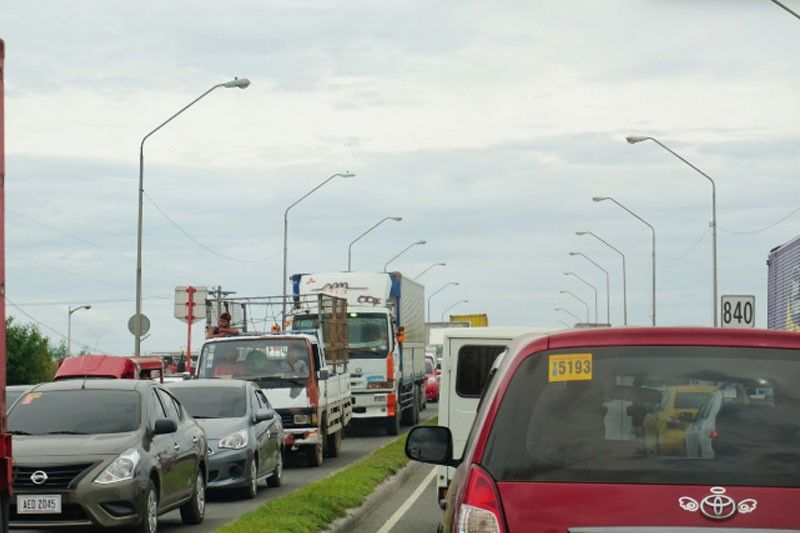 For Janica Belotindos, a resident of Naga City, the PUJs will contribute to the heavy traffic that can be experienced at the CSCR at the South Road Properties (SRP). Kristine Joyce W. Campaña/File
Some commuters oppose SRP rerouting plan
CEBU, Philippines — Some commuters from southern Cebu are opposing the move to let public utility jeepneys travel through the Cebu South Coastal Road (CSCR) instead of N. Bacalso Avenue in going to Cebu City.
For Janica Belotindos, a resident of Naga City, the PUJs will contribute to the heavy traffic that can be experienced at the CSCR at the South Road Properties (SRP).
In the past, she said, it would only take about 45 minutes for her to travel from Minglanilla to Cebu City via the SRP on board a van for hire, but the travel time these days can extend to more than an hour.
"Base sa ako na-experience, kana mo-work ko grabe, ang traffic nagdasok nas CSCR. How much more kung pun-an nila? Makatubag sila sa mga tao nga ma-late tungod sa ka-traffic dinha? What if mawalaan trabaho kay nabati na ang record tungod's late? Dili jud ko uyon, sakto nana ilang gibuhat nga adto didto ang mga bus kay kusog kaayo managan," she said.
Jaive Siasol, agrees with Belontindos for the same reasons.
Lawrence Chua, a resident of Minglanilla, also opposes the move.
"A big NO. Kana gani way rerouting, traffic na na daan ng SRP; unsaon nalang kaha'g wala? Hinuon, di man ko maapektohan kay wa na gyud koy choice… commuter ko, sa mas pabor ko muagi, sa highway, pero feel nako di na maoy paagi nga masulbad na," he said.
Talisay City wants its jeepneys to pass through SRP in going to Cebu City to help alleviate the traffic situation on N. Bacalso Avenue in Cebu City where an underpass is being constructed.
Around 40 jeepneys ply from Barangay Tabunok in Talisay City to Cebu City via N. Bacalso Avenue.
A resident of Talisay, Queza Sacay, supports the plan. She said a trip through N. Bacalso Avenue on board a jeepney these days can take about two hours. She hopes this can be lessened if jeepneys are made to use the CSCR.
Ahmed Cuizon, director of the Land Transportation Franchising and Regulatory Board (LTFRB) - 7, said they have yet to compute the new fare.
He said the use of the SRP, which is expected to start this Wednesday, will be temporary and will depend on the progress of the underpass construction along N. Bacalso Avenue. Construction started in August last year.
Cuizon is optimistic the number of jeepneys that will be made to pass the SRP will not affect the traffic situation badly.
"I don't think so nga ingon ana ang volume sa sakyanan makahuot sa CSCR, considering nga dili man na magdungan og dagan, magbalos-balos man," he said.
Almond Dela Peña, head of Talisay City's Traffic Operations Development Authority, has aid they are now identifying loading and unloading areas at the SRP.
The initial plan is for jeepneys to travel from Barangay Poblacion in Talisay City until Barangay Dumlog and turn right to CSRP towards Cebu City.
From Cebu City, jeepneys will ply the CSRP and turn left to Rafael Rabaya Street in going to Cansojong until they return to Barangay Dumlog. (FREEMAN)