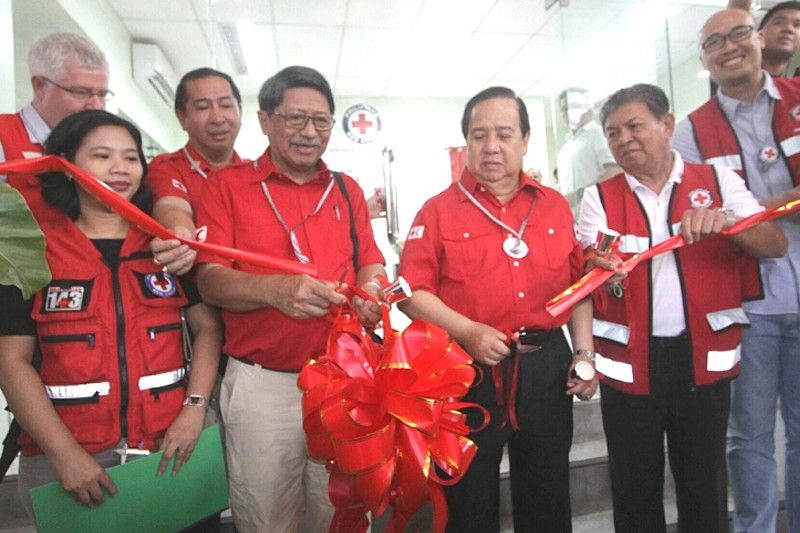 Red Cross … Gipangunahan ni Senador Richard Gordon-PRC Chairman-CEO uban ni Atty. Oscar Palabyab- Sec. General sa PRC ang ceremonial cutting of ribbon sa bag-ong gipaayo nga buhatan sa Philippine Red Cross diha sa Osmeña Blvd. sa Cebu City kagahapon.— Joy Torrejos
New Red Cross building offers more services
CEBU, Philippines — The Philippine Red Cross unveiled yesterday a newly-rehabilitated building for its chapter in Cebu, giving a boost to its operations in the Visayas.
The Cebu chapter serves as a key arm of the PRC in responding to various disasters within Cebu and nearby provinces with its fleet of five ambulances, two rescue boats, a fire truck, water tanker, and a payloader.
PRC chairman and chief executive officer Senator Richard "Dick" Gordon, who graced the inauguration rites yesterday, said he is planning to provide one rescue truck or vehicle for the Cebu chapter as part of efforts to expand PRC's services here.
In his short speech, Gordon was quick to emphasize that the organization does not only build structures.
"We build people. We build character… We want people who make things happen," he said during a brief program prior to the ribbon cutting.
He said a certain organization is not only defined by its edifice but by the communities of volunteers it has that is ready to serve victims of calamities.
Before gracing the event in Cebu, Gordon came from Legazpi City, Albay to give out cash assistance to the families affected by the eruption of Mount Mayon in the Bicol region.
Gordon noted that the organization has been constantly improving and expanding its services, considering that the Philippines is vulnerable to natural disasters.
For one, Cebu, particularly its northern areas, experienced the wrath of super typhoon Yolanda in 2013.
Gordon reported yesterday that the Cebu leg of the Haiyan Recovery Program of PRC has completed the construction of 8,671 houses, 15 health facilities, and 20 school facilities in most of the affected areas like Bogo City and the towns of San Remigio and Daanbantayan towns, among others.
During the ceremony yesterday, Gordon was accompanied by PRC secretary general Oscar Palabyab, delegates from Japanese Red Cross Society and German Red Cross, as well as partners in the healthcare and government sectors.
The two-storey building cost an estimated P4.7 million. It was made possible through the support of JRCS, GRC and French Red Cross.
The first floor of the building is occupied by the Eastern Visayas Regional Blood Center that is open for dispensing 24 hours a day, while the administration office and the offices of the chapter's services are housed on the upper floor.
The building also houses a state-of-the-art radio room and conference room.
Yesterday, a memorandum of agreement was also signed between the PRC and the Argao municipal government in Cebu; Gothong Southern Shipping Lines; and the Department of Education for the establishment of Red Cross 143 and Red Cross youth council, as well as the provision of safety trainings, and mass blood drives. (FREEMAN)