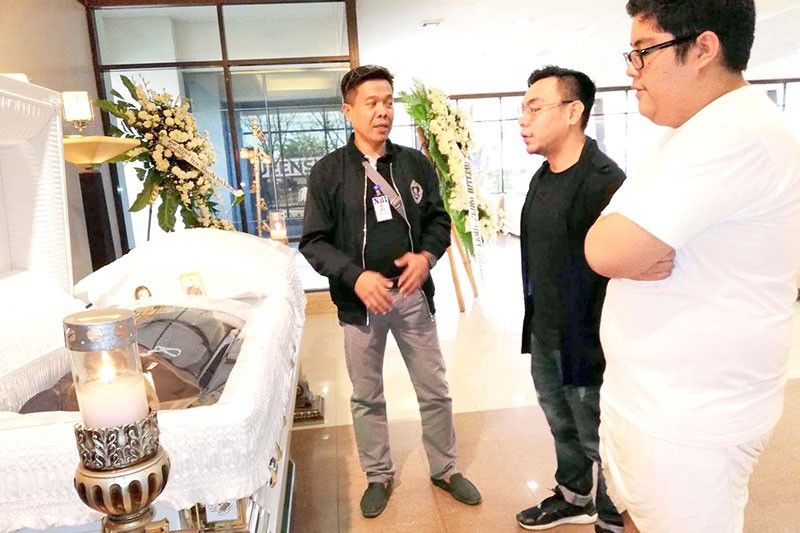 National Bureau of Investigation agent Florante Gaoiran (left) talks to John Majed Ungab, nephew of slain lawyer and Ronda Vice Mayor Jonnah John Ungab, at Ungab's wake at Saint Peter Memorial Chapel yesterday. At right is Ungab's son Daniel.
Joy Torrejos
(The Freeman) - February 21, 2018 - 12:00am
CEBU, Philippines — The family of slain lawyer and Ronda Vice Mayor Jonnah John Ungab has nothing but one resounding call at the moment – bring perpetrators to justice.
As of yesterday, police were halfway into their investigation, having collected statements from a witness and a closed-circuit television footage that may offer a lead into the lawyer's killing.
The Ungabs have also sought the assistance of the National Bureau of Investigation to do a parallel probe.
"The reason why we had them (NBI-7) involved was because they had the machinery. Two heads are better than one, so why not get the help of two agencies? We want a speedy administration of justice, that is what we seek," John Majed Ungab, the lawyer's nephew, told reporters yesterday.
"Right now we are feeling angry and sad at the same time; angry in a sense that we have been deprived of a family member in the most gruesome way nga wala gyud mi magdahom nga mahitabo gyud ni namo," he added.
Ungab was shot dead by an unidentified assailant shortly before noon on Monday, as he and his wife were about to leave the premises of the Qimonda IT Center at North Reclamation Area that houses the Cebu City Palace of Justice.
The lawyer suffered gunshot wounds to his upper left jaw and left temple.
Two hours earlier, Ungab appeared at a promulgation of the cases for illegal possession of firearms and violation of the election gun ban against his high-profile client Roland "Kerwin" Espinosa, who was tagged by the Duterte administration as a bigtime drug lord in Eastern Visayas.
After shooting the target, the assailant then casually walked to a motorcycle parked by the roadside on S. Osmeña Boulevard, where a cohort was waiting. The two eventually sped off to the direction of Mandaue City.
Police yesterday requested more patience on the part of the Ungab family.
Task Force Ungab, which police formed hours after the incident, does not have a specific timeline as to when the investigation will end, according to Superintendent Ryan Devaras, head of the Investigation and Detection Management Branch.
The task force is composed of the IDMB, Mabolo police, Homicide Section, and City Intelligence Branch.
"Wala kaming time frame, kasi ang investigation ay hindi naman minamadali. Just give us time," Devaras said.
Devaras said they will ask experts to enhance the quality of the CCTV footage they got from near the crime scene before examining its contents.
Police said they are looking at two medium-built persons as possible suspects.
The gunman wore a red colored sweat shirt, white cargo shorts, and surgical mask while the driver of the getaway motorcycle wore a black jacket and half-faced helmet, according to a witness who requested anonymity.
Senior Inspector Jonathan Taneo, spokesperson of Task Force Ungab, said they are doubling their efforts to track down the assailants.
They are also checking if indeed there was a "spotter" who signaled to the gunman that the target's car was already approaching.
"Ang usa ka possibility sa giunsa pagkahimo sa opportunity sa shooting nga makahibaw siya sa pag-exit sa victim mao nang gi-rule nato ang point basin naa siya spotter sa area," Taneo said.
Police are also reviewing CCTV cameras inside the courthouse to see if there are any persons of interest.
"Persons of interest lang kay didto sa CCTV nga mga tawo nga caught on footage, mao sad to atong gitan-aw sad nga mga personality kay di man ta basta-basta ka point og tawo. Mao gi-confirm sa nato ang gathering of evidences and background of investigation," Taneo said.
Devaras said they are coordinating with the Regional Anti-Cybercrime Division to confirm the alleged death threats received by Ungab prior to the incident.
His nephew said, though, that as criminal defense lawyer, it was normal for Ungab to receive death threats.
"Normal ra man sad guro na for a criminal defense lawyer to receive threats. Kana siguro because of the line of his work, normal na sa iya mo-receive og threat left and right. Maong murag medyo complacent na," John Majed said.
Asked whether the family was bent on turning over Ungab's cellphone to investigators for checking, the nephew said it will be kept safe due to the "sensitive" information it contains.
"The phone is with us and we've kept it because there are a lot of very sensitive information. Mao na we have to ensure that it's kept safe," he said.
Espenido comments
Interestingly, Ungab was previously named by the Chief Inspector Jovie Espenido, former chief of the Albuera police in Leyte, as among the alleged drug protectors of Espinosa.
Yesterday, Espenido told The FREEMAN that he filed a complaint before the Office of the Ombudsman against a number of people, including Ungab, for his alleged connection in the illegal drug trade as business partner of Kerwin.
"Dili gyud protector, partner gyud ni Kerwin," Espenido said.
"Partner sa illegal matter sa iyang grupo. Ako man na gi-categorize and found out na siya partner sa illegal niya (Kerwin) sa administrative office. Mao ato gikihaan, apil si (Senator Leila) De Lima," said Espenido.
But John Majed went to defend his uncle from such allegations, saying that Kerwin had previously denied Ungab's involvement in the drug trade.
"Of course not. If you listened to the Senate inquiry, he was cleared by his client mismo. His client said that their relationship was purely professional. With that being said, I think that would be sufficient to prove that he was innocent from any allegations (linking him to) illegal drugs," John Majed said.
So far, police personal grudge, work, and politics as possible motives.
Osmeña weighs in
Reacting to the ambush, Mayor Tomas Osmeña yesterday said he was concerned about how lawless elements can become so daring and disobey the laws nowadays.
"Frankly speaking, I'm just as blind as anyone else. I don't know. I don't have any clues. I don't have any special knowledge about that situation. I'm just concerned that something like this can happen. That people have no fear of the law," the mayor said.
While he does not know Ungab personally, Osmeña said the police should do their job in finding the perpetrators.
To tell Sereno
Cebu City Regional Trial Court Executive Judge Gilbert Moises condemned yesterday the killing of Ungab, saying as a lawyer, he was presumed to be merely doing legal responsibility to protect his client's right.
The public, Moises said, must understand that.
Moises said security on the third and fourth floors of Qimonda IT Center where the Regional Trial Courts and the Municipal Circuit Trial Courts in Cities are housed remains intact.
Those who have firearms are ordered to deposit the same at the entrance.
Upon reaching the third and fourth floors, another set of guards check and frisk those who have transactions in the courts.
Despite the strict security on the upper floors, Moises said he noticed the same could not be said of the building's ground floor.
He said he will ask Mabolo Police Station to deploy more policemen in the premises of Qimonda.
Moises also said he will raise the matter to Chief Justice Maria Lourdes Sereno, who is expected to be in Cebu today.
Killings pile up
Ungab's remains lie at a chapel inside the St. Peter Chapels on Imus Road in Cebu City. Funeral details have not been finalized by the family as of this writing.
His ambush adds up to the pile of killings targeting those practicing legal profession in Cebu.
Aside from Ungab, other members of IBP Cebu Chapter have been also killed in separate ambush incidents in the past, including lawyers Jubian Achas, Noel Archival, Arbeth Sta. Ana-Yongco, Patrick Ian Osorio, and Pepito Suello.
Achas and his client, Dr. Rene Rafols, were killed before a hearing started inside the Municipal Trial Court Branch 6 in Cebu City in 2013. The attacker was identified as Canadian national John Holdridge Pope.
Rafols had filed six counts of malicious mischief against Pope at the time.
Archival, meanwhile, was ambushed in Barangay Corro, Dalaguete town, southern Cebu on February 18, 2014 while on his way to Cebu City from Dumaguete City where he attended a hearing.
Yongco was shot dead in his office in Cebu City in 2004. He was the private prosecutor handling the case of controversial cult leader Ruben Ecleo Jr.
In 2009, Osorio was also ambushed while driving in Barangay Mambaling, Cebu City while in 2015, Suello was killed in Malaybalay City, Bukidnon while also driving his sports utility vehicle from a hearing.
Lawyer Mundlyn Misal-Martin, president of the Integrated Bar of the Philippines (IBP) Cebu Chapter, said lawyers, like any other professionals, are only doing the job they are sworn to uphold.
"The attack against our brothers and sisters in the profession is an attack not to the victim but to our organization and to the whole judiciary system where we belong. Such act has no place in the present society where education, civility, and values are taught and practiced," she told The FREEMAN.
Martin urged the lawless elements to spare the lawyers from senseless deaths. — With Jean Marvette A. Demecillo and Mylen P. Manto (FREEMAN)