Disaster preparedness now part of school curriculum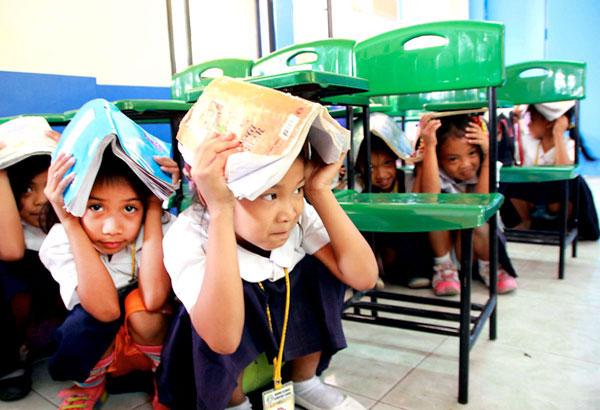 CEBU, Philippines - The disaster risk reduction and management (DRRM) has been institutionalized through its integration into the school curriculum.
The Department of Education and the Commission on Higher Education in Central Visayas have incorporated disaster risk reduction and management in their curricula.
Section 14 of the Republic Act 10121 (or the Philippine Disaster Risk Reduction and Management Act of 2010) requires DepEd, CHED, and Tesda to integrate disaster risk education in school curricula.
The law said DepEd and CHED have an important part to play in the country's approach to DRRM.
DepEd and CHED officials agreed, saying students and teachers must be equipped with knowledge on mitigating and managing hazards and risks brought by natural disasters like earthquakes.
Victor Yntig, DepEd-7 Administrative Division chief, said the topics about disasters from basic information to disaster management have already been incorporated into the curricula of elementary and senior high school students.
For elementary and junior high school, DRRM education is not a school subject itself but only a component of subjects like science and technology, and social science.
But DepEd made DRRM education as an independent subject for senior high school students.
Yntig said disaster preparedness and management education has been reinforced through programs and projects spearheaded by non-government agencies and the local government units.
He said experts from these agencies provide orientation and training on disaster mitigation and preparedness, as well as distribute DRRM manuals to students and school faculty members.
He said these initiatives started after the provinces of Bohol and Cebu were hit by the 7.2 magnitude earthquake and super typhoon Yolanda in 2013.
Aside from trainings and seminars, Yntig said, schools are directed to conduct hazard drills quarterly.
He said students should have knowledge on what to do during certain disasters like earthquakes.
On the other hand, college and university students are further capacitated through civic education and defense preparedness program.
Dr. Freddie Bernal, CHED-7 regional director, said disaster mitigation, preparedness and management is among the topics being taught to students through the National Service Training Program (NSTP).
He said all institutions are required to organize their respective disaster responders.
RA 10121 mandates local DRRM bodies to "encourage community, specifically the youth, participation in disaster risk reduction and management activities, such as organizing quick response groups, particularly in identified disaster-prone areas, as well as the inclusion of disaster risk reduction and management programs as part of youth programs and projects."
Recently, CHED-7 partnered with the University of San Carlos in facilitating the training and workshop on the disaster response participated by NSTP directors and coordinators held in Barangay Talamban, Cebu City.
The Philippine Institute of Volcanology and Seismology (PHIVOLCS) earlier reported that Cebu would not be spared from experiencing strong earthquakes with the presence of "potentially active faults" in the province.
PHIVOLCS executive has asserted that every locality in the country will experience its own "big one," referring to quakes with intensity eight, thus the need to intensify preparedness to mitigate risks. (FREEMAN)