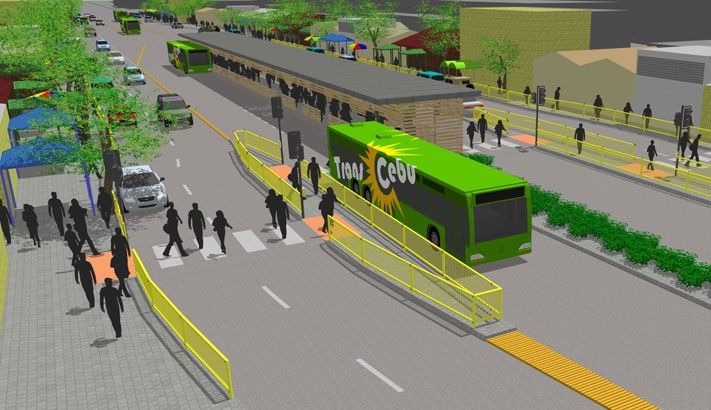 The Cebu BRT will involve 176 buses running one after the other along 16 kilometers of segregated lanes from Barangay Bulacao Pardo in Cebu City's south district to Barangay Talamban in the north district, with a link to the south district.
Photo from Cebu City BRT Facebook page
BRT project hits snag anew
CEBU, Philippines - The implementation of the Cebu Bus Rapid Transit is expected to be delayed yet again after the former officials of the Department of Transportation failed to sign the contract of the consultant that won the bidding, Mayor Tomas Osmeña said yesterday.
The consultant is needed to provide technical services for the project like institutional capacity building and review and coordination of consultant outputs.
Osmeña learned of the update in a meeting with representatives of World Bank and BRT project manager Rafael Yap, head of Cebu City Transportation Office yesterday.
"BRT has a major problem. The previous administration did not sign the contract for the consultant and under the circumstances, we now have to stand the risk that we might have to rebid again the consultancy. That would create another delay, maybe up to one year," Osmeña told reporters.
He clarified that the city government has nothing to do with the delay.
Osmeña said he asked former DOTC Secretary Joseph Emilio Abaya about what happened but Abaya reportedly could not recall the circumstances.
"When you say consultant for a project like this, they are like the managers. I have a funny term for it. They're called managing consultants because technically, they are not just consulting, they are actually managing the project," the mayor said.
"There were many issues raised but this is the most serious. It's not moving at all. That's why when you get a consultant moving, the other issues will be solved one by one. But right now, without the consultant, we don't have any movement," the mayor said.
Yap, in a separate interview, said the city will need to be more proactive in addressing the issues on behalf of the consultant.
Yap said the bidding was concluded after the elections.
"Moving gihapon ang BRT project but there may be some impact on construction activities," he said.
As of now, he said the city is processing the procurement on the road section with no right of way issues, which he hopes to start by the end of the year or early next year.
He said representatives of World Bank expressed concern on the delay of the project.
The P10.6-billion BRT is seen to address the city's worsening traffic condition. Once in place, buses will traverse the city's major thoroughfares such as N. Bacalso Avenue, Osmeña Boulevard, N. Escario Street, and Governor Cuenco Avenue. (FREEMAN)