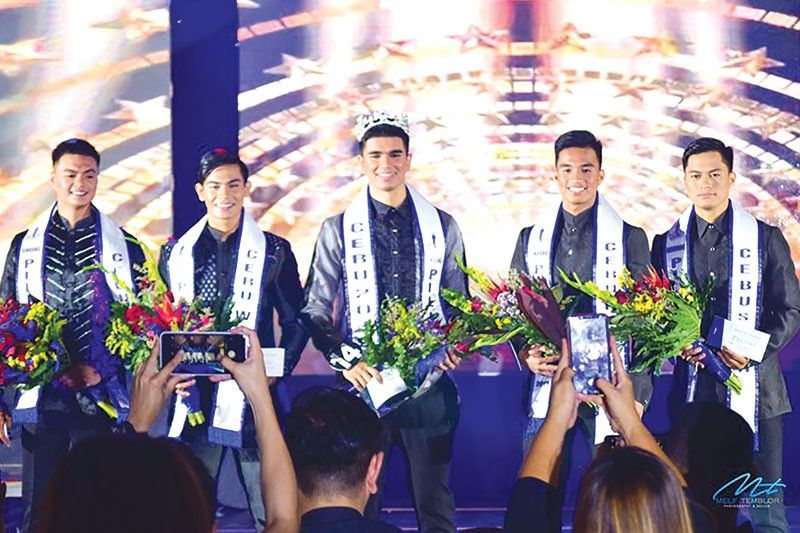 Ginoong Pilipinas Cebu-East Alexis Malagar, Ginoong Pilipinas-West Gerald Flores, Ginoong Pilipinas Cebu 2019 Erik Lennart Visser, Ginoong Pilipinas-North Lorenzo Isip and Ginoong Pilipinas-South Vengie James Trozo.
Photo by Melf Temblor
Fil-Dutch from Dumaguete crowned Ginoong Pilipinas Cebu
Karla Rule
(The Freeman) - October 1, 2019 - 12:00am
CEBU, Philippines — After three months of competition, Ginoong Pilipinas Cebu finally named a winner in Erik Lennart Visser during the pageant's September 28 finals held at the Events in Soltana at Lapu-Lapu City.
Visser, a 21-year-old Filipino-Dutch, was also chosen Mr. Photogenic, Media's Choice, and Texter's Choice. For besting 13 other candidates, he took home P50,000 cash, a hosting offer, an exclusive modeling contract with AD Models, and other sponsor prizes.
"I am so grateful to have won this pageant! It was such an amazing experience preparing for this pageant, and being able to become close friends with my fellow candidates. I was thankful for the opportunity to join, and I am glad that all my preparation for the talent, walks, poses, and speech was well worth it," Visser said.
A native of Dumaguete, his first pageant was Mr. Hibalag 2018 in Silliman University, which he also dominated. Residing in Basak, Lapu-Lapu City from 2015-2017, Visser is not only graduating with a degree in Psychology from Silliman next year, but the licensed private pilot is also reaching for the sky as he aims to earn his commerical pilot license from the Airworks Aviation Academy.
"I was able to discover that as long as I believe in myself, and remember to enjoy the pageant with my fellow candidates, and to believe that all my supporters are there for me, believing in me, that I will be confident enough to take on and get through the pageant with courage," he said.
After its launch last June 22, Ginoong Pilipinas Cebu kept its candidates busy with a fitness challenge, fashion show, talent competition, clean-up drive, and sponsor visits. During coronation night, candidates walked the stage in their hero costume, swimwear, barong and hablon formal wear. They then displayed their personalities and wit through a casual interview and final Q&A.
Asked during the final Q&A what he thought of his fellow candidates, Visser said that he sees them as brothers. He hopes that their friendship will last for many years since he's never seen them as anything other than reliable companions.
"Even though I'm half Dutch, I consider myself a full-fledged Filipino. I grew up here in the Philippines and I can speak Cebuano just like everyone else. This is why I advocate against racism because when I was in elementary and high school, I was always seen differently, even though I considered myself equal. I consider myself a proud Filipino," shared Visser, an anti-discrimination advocate.
Among his many supporters, he considers his mother his rock. While there are so many people out there to look up to, it is his mom whom he considers hi s modern day hero.
"Anyone who knows me personally can see that my mom is always there for me, supporting me through everything, and making sure that I would grow up to be a respectable person. I am always grateful to have her as my mother, and appreciate the things that all mothers do to sacrifice and love their children. They are our greatest modern day heroes."
Visser will represent Cebu in Ginoong Pilipinas, which is set to take place this month in Manila. "I will be doing workshops and working with people from Cebu who will prepare my physically and mentally, and I look forward to make all those who back me and support me proud, and to do my absolute best to represent Cebu in the best way possible, to show the nation what a true Cebuano possesses. And since Cebu has been a pageant powerhouse, I hope to continue the trend, and to bring home the crown."
Trailing behind Visser are Ginoong Pilipinas Cebu North Lorenzo Isip, who was named Best in Hero Costume and Best in Barong; Ginoong Pilipinas Cebu South Vengie James Trozo who was also given the Leon Kilat Award; Ginoong Pilipinas Cebu West Gerald Flores, also a Best in Swimwear awardee; and Ginoong Pilipinas Cebu East Alexis Malagar, a Mr. Eco Tourism awardee.
Making it to the Top 7 were Dan Cajegas and Francis Torrevillas who were chosen Mr. Congeniality and Best in Talent, respectively. (FREEMAN)